Best Value Hotels in Marrakech
Oyster knows what travelers look for in their hotels. When we visit properties around the world, we evaluate how every feature stacks up against the competition, from the rooms to the pools to the restaurants. So if you're planning a trip and need a place to start, you've come to the right place. Take a look at our top picks for value in Marrakech, and get inspired!
See All Marrakech Hotels
1
An historic riad in the heart of Marrakech's picturesque Medina, Riad le Clos des Arts was once home to a family of artists and has been lovingly restored by an expat Italian couple to honor that tradition of beauty and hospitality. Each of the seven rooms -- four rooms and three suites -- has been individually decorated with traditional Moroccan tilework, rich fabrics, and both traditional and modern furniture and artwork, to guarantee upscale modern comfort. An extensive homemade breakfast -- included in the room rate -- is served on the rooftop terrace each morning, alongside a small pool and both outdoor and shaded loungers; an exceptional Moroccan dinner can be served in the courtyard salon upon request.
2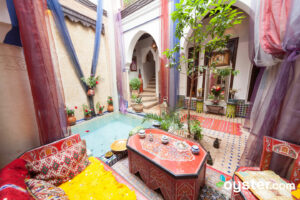 This charming, family-run riad hidden among the Marrakech Medina's winding streets has just six individually decorated rooms, a breezy central courtyard with a small plunge pool, and a rooftop with a Berber tent, all of which offer serene respite from the bustle outside. The decor at this mid-range property is a bit more colorful that some other Medina riads, with a homemade feel to it, but it's hostess Sara's personalized touch that makes the hotel a haven in the city. A free homemade breakfast is served each morning, and lunch and dinner -- made from fresh ingredients sourced daily -- can be ordered in advance to be served in the courtyard or on the rooftop. Wi-Fi is free.
3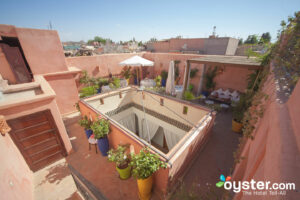 Travelers looking for an authentic Moroccan experience in the heart of the old city will appreciate Riad Al Badia's personal touches and the intimate atmosphere maintained by its friendly owner. The upper-mid-range hotel is located within a maze of narrow streets at the southern end of the medina, so guests can easily walk to the Bahia Palace. The staff is attentive and eager to help with any requests, but those who prefer privacy may find them a bit too hovering. The rooms vary widely, and its decor, while comfortable and appealing, is less ornate than that at other riads. But the air-conditioning works, and the rooftop terrace is a great place to enjoy slow, home cooked meals.
4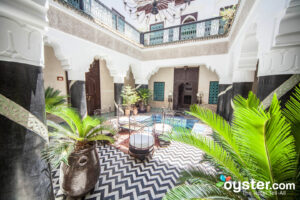 This brilliantly designed three-and-a-half pearl riad adds upscale amenities to a thoroughly traditional Moroccan experience. Travelers who want to explore Marrakech on their own terms will appreciate the medina location, and the restored 18th-century building is an attraction in itself. The characteristic riad courtyard and rooftop terrace have an elegant ambience, and the Riad El Mansour adds a full-service spa and small fitness room. The rooms are equally impressive, though light sleepers may want to avoid the ground floor, especially if other guests are using the pool late at night.
5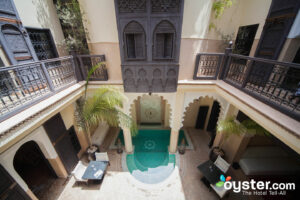 Deep in the labyrinthine streets of the medina, the Riad Ambre et Epices, like so many other riads, cannot be reached by car. Once inside the classic courtyard sanctuary, guests can relax by the fireplace or the tiny plunge pool, and be attended to by a staff dedicated to personalized hospitality. Since the riad experience is designed to resemble more of a stay in a home than a hotel, rooms lack such standard hotel amenities as mini-fridges, coffeemakers, and TVs (hospitality is what counts here), but the rooms at Riad Ambre et Epices do have luxurious bathrooms that include private hammams. Free breakfast, airport transportation, and Wi-Fi are nice perks, as is the use of a cell phone for local calls.
6
An upper-mid-range, 18th century riad in the heart of Marrakech's historic Medina, the five-suite Riad les Orangers d'Alilia Marrakech has been lovingly restored by its French owner into a chic, modern hideaway within walking distance of the city's major sights. The original architecture and ornate detailing have been maintained, and the courtyard and rooftop terrace are accentuated by the riad's signature fragrant orange trees. Guest rooms and common areas have been painted calming whites and creams and decked out with simple, modern furnishings. A homemade breakfast (included in the rate) is served each morning, traditional Moroccan meals can be served for lunch and dinner upon request. Unlike with many other riads in the Medina, guests can park almost in front of this one, and the lounge area has the rare television.
7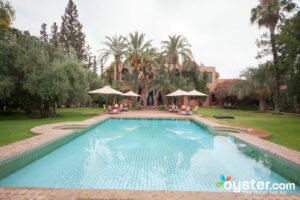 The eight-room boutique Dar Ayniwen Villa has the feel of a luxury guesthouse with top-notch amenities. The architecture and decor are dramatic, with spectacular museum-quality antiques in common areas and guest rooms, each of which is unique and individually-designed. The hotel sits amid acres of lushly landscaped gardens and an exotic aviary; the restaurant serves fine Moroccan cuisine in a lovely dining room or spectacular winter tent. The romance factor is high (as are the prices). This is a special location with a one-of-a-kind Moroccan feel.
8
Set on several palm tree-studded acres three kilometers east of Marrakech's historic Medina, the Riu Tikida Garden hotel is a family-friendly, all-inclusive resort that's popular primarily with European tourists who want a familiar, comfortable stay within easy access of the city. The 255 guest rooms are decorated simply, and all have air-conditioning, mini-fridges, safes, and flat-screen TVs. The mid-range resort offers a shuttle several times daily to and from the city. Six restaurants and bars guarantee there's plenty to eat, the large swimming pool and extensive sports grounds allow for lots of time in the sun, and entertainment programs are available.
9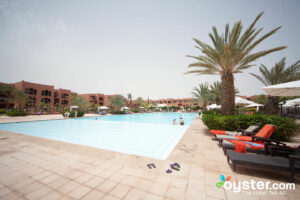 Located just outside Marrakech's old city walls, a 15-minute drive south of the Medina's heart, the Sentido Kenzi Menara Palace is a serene, modern luxury hotel. It has all the facilities of a full-service resort, including lush grounds with several sports facilities, a palm-fringed pool, a spa with a traditional hammam, and there are four different gourmet bars/restaurants. . With 236 rooms, the building itself resembles a Moroccan fortress, and the interiors are filled with traditional decor accents, from inlaid furniture to carved domes. Rooms are modern and understated, each with a private balcony. A free shuttle runs regularly to and from the Medina. Breakfast is included and the myriad business-friendly amenities attract conferences and business travelers, while the understated luxury attracts couples and older families.
10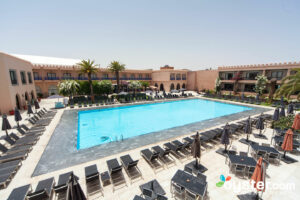 The Adam Park Marrakech Hotel & Spa is a large, upscale property with Art Deco-inspired decor in a quiet setting outside of the city center near the Agdal Gardens. The property's 226 spacious guest rooms and vast pool set it apart from other Marrakech hotels. And while guests must take a shuttle or drive to reach the sights, there are more than enough on-site features -- a spa, kids' club, an outdoor pool, and multiple restaurant/bar options -- to keep guests busy. Guest rooms are modern and simply decorated, and have balconies, LDC TVs, and mini-fridges. Buffet breakfast and Wi-Fi are free.
11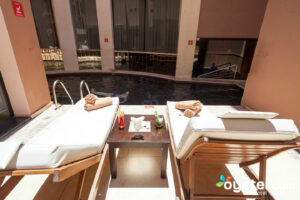 The 80-room, mid-range Dellarosa Hotel Suites & Spa is located in the quiet Hivernage quarter of Marrakesh, about a 10-minute cab ride or a 20- to 25-minute walk to the medina, and close to the Palais de Congres convention center. The hotel's architecture and decor are contemporary, with dashes of traditional Moroccan flair. The high point of the Dellarosa is the rooftop solarium, with a beautiful mosaic tile deck, sun lounges, and a panoramic city view. It also has an a small outdoor pool and hot tub, a spa with hamman, and a fitness center. Rooms are spacious but dark, and show some wear and tear.