Best Value Hotels in Melaka
Take a look at the best value hotels in Melaka.
See All Melaka Hotels
1
The Majestic Malacca is an elegant luxury hotel set in a restored 1920s building with a modernized annex attached. The 54 rooms and suites are beautifully designed, with luxe marble bathrooms alongside modern amenities that include minibars and flat-screen TVs. The spa is a highlight, with menu of ancient Chinese remedies, and there's a modern gym as well. Unfortunately, the plunge pool is a bit small and the free Wi-Fi is slow. A free breakfast buffet is provided, and there's also a stylish saloon-style bar and afternoon tea. There's few other luxury hotels in the area, and visitors seeking a boutique property in the heart of the action might want to consider the Courtyard @ Heeren Boutique Hotel, directly on energetic Jonker Walk, where rates are far cheaper.
2
Jonker Boutique Hotel is a three-pearl property located directly on popular Jonker Street. Decor is an interesting combination of both modern and period features, with many original Art Deco details preserved for character and ambience. The 16 rooms are pleasantly decorated, with contemporary features like hardwood floors and attractive accent walls plus flat-screen TVs, mini-fridges, and electric kettles. Amenities like the on-site restaurant and free Wi-Fi are nice, but more impressive features -- such as swimming pools and gyms -- are located at Jetty Suites, a 10-minute drive away. For travelers who'd prefer their amenities to be more conveniently located on-site (and for similar rates), check out the Hotel Equatorial Melaka instead.
3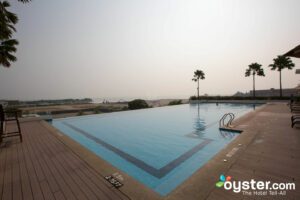 With spacious rooms and plenty of amenities, the Holiday Inn Melaka offers a lot of bang for the buck. The upscale chain hotel is located in a busy area next to a shopping mall and within a reasonable walk of historic sights, though popular Jonker Street is a hike from here. The property has two restaurants and a bar, an outdoor infinity pool, a fitness center with modern equipment, and a spa. The 275 contemporary rooms include free Wi-Fi and sea views in some, and guests can also opt for Kids' Suites with bunk beds. The similarly priced Hatten Hotel Melaka is a bit closer to the city's popular sights and also serves a free breakfast buffet.
4
The 92-room Hotel Puri Melaka is cozy, distinctive, and charming all at once, even if some corners are a little bit dated. Brimming with Old-World character throughout, this value hotel's rooms are clean and traditional, though bathrooms are small and lack space. Features include TVs, air-conditioning, and mini-fridges, though there is no in-room Wi-Fi. The on-site spa offers an extensive beauty treatment menu, and it's one of the hotel's most appealing amenities. Free breakfast is provided in an airy garden cafe, and there's another, more intimate dining area as well. Bustling Jonker Street is just around the corner. Travelers who prefer a more modern hotel within the same area can check out the nearby Hatten Hotel Melaka.
5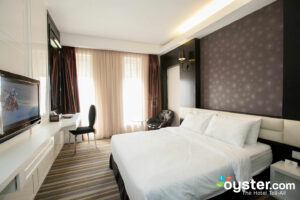 The Sterling Boutique Hotel Melaka is a polished three-and-a-half-pearl property that's a 10-minute walk to famous Jonker Street. Featuring 37 rooms and suites, it's set in a colonial-style building that evokes Old World charm from the outside, though interiors are more modern and business-like. Rooms are clean and equipped with flat-screen cable TVs, free Wi-Fi, and spacious bathrooms. The breakfast room is located on the rooftop, providing excellent views of the city skyline, but it only serves breakfast. Otherwise, features are limited here, and travelers seeking more on-site amenities should consider the nearby Hatten Hotel Melaka, which includes a pool, spa, and fitness center.