Most Romantic Hotels in Mazatlan, Sinaloa
Take a look at the most romantic hotels in Mazatlan.
See All Mazatlan Hotels
1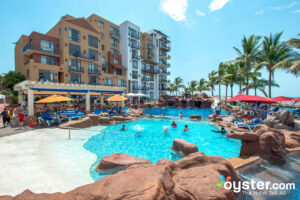 El Cid Marina Beach Hotel is a relaxed beachfront all-inclusive resort that's one of the better options in Mazatlan. The beach, two beautiful restaurants with alfresco dining, and sparkling pools with waterfalls and hot tubs draw plenty of families and couples. There are 200 spacious rooms done in a fresh, modern style, and all include kitchenettes, private balconies (with optional water views), and satellite TVs. However, the lack of free Wi-Fi, curious beach setup (access requires a water taxi), and limited dining options may leave some guests wanting more. As an alternative, The Inn at Mazatlan offers similar amenities, plus large, apartment-style rooms, convenient beach access, and a lovely spa for less money.
2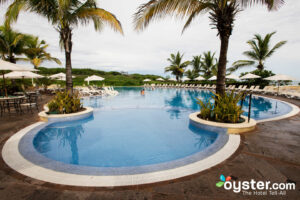 Pueblo Bonito Emerald Bay is one of Mazatlan's most upscale resorts, with a ton of features that keep all-inclusive travelers happy. The extensive list of amenities includes three large pools, swim-up bars, three open-air restaurants, a cocktail lounge, and a huge, beautiful spa complex. All 378 suites have spacious layouts with private, ocean-view balconies, flat-screen TVs, and kitchenettes. However, the scale of the property makes it difficult to navigate, only paid Wi-Fi is available throughout, and the beach is heavily eroded (as of mid-2016) with no permanent seating or facilities. Although it's less polished, the sister property, Pueblo Bonito Mazatlan, offers many of the same amenities and a more central location for less money.
3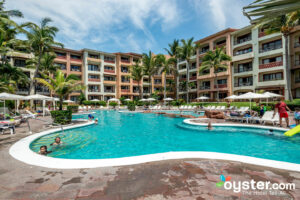 Pueblo Bonito Mazatlan is a pleasant all-inclusive resort with an expansive beachfront setting and a family-friendly slant. With three restaurants plus two large pools with hot tubs and a swim-up bar, the hotel ticks all of the boxes that most all-inclusive travelers are seeking. There's also a simple spa, water sports, and shops selling beach gear on-site. Each of the 247 rooms offers a spacious, suite-style layout,with features like kitchenettes, flat-screen TVs, and sea-view balconies, though decor is a bit dated and gaudy. For a bit more money, Pueblo Bonito Emerald Bay (the hotel's sister property) offers a sprawling, secluded location with more pools, additional dining options, and a stunning spa.