Best Beach Hotels in Miami Beach
If you're heading to the island-city of Miami Beach, chances are it's to spend a majority of your time on the beautiful beaches. Encompassing South Beach, Mid-Beach, and North Beach, the area is packed with hotels that have direct beach access, loungers and umbrellas set up, and attendants to take your food and drink order. To make sure you find the perfect hotel for your beach getaway, we visited and reviewed the area's top beachfront hotels. Take a look at our expert picks for the best beach hotels in Miami Beach, and start planning your sunny vacation!
See All Miami Beach Hotels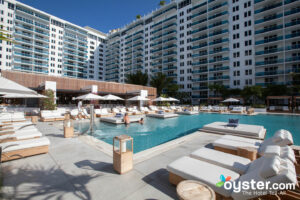 The luxurious, 426-room 1 Hotel South Beach in Miami Beach opened in March 2015 after a complete renovation (it was formerly Perry South Beach, and the Gansevoort Miami Beach before that). The 1 Hotel brand is extremely eco-conscious and the entire hotel has environment-friendly features including salvaged wood, hemp mattresses, and take-home socks instead of disposable slippers. Top-notch amenities include direct beach access; four pools, including one on the roof; three bars and fine-dining restaurant; fitness center; event spaces; and Tesla car service within a three-mile radius. Guests at 1 Hotel have direct access to a 600-foot stretch of sandy beach where staff will set up comfortable lounge chairs and umbrellas; food and drink service, a VIP section, and kids' play area is available on the beach as well.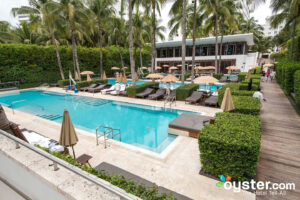 Paradise doesn't come cheap. Striking but sober mood-lit design; impeccable service; huge, immaculate rooms; three pools, each a different temperature; and a prime beachside location make the Setai one of the best hotels in Miami. Its restaurants are more about design than food, but several of Miami's best restaurants are just half a block away. The Setai's clean, quiet patch of beach is as posh and exclusive as it gets in South Beach. Attendants deliver luxurious loungers and spritz guests with Evian on request.
The stunning 312-room W South Beach -- located on the beach, on the northern outskirts of South Beach -- blends cute comforts, intricate design (that spares no expense), and flawless service. Large, modern rooms; terraces angled to overlook the ocean; elegant landscaping around the pool; a lush Bliss spa -- the W tops the Miami greats.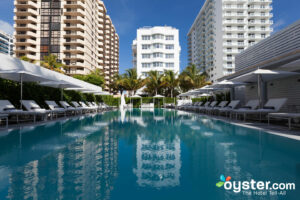 The 74-room boutique Metropolitan by COMO is a gorgeous Art Deco property from the luxurious COMO brand. The pistachio and gray guest rooms are stylish, and outfitted with modern features like 42-inch flat-screen TVs, Nespresso machines, and free Wi-Fi. The hotel's other amenities include a pretty outdoor pool, beach service, fine-dining restaurant and bar, elegant spa, and rooftop hydrotherapy pool. Service is genuinely friendly and doting, and the hotel attracts an upscale clientele of primarily couples.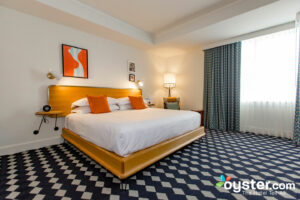 The upscale 380-room Confidante has a beautiful beachfront, two pools, multiple bars, and staff that receive consistent praise. Guest rooms have a colorful, retro design and high-tech amenities, though views vary from city to oceanfront and there's some minor wear and tear. However, with ample amenities and a celebrity chef-helmed restaurant, it's a solid pick for couples, groups, and families who want to be a bit removed from the South Beach scene. Prices here also tend to be more affordable than at comparable hotels in the heart of South Beach.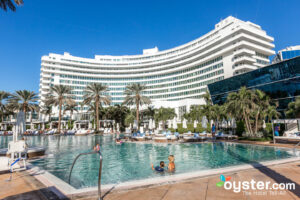 After its $1 billion facelift in 2008, the Fontainebleau's 1,504 new rooms, nine pools, phenomenal spa and gorgeous design are hard to top. Despite its sexy ads and nightclub, it's a relaxed property that attracts mostly families and convention goers. Its peaceful Miami Beach location - next to the also snazzy Eden Roc hotel - is 30 blocks from the South Beach action.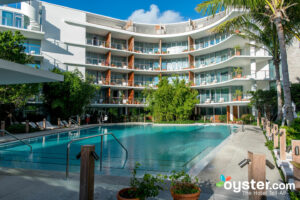 After a complete revamping of the former Seville Hotel, the Miami Beach EDITION opened in December 2014 to provide hip, luxury accommodations in the burgeoning Mid-Beach area. Mimicking the hotel's overall design, the 294 sleek, spare guest rooms feature light woods and white fabrics. Amenities are undoubtedly top-notch: There are two outdoor pools; a beachfront with chairs and umbrellas; fine dining Matador restaurant; an upscale spa; and an underground nightclub/bowling alley/skate rink.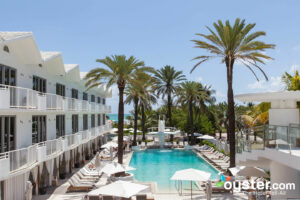 After a 2014 renovation combined its Art Deco roots with modern luxury, the Shelborne Wyndham Grand South Beach became a stylish, upscale pick on Collins Ave in South Beach. The guest rooms have comfortable beds, digital music players, and stocked minibars, and some come with balconies. But standard rooms are on the small side, as are most bathrooms -- which have plush robes and custom toiletries but no bathtubs. Amenities, however, are top-notch, and include beach access and service, a heated pool, spa and fitness center, and multiple dining and drink options that include the fine-dining Morimoto sushi restaurant.
With some of the most beautifully decorated large rooms in Miami, a beachfront location, a great spa, and a huge fitness center with a rock-climbing wall and dozens of daily classes, Carillon Miami Beach is a great choice for a healthy vacation -- provided you're not also looking for nightlife or a happening pool scene.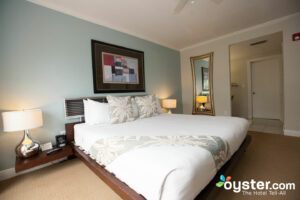 The 75-room Savoy Hotel is an Art Deco icon in a tranquil section of South Beach, within walking distance of the area's nightlife, and with private beach access, ocean-view sun decks, two tropically landscaped outdoor pools, indoor and outdoor dining, a bar, and elegant private function rooms. Rooms are decorated with light, beach-house-style decor, and most havekitchenettes and balconies with ocean or pool views -- but peeling paint and minor disrepair in the common areas detracts from the hotel's otherwise charming setting.