Best Party Hotels in Miami
Raging nightclubs and DJ-led pool parties make Miami one of the best destinations for fun-loving travelers. At Ocean Avenue, South Beach, or farther north at Fontainebleau, there's a lively scene perfect for dancing the night away. After visiting the top Miami hotels for revelers, we compared each to see which were best for couples that love clubs, bachelor and bachelorette parties, and groups of friends looking for a good time. Here's a list of the best party hotels in Miami.
See All Miami Hotels
1
The Delano is one of the coolest and most popular spots on South Beach, drawing a wide range of clientele. The party begins in the the lobby's crowded and red-lit Rose Bar, and then the crowds continue out the back and around the pool, and also underground to Lenny Kravitz's Florida Room nightclub, where Miami club promoter Tommy Pooch hosts a weekly party every Saturday night. There are live DJs, $17 mojitos, and tight security -- a well-known, see-and-be-seen party scene.
2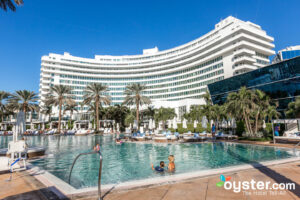 Built in 1954, it was the hangout of the rat pack in its heyday, but it had fallen from the headlines until its $1 billion facelift in 2008. Every restaurant has its own bar, the most popular being Bleau Bar, which features a panoramic view of the pools by day. In the evening, head to LIV, which many consider to be the only real nightclub in this area of Miami Beach. True, celebs ranging from Maria Sharapova to P-Diddy have dropped by to party, but the stars usually only come out for closed door events, like Ocean Drive magazine's anniversary party. On regular nights, it's like any other club with neon lights flashing over a crowd of striped shirts cozying up to high-heeled blondes.
3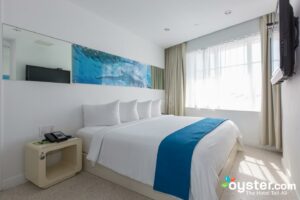 Built in 1938, the Clevelander has been a South Beach landmark for more than 70 years, known as much for its come-one, come-all parties as for its official duties as a hotel. Many consider a stay, or at least a stop at the patio bar, to be one of the quintessential SoBe experiences. The property has only 60 rooms, but because of all the bars, clubs, and terraces, and the huge plot of land it occupies, it feels nothing like a boutique hotel. Essentially a party complex, the Clevelander is to blaring music and Bud Light what golf resorts are to piano bars and scotch.
4
The beachfront Shore Club prides itself on being a be-seen haunt, with celebrity-fueled restaurants and bars, and a boisterous infinity pool where DJs spin the latest hits. Nobu and Ago (two of Miami's most expensive eateries) are the highlights of the hotel, but the poolside parties and restaurant bars still manage to make this a favored hangout for party-ready college kids, celebrities (like Ashlee Simpson-Wentz and Christina Milian), and couples in their 30s looking for a lively Miami weekend.
5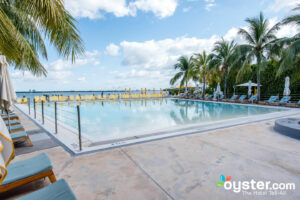 The typical SoBe party scene isn't the only thing drawing crowds, but so is... Sunday Bingo! Sprawling across the denim sofas, bare feet up on the cushions, 20-somethings have rekindled the cool in Grandma's favorite pastime. But don't be fooled: Considering the weekly party nights at The Standard Miami Beach Bar (with promotions like "ladies and bottoms drink free"), the rather raunchy pool scene (especially once the body paint gets flying), and the coed sauna (no need to explain anything more), it's probably for the best that kids under 14 are not allowed on the property.
6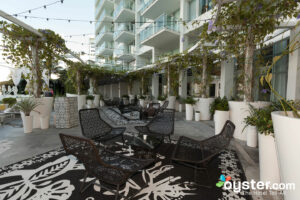 Although this is not the craziest of the SoBe hotels, it is still a great destination. The bar by the pool serves drinks during the afternoon, and also during some evenings when there's an overflow from the Sunset Lounge, which is the lobby's popular bar and lounge (right near the trendy Asia de Cuba restaurant). The Sunset Lounge is extremely packed on weekends; a line eventually forms outside the hotel. Hotel guests are at an advantage, though, as you merely need to wave your hotel keys at the bouncer to be waved right in.
7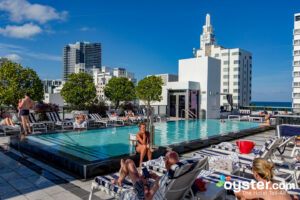 This historic Art Deco hotel on Collins Avenue got a breath of new life when it reopened as a stylish 87-room boutique in late 2012. Retro-chic rooms have black-and-white photos on the walls and beachy blue-and-white decor; all have whopping 55-inch flat-screen TVs, iPod docks, and sleek bathrooms with walk-in showers (but no tubs). The sunny rooftop pool; clubby lounge with fancy, fresh cocktails; and the super-hip basement nightclub with 80s decor and a soundtrack of 90s hits are all draws. But be warned that the signage can be confusing -- it says The Gale on the front and The Regent on the back, for the two historic hotels that were combined to form the current property.
8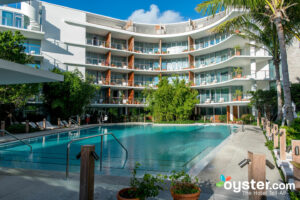 After a complete revamping of the former Seville Hotel, the Miami Beach EDITION opened in December 2014 to provide hip, luxury accommodations in the burgeoning Mid-Beach area. Mimicking the hotel's overall design, the 294 sleek, spare guest rooms feature light woods and white fabrics. Amenities are undoubtedly top-notch: There are two outdoor pools; a beachfront with chairs and umbrellas; fine dining Matador restaurant; an upscale spa; and an underground nightclub/bowling alley/skate rink. While couples, families, and business professionals all frequent the hotel, the EDITION appeals primarily to trendy travelers who will appreciate the Beats Bluetooth speakers and copy of PAPER magazine in each room
9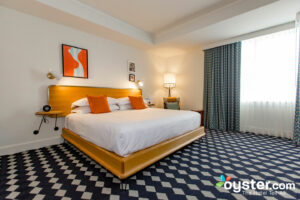 The upscale 380-room Confidante has a beautiful beachfront, two pools, multiple bars, and staff that receive consistent praise. Guest rooms have a colorful, retro design and high-tech amenities, though views vary from city to oceanfront and there's some minor wear and tear. However, with ample amenities and a celebrity chef-helmed restaurant, it's a solid pick for couples, groups, and families who want to be a bit removed from the South Beach scene. Prices here also tend to be more affordable than at comparable hotels in the heart of South Beach.
10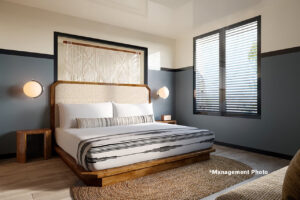 Three blocks from the beach, Vintro Hotel South Beach is an upscale Art Deco boutique hotel. The 50 guest rooms have retro furnishings in citrus tones, and feature flat-screen TVs, Illy espresso machines, and rainfall showerheads. However, some rooms have parking lot views, or lack views altogether. But, there are quite a few amenities to lure travelers: vouchers for beach chairs and towels; a rooftop plunge pool; on-site fine dining restaurant; lobby bar; free bicycles; and free Wi-Fi. For adults 18 and over only, the hotel is a great pick for couples who don't mind sacrificing direct beach access for a hip atmosphere.
11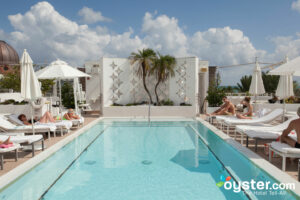 Literally a one-minute walk from the beach, this trendy boutique hotel -- like many others in the area -- caters to young, hip partiers. The lobby is decorated with a sleek black-and-white motif, the rooftop pool and bar are hopping late into the night, and house music plays throughout the property.