Best Value Hotels in Miami
At Oyster Hotel Reviews, value is the most important factor we consider when evaluating a hotel. After sleeping at more than 200 hotels throughout Miami and comparing them against one another, we are uniquely able to differentiate between the places you want to rest your head and the ones you're safer avoiding. Check out our picks for the hotels in Miami with the best value, giving you the best bang-for-your-buck!
See All Miami Hotels
1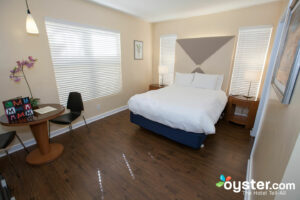 Small, unpretentious and lacking an interior designer's touch, the budget-friendly La Flora is not for those seeking glitzy South Beach style. But if a central location, friendly staff, and good value are key considerations, this unfussy boutique hotel more than delivers. La Flora offers a basic free breakfast, free Wi-Fi and a free welcome cocktail in its lobby bar. Bustling Ocean Drive and the beach are a short walk away, as are many of the area's hottest restaurants, boutiques and clubs. While simply furnished, rooms are clean, bright and adequate in size, and some feature kitchenettes.
2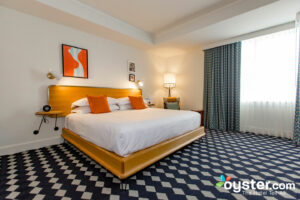 The upscale 380-room Confidante has a beautiful beachfront, two pools, multiple bars, and staff that receive consistent praise. Guest rooms have a colorful, retro design and high-tech amenities, though views vary from city to oceanfront and there's some minor wear and tear. However, with ample amenities and a celebrity chef-helmed restaurant, it's a solid pick for couples, groups, and families who want to be a bit removed from the South Beach scene. Prices here also tend to be more affordable than at comparable hotels in the heart of South Beach.
3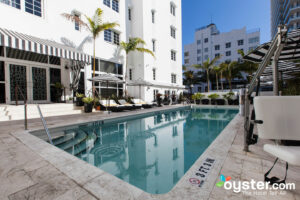 The 104-room Hotel Croydon is a competitively priced, upscale property located in Mid-Beach, north of popular South Beach. This stylish property offers panoramic views from a rooftop sundeck, a trendy tavern with indoor and outdoor seating, and a modern gym and spa. The beach is a short walk away, and there's an outdoor pool with chic lounge chairs on-site. The rooms are stylish and modern; some have sea views. There is a hip boutique on-site and Wi-Fi is free throughout.
4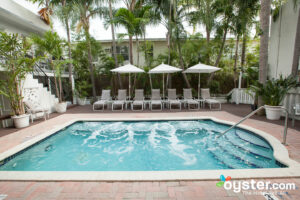 Tucked away in the quieter, residential part of the historic Art Deco district, the three-pearl Sobe You Bed and Breakfast blends period Art Deco pieces with Key West style. It's a tranquil hideaway that's still close to the action (around a 15-minute walk to the beach and Ocean Drive). This small, intimate property is a good fit for adults who want to be within walking distance of South Beach's craziness while staying in a subdued, relaxing spot that offers a more personal experience than a chain hotel. The rooms are housed in two buildings that do not have elevators, so be sure to book a ground-level room if stairs are a problem. The all-white rooms are clean and comfortable with huge TVs but not much space overall. Free breakfast is served by the outdoor pool set in a lovely courtyard.
5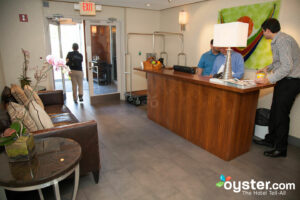 The 48-room, mid-range Edgewater South Beach offers good value for the price compared to its competitors. The location is perfect for beach lovers and those who want to be at the center of the lively SoBe scene, and the spacious rooms and suites come with the convenience of well-equipped kitchenettes. The Edgewater lacks a pool and hot tub, but the basic continental breakfast and evening happy hour are appreciated extras. On the lobby level, an independently operated bar and restaurant with outdoor patio seating attracts lots of foot traffic during the dinner hour. Pets are welcome and a valet will park your car, but both services cost an additional fee.
6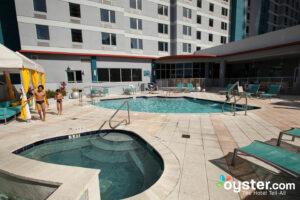 Although designed to meet the needs of corporate guests and other short-stay travelers, the 221-room Hampton Inn & Suites seems to delight customers of every stripe. Guests praise the helpful staff, stylish, well-maintained ambience and location for its strolling distance to scores of downtown Miami restaurants. The free breakfast buffet is a Hampton chainwide standard but seems especially inviting here, thanks to a bright and cheerful eating area with enough elbow room around the wafflemaker to accommodate a full house. Contemporary rooms are very spacious and and have a bit more color and style than is typical for the chain. Overall, the hotel is a surprisingly appealing choice for guests en route to a cruise, flight or business meeting.
7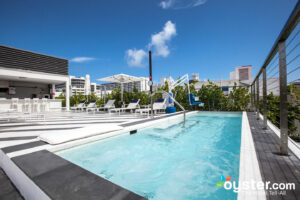 The upscale Kaskades Suites at Gale South Beach is next door to its sister property, one block from Collins Avenue. The 25 suites don't actually have separate rooms, but they all have a living area, high-tech amenities like a steam shower, and stylish decor. The rooftop has a small plunge pool and loungers, and guests are free to use the pool and fitness center at Gale South Beach. Service at the beach, a restaurant and bar across the street, and free Wi-Fi add to the value. For guests that want the amenities of Gale but larger rooms and a quieter home base, the Kaskades Suites is a great pick
8
The 131-room Hampton Inn Miami Dadeland is a lower-middle-range chain hotel within walking distance of Dadeland Mall. An outdoor heated pool, hot tub, and free hot breakfast draw many families, while business travelers are also attracted by its meeting rooms, business center, and fitness center. Room decor is a bit bland and dated, though not unpleasant, with flat-screen TVs and coffee/tea facilities. The hotel offers a free shuttle to and from the airport and other local spots, plus there is a metro station nearby that makes traveling around Miami easy. Guests should note that though parking is free, there's a limited amount of spaces.
9
The 46-room Hotel 18 is a mid-range value property one block from the sandy shores in South Beach. The studios and one-bedroom apartments all have kitchens, making them suitable for longer stays, and some have sofa beds. The hotel has a pretty courtyard with comfy patio furniture and offers parking, a business corner, and laundry machines. There is convenient free Wi-Fi, but some of the room furnishings are plain or even a touch dated.
10
Despite being an airport hotel, Hampton Inn & Suites Miami Airport South/Blue Lagoon is comfortable and inviting, with amenities like an outdoor pool, 24-hour business center, meeting rooms, and sizable gym, putting the property a step above nearby competitors. The 149 rooms are spacious and clean, but decor is generic. Close proximity by car to Miami International Airport and Port of Miami make it a convenient choice for travelers.