Best Beach Hotels in Central Myrtle Beach, Myrtle Beach
Take a look at the best beach hotels in Central Myrtle Beach.
See All Central Myrtle Beach Hotels
1
The Marriott's OceanWatch Villas at Grande Dunes is a 374-room, mid-range hotel located directly on the beach and within about 10 miles of most tourist attractions in Myrtle Beach. The hotel is part of the Marriott Vacation Club, so some units (all are two-bedrooms) are reserved for time-share owners, and it can be difficult to book during the high season. The property offers a ton of family-friendly activities and it has a total of five pools, one of which has a water slide. Just note that not all of the pools are heated during the chillier months (though the hotel will let guests know which ones are).
2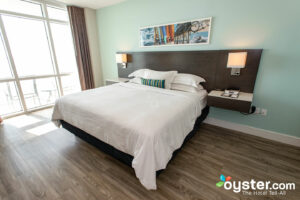 The beachfront Ocean 22 by Hilton Grand Vacations opened in 2015 as an upper-middle-range option that draws families and couples. It features lovely indoor and outdoor pools that include a sunbathing lawn and a seasonal bar. There's also a well equipped fitness center, as well as a game room stocked with toys and games. Though there's no full restaurant here, the hotel has an inviting lobby bar and a small shop selling snacks, sandwiches, and Starbucks coffee. The 220 one-, two-, and three-bedroom suites are sleek and contemporary, and all come with furnished balconies, living rooms, and full kitchens decked out with stainless steel appliances. Expect to pay a resort fee that covers self-parking (valet parking is extra), Wi-Fi, and two bottles of water. Travelers looking for more activities might want to consider Captain's Quarters Resort, which is not as chic or modern, but has a water park, bowling alley, and arcade.
3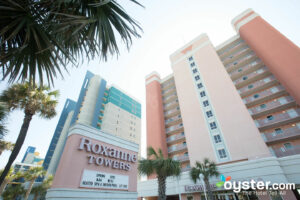 The Roxanne Towers consists of 72 condo-style rooms that are individually owned but rented out like a hotel. Rooms have oceanfront balconies and full-size kitchens, but leave much to be desired in the way of decor. Furnishings appear outdated and, although the building opened in 2004, both the interior and the exterior look like they're stuck in the 1970s. The best part about the property is its location right on the beach and proximity to tourist attractions like the SkyWheel.
4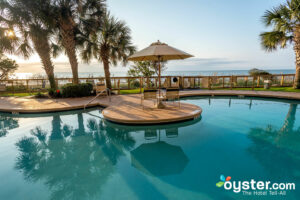 The upper-middle-range Island Vista Resort is a 12-story property with a quiet beachfront location north of Myrtle Beach. While its location is away from the main action, there are a handful of casual dining options within a 10-minute walk. The 171 rooms and suites are spacious and come with kitchenettes, private balconies, and free Wi-Fi. The hotel's main restaurant, Cypress Room, is open for breakfasts and dinners, though neither are included in room rates. There's also a more casual poolside Tiki Bar, open for lunches, dinners, and cocktails. The three pools (indoor and outdoor), lazy river, kids' pools, and hot tubs keep guests busy throughout the day. Additional features include a fitness center, massage services, and a ballroom. Travelers looking for a more central location can also consider Landmark Resort, which offers more water and dining facilities.
5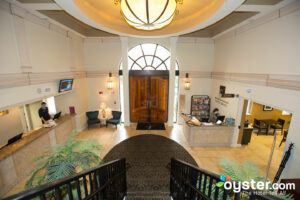 This upper-middle-range property has a convenient location on the waterfront, with direct access to a great beach, and proximity to shopping, several golf courses, and downtown Myrtle Beach. The clean rooms are among the nicest in this price category in Myrtle Beach, though the decor style is a bit dated. The property also offers several pools and an adequate fitness center. It is very convenient for families traveling with kids: it has a lazy river, an 18-hole mini-golf course, a kid's program, and full kitchens in every unit.
6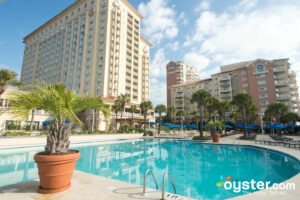 It's refreshing to find a hotel in Myrtle Beach with lovely (as opposed to dated) interiors like you'll find at Myrtle Beach Marriott Resort & Spa at Grand Dunes. The hotel on a quiet stretch of beach about a 15-minute drive from Myrtle Beach Boardwalk and Promenade. This upscale property offers a wide-range of amenities for its diverse clientele. Kids like luxe amenities like a stylish video game lounge, indoor and outdoor pools, and a seasonal waterslide. With four restaurants and bars serving American cuisine, guests have a lot of dining options from which to choose. The 408 rooms are modern and come with mini-fridges and coffeemakers, though many lack full ocean views. Guests should note there's a pricey resort fee and that there are still fees for breakfast, the business center, and reserving a pool chair in the summer. North Beach Plantation is an appropriate alternative property with upscale amenities and condos with kitchens.
7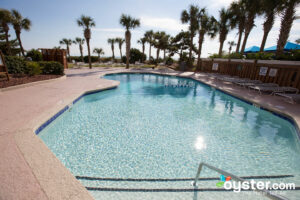 Picture a classic Myrtle Beach hotel, and chances are it looks a lot like the budget-friendly Beach Colony Resort. With direct ocean access and a convenient Central Myrtle Beach location (a bit north of the boardwalk), there are plenty of reasons to choose this hotel -- not the least of which are the condominium-style hotel rooms that are perfect for families. Still, the hotel could use some updating, especially in public spaces. The rooms themselves run the gamut in terms of decor, since each is owned by individual owners and rented out through the hotel.
8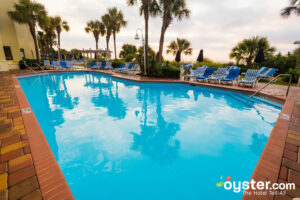 For a family getaway in Myrtle Beach, the mid-range Sea Crest Oceanfront Resort offers a long list of amenities for families. There's a water park, eight pool features, and an outdoor beach bar that serves food and drinks. The gym is dated and a full breakfast buffet isn't offered, but there is a coffee shop providing Starbucks coffee and some light breakfast options. Of the 248 rooms, many are Efficiencies with kitchens, making it easy for travelers to prepare their own meals, though perhaps the same can be said of Standard Rooms which have mini-fridges and microwaves. Take note that the decor is dated in the rooms and cleanliness complaints have occurred. Dunes Village Resort is a good alternative that offers restaurants and a breakfast buffet.
9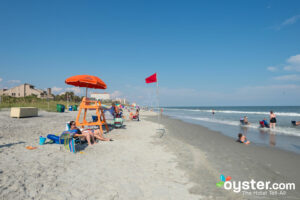 The mostly contemporary but slightly dated decor at the cheerful Grande Shores Ocean Resort doesn't stop families from visiting and having a great time. With 11 water features, a rooftop pool, a small gym, kids' club, and American restaurant with a hot breakfast buffet, guests are kept well entertained -- which is great since the Myrtle Beach Boardwalk and Promenade take 14 minutes to reach by car. The 231 rooms offer coffeemakers and mini-fridges, while efficiencies and condos add kitchens into the mix for a self-sufficient stay. Free DVD rentals and a laundry room are nice extras for families. Captain's Quarters Resort is much closer to the Myrtle Beach action and also has a bowling alley, seasonal beach shack, and pool with a play pirate ship.
10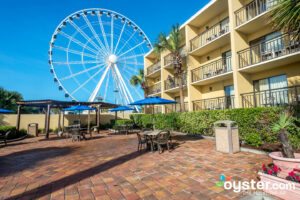 This mid-range Holiday Inn is conveniently situated right by the beach and the Myrtle Beach Boardwalk and Promenade, plus it's close to dining options and shops. Though interiors are outdated and chainlike, they're clean, and all of the 138 guest rooms have private balconies (with either ocean vistas or unattractive parking lot views) as well as flat-screen TVs, coffeemakers, and microwaves. Many units have kitchens. The hotel has both indoor and outdoor pools, including an indoor lazy river, plus there's a seasonal poolside bar. Other features include modest fitness facilities and a free continental breakfast, though it gets mixed reviews from guests. Captain's Quarters Resort is a comparable alternative with more dining options and a bowling alley, but it's also a dated property.
11
The Strand A Boutique Resort, is located in downtown Myrtle Beach and is within easy walking distance of many popular restaurants and shops. The mid-range beachfront hotel draws families and couples with an outdoor pool, hot tub, and kiddy pool. A free hot breakfast is served each morning, and the bar and restaurant offer lunch and dinner. The overall look is contemporary and inspired by the beach location with splashes of blues and greens. All 141 rooms are spacious, and come with flat-screen TVs, kitchenettes (some full kitchens), and balconies. Free garage parking and free Wi-Fi add value to a stay. Travelers looking for a little more action might consider the sister resort, Compass Cove, which has a 23 water amenities for the kids and two restaurants at a similar price.
12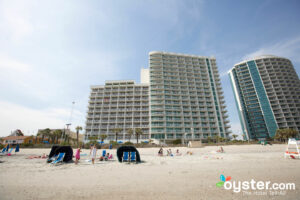 The Sandy Beach Resort is a 228-room condo-style hotel with an excellent location just south of Myrtle Beach Boardwalk, next to the Family Kingdom Amusement Park. Although the hotel advertises itself as an "ultra-luxury" resort, it's more of a mid-range property, lacking an on-site restaurant and luxury amenities. Still, the rooms are among the nicest for the price in Myrtle Beach, with modern bedding and, in many, updated kitchens -- though the Magnolia Tower could use a bit of TLC. Guests may also want compare rates with the Anderson Ocean Club, though it's a bit farther from the boardwalk action.
13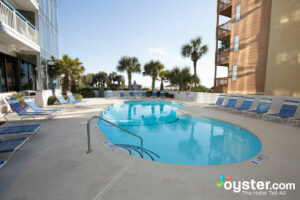 This hotel has the features expected of a budget-friendly hotel in Myrtle Beach, but it's a bit north of the main boardwalk action and feels more secluded and intimate than some competitors. Still, Forest Dunes Resort is close enough to attractions like Broadway at the Beach and the SkyWheel to make it a good choice for families. Just be aware: quality of rooms may vary as different units are managed by different companies. Also, the hotel isn't right on the sand -- but it's just across the street.
14
Part of the Best Western chain, this centrally located eco-friendly hotel offers a range of accommodations, including cottages and penthouses, along with an outdoor and indoor pools and hot tubs, a lazy river, and a free breakfast that includes biscuits and gravy.
15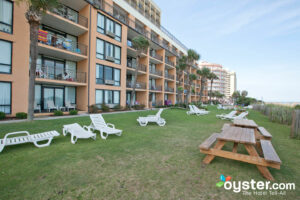 The 540-room Caravelle Resort is like many hotels in Myrtle Beach -- it's right on the beach, there are numerous pools, and it's always crowded. The bedroom decor is a bit more up-to-date than at some nearby hotels, but several of the kitchens showed wear and tear and the elevators move slowly, especially considering the hoards of people in line to use them. Overall, the hotel is a good value -- with freebies like free Wi-Fi and free parking -- but it doesn't offer much more than you would expect in Myrtle Beach (although the fitness center is on the ground level with floor-to-ceiling windows, unlike the many basement fitness centers in the area).