Best Beach Hotels in North Myrtle Beach, Myrtle Beach
Take a look at the best beach hotels in North Myrtle Beach.
See All North Myrtle Beach Hotels
1
Avista Resort is like many of the three-pearl beachfront hotels in Myrtle Beach. The 326 individually-owned condos range in datedness and some lack washers and dryers, though all have a charming style with kitchens and balconies. It has indoor and outdoor water features, a restaurant, lounge, gym, and meeting rooms. However, it's the hotel's location, a 30-minute drive from the Myrtle Beach Boardwalk and Promenade in North Myrtle Beach, that separates this property from many others. Travelers looking to be closer to the busy center of Central Myrtle Beach might consider Carolinian Resort which has some condos, similar amenities, and a free breakfast.
2
Shore Crest Vacation Villas is a large club resort with mid-range, timeshare condos on the beach. Both Building I and II are within a 10-minute drive of Barefoot Landing, the House of Blues, and Pirate's Cove. Because the units are individually owned, decor varies, but all have fully equipped kitchens with stainless steel appliances, a large amount of living space, granite countertops, and balconies with ocean or marsh views. However, windows in the rooms are small and some bathrooms lack privacy. The property has hot tubs as well as indoor and outdoor pools and lazy rivers as well. There's a modern fitness center and game room with arcade games. Parking and Wi-Fi are free.
3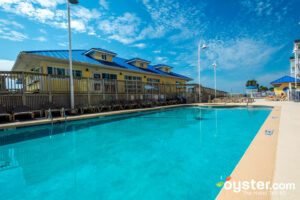 This beachfront resort occupies a quiet location in North Myrtle Beach. Overall, it's a tired three-pearl property, but offers a decent selection of features and roomy accommodations. The property has several outdoor pools, including a lazy river, kids' pool, and hot tubs. There are two dining options, one of which is open seasonally, while other features include a fitness center and, unexpectedly, a bait and tackle shop. The property's 259 one-, two-, and three-bedroom condos are dated and could use some updates, but they're equipped with full kitchens, washers and dryers, separate living rooms, and furnished balconies -- some with beautiful ocean views. Travelers looking to be more centrally located (Central Myrtle Beach is a 35-minute drive) might want to consider the Captain's Quarters Resort instead.
4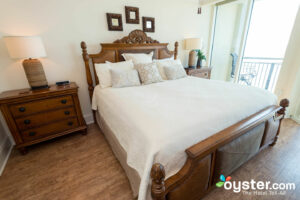 The three-pearl Mar Vista Grande is a vacation rental property with individually owned condos. Its beachfront location in North Myrtle Beach is quiet, but there are a handful of restaurants and shops within a 10-minute walk. The 160 condos feature individual interiors with fully-equipped kitchens, separate bedrooms (up to four) and living areas, private balconies, and free Wi-Fi. While there is no full on-site restaurant, there is a seasonal poolside bar and a common area with a full kitchen and barbecue facilities. There are both an indoor and outdoor swimming pool and hot tub, along with shallow kids' pools and outdoor lazy river. The fitness center and small spa are a bonus for this type of property. Travelers looking for a more traditional resort might consider Island Vista Resort, which includes two restaurants and kid-friendly activities.
5
A 90-room oceanfront condo property built in 2008, the Atlantic breeze Ocean Resort is a mid-range family-friendly property in North Myrtle Beach. Privately owned, the condos can vary greatly from one another, and it's a good idea to request photos before booking. Most units have kitchenettes with cookware, tableware, glassware, and utensils, and can accommodate large groups of people. While the beach is the main draw, there are a variety of pools, including an oceanfront heated pool, a lazy river, and a seasonal indoor heated pool, and water activities for both kids and adults. The Waikiki Village is another budget-friendly option, but the beach is across the street.
6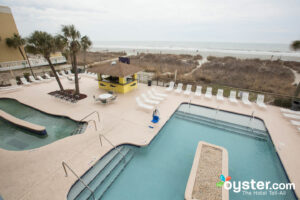 This dated beachfront Best Western is an affordable option in North Myrtle Beach. The hotel has 116 rooms in separate buildings, so accessing common amenities such as the free breakfast and free parking can mean dealing with crowds. An ocean vacation is what it's about with direct beach access, an outdoor pool, and a lazy river. Some rooms are oceanfront and offer amazing views. Still, it may be worth comparing rates with the Beach Cove Resort, where there is a lively beach bar and all rooms face the ocean.
7
North Beach Plantation is one of the few upscale properties in Myrtle Beach -- and it's arguably the best of the bunch. Configured as condos and townhouses, accommodations are impeccably neat and clean. Sizes range from one-bedroom condos to five-bedroom cottages, making this a convenient pick for groups of any size. A high-end spa, a famous Myrtle Beach restaurant, a beachfront location and multiple options for pools means there is plenty to do on the property. Just note that it's a 25-minute drive to the boardwalk; those who prefer a more central location may want to consider the Anderson Ocean Club & Spa.
8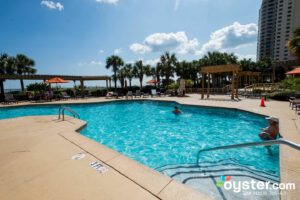 Part of the Kingston Resorts complex and occupying a lovely beachfront location in North Myrtle Beach, this upper-middle-range hotel offers a solid set of features and spacious two-room suites. There are both indoor and outdoor pools here, plus guests have access to a water park. Wellness options include an attractive spa and an impressive fitness center -- but it's not on-site and requires a short walk. There's also extensive meeting/event space here. The 255 suites are spacious and have separate living areas and balconies, but decor is bland a chainlike. Expect to pay a daily resort fee that covers Wi-Fi and self parking. Families who prefer to be closer to the hubbub of downtown Myrtle Beach might want to consider Captain's Quarters Resort instead, which has a bowling alley, arcade, and water park.
9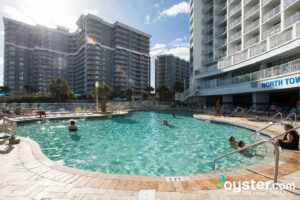 The mid-range Sea Watch Resort consists of two gated towers on North Myrtle Beach, a five-minute drive from Tanger Outlets. The 275 studio, one-, two-, and three-bedroom condos are individually owned, so decor and maintenance varies, but all have full kitchens and ocean views. Families love the six oceanfront pools, 10 whirlpools, and two lazy rivers. Captain's Cove serves a hot buffet breakfast (not included) and casual a la carte items. There's also an oceanfront tiki bar and a coffee shop with gourmet coffee drinks and to-go snacks. Entertainment includes a poolside DJ and family movie nights, but some features are seasonal. This place is definitely oriented towards families, so couples may want to check out the upscale North Beach Plantation House -- though rates are higher.
10
Wyndham Vacation Resorts Towers on the Grove is a mostly generic mid-range option right on a quiet stretch of North Myrtle Beach. Its 232 suites are individually owned time-share apartments, and can include multiple bedrooms, laundry facilities, full kitchens, and ocean views. They can also include maintenance and cleanliness problems. There's no restaurant or breakfast served, so guests either use their kitchens or walk five minutes to a cluster of seafood restaurants and a grocery store. The beach is the main draw, but guests also enjoy the covered outdoor pool and a seasonal lazy river and waterslide. Wi-Fi and parking are both free. Past guests have complained about aggressive time-share pitches. For something with breakfast buffet and a restaurant, check rates at Crown Reef Beach Resort and Waterpark.
11
Beach Cove Resort is the kind of place travelers book when they're not too interested in venturing far from the resort. Located in North Myrtle Beach, the oceanfront resort isn't in the thick of the Myrtle Beach action. But if seclusion is what's sought, the Beach Cove Resort is a good option. The U-shape of the resort keeps it secluded, and the 320 ocean-facing rooms invite sea breezes instead of street traffic noise. With lots to do at Beach Cove Resort -- including several pools and a lively beach bar -- there's enough here for visitors who seek a low-key Myrtle Beach vacation. For those who do want to explore off property, it's a seven-minute drive to the shops and restaurants at Barefoot Landing.
12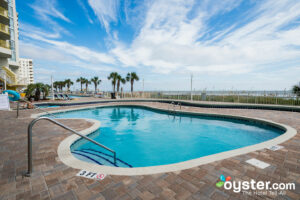 The three-pearl Bay Watch Resort and Conference Center is located on the beach in the quiet and residential section of North Myrtle Beach, about a half-hour drive from the attractions of Central Myrtle Beach. It comprises 270 individually-owned and rented condos, all with balconies and most with full kitchens, living rooms, and laundry machines. Decor differs throughout, and some units are dated and in need of a refresh. The property offers an array of indoor and outdoor water features, including oceanfront pools and a lazy river, plus there are three restaurants/bars from which to choose. Fitness facilities are lackluster, but there's plenty of meeting/event space here with 13 meeting rooms. Travelers seeking something more centrally located might want to check out the Caribbean Resort and Villas instead.
13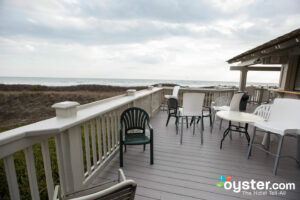 This North Myrtle Beach resort is a perfect place for those looking for a quiet beach vacation. Guests need a car to get to most of the main Myrtle Beach attractions, but access to the beach is made easy by a tram the resort provides. Located behind a 24-hour security gate, the resort attracts a mix of families and snowbirds looking to escape the colder weather up north. Units are clean and tidy, and decor has been updated throughout most of the property. Amenities, such as a tennis facility and a grill area with live entertainment, provide on-site action.
14
This mid-range resort in North Myrtle Beach is partially owned and rented by private parties and partially by the Embassy Suites chain. Decor varies according to the tastes of the individual owners, though views from the units controlled by Embassy Suites are better, as those are on higher floors. It's one of the nicer mid-range options in Myrtle Beach, and draws many conference guests with its 70,000 square feet of meeting space. It's a massive, sprawling property with a free shuttle to get around and lots of features, including nine pools, a giant fitness center, several dining options, and an oceanfront location. Just note the villas can be a bit far from the beach, and guests will have to drive for any dining off property.
15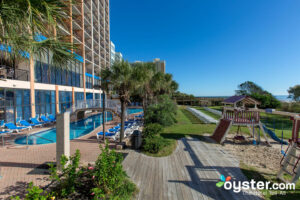 Set on the quiet north end of Myrtle Beach, the 194-room Monterey Bay Suites is a mid-range beachfront property with three pools, including an indoor pool with a lazy river and kids' pool, and three hot tubs. A large beachfront lawn has a playground, cornhole games, and lounge chairs. In the summer months, there's a poolside snack bar, lunch service, and a kids' club. A free breakfast is served daily year-round, and the hotel has a small fitness center, and small parking garage. Tropical-style suites have kitchens, living rooms with Murphy beds, and some have beachfront balconies, although furnishings are a bit old-fashioned. Travelers might want to compare rates with the Sea Watch Resort, which has a restaurant and ice-cream shop.