Best Party Hotels in French Quarter, New Orleans
Take a look at the best party hotels in French Quarter.
See All French Quarter Hotels
1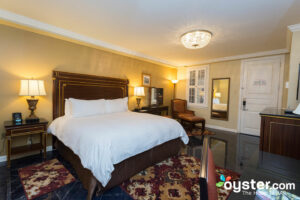 The Hotel Mazarin is an upper-middle-range boutique located in the heart of the French Quarter, just half a block from both Bourbon and Royal Streets. The 102 rooms are charming and elegant, featuring black-tiled bathrooms, iPod docks, and coffeemakers. Unfortunately, thin walls create noise issues for all rooms. Wonderful freebies include expansive breakfasts with hot and cold fare, welcome drinks at a nearby bar, and Wi-Fi. Although there are no spa, pool, or full restaurant, a popular wine bar with outdoor seating is on-site, as is a gorgeous greenery-filled courtyard that provides a respite from the crowds outside. This is a solid pick for those looking to explore the main tourist attractions on foot and who don't mind a little late-night noise. Travelers wanting a quieter boutique should consider the Inn on St. Peter.
2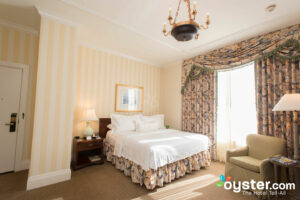 The 600-room, four-pearl Hotel Monteleone is a historic, grande dame property that has played home to several literary icons. Today it's known for the famous, rotating Carousel Bar, and its central French Quarter location on gallery-filled Royal Street, just one block from buzzing Bourbon Street. Traditionally elegant rooms may be too old-fashioned (and small) for some, but others find it fits in with the property's overall charm. Keurig coffeemakers, free Wi-Fi, and mini-fridges are provided, but rooms lack balconies and many suffer from street noise. A rooftop pool provides respite from the lively city, as do a full-service spa, all-day restaurant serving regional cuisine, and gym with a good array of equipment and city vistas. Extensive meeting space attracts corporate groups, but most guests are couples on vacation. Travelers wanting a more modern stay should consider the Royal Sonesta.
3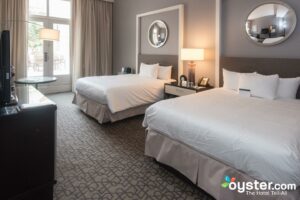 Set in a former department store on bustling Bourbon Street in the French Quarter, the upscale Hyatt Centric French Quarter New Orleans has a bustling and convenient location. It features 254 modern rooms and suites with free Wi-Fi, flat-screen TVs, air-conditioning, Keurig coffeemakers, and mini-fridges. Fleece robes, high-end Drybar hairdryers, and BeeKind toiletries come standard. There are five restaurants and bars, including Hard Rock Cafe, Red Fish Grill, Powdered Sugar cafe, Batch Bar, and the Poolside Bar. Other amenities include a 24-hour fitness center, an outdoor courtyard pool, in-room spa services, a 24-hour business center, and over 10,000 square feet of meeting space. Valet parking is available for a fee. Guests who want to be near the French Quarter, but prefer a property with a more boutique feel might consider The Saint Hotel, Autograph Collection.
4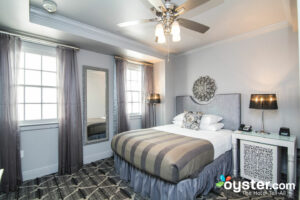 A time-share property that doubles as a hotel, the three-pearl Bluegreen Vacations Club La Pension has a large rooftop terrace and a great French Quarter address. Owned by Choice Hotels, the 67 French Decadent-style apartments each include a flat-screen TV, modern kitchenette or full-size kitchen, and contemporary bathrooms; balconies are available in some rooms. The elegant hotel has a laundry room and free Wi-Fi throughout, but no other hotel features. Complaints have been made about noise and a fee for daily housekeeping. Guests seeking a French Quarter hotel with additional amenities may want to compare prices at the French Market Inn, which has a small outdoor pool.
5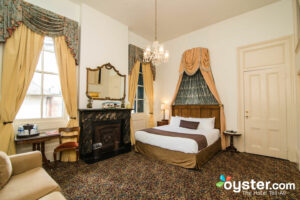 Located on the famous Bourbon Street in the French Quarter, the Lafitte Guest House is a three-pearl boutique hotel near the city's most popular areas. Built in 1849, the hotel is an attraction in itself, doubling as an art gallery and filled with classic French decor from another era. Its 14 rooms are elegant and include flat-screen TVs and mini-fridges, though bathrooms are small and are starting to show their age. A free breakfast buffet, shared kitchen, and a business center round out the amenities, plus there's an attractive courtyard that makes for a lovely spot to gather with other guests. Many guests complain of noise issues due to the Bourbon Street location, however; for something that's a bit quieter, travelers might want to check out the Grenoble House, another French Quarter property that has the added perk of a pool.
6
The 483-room, four-pearl Royal Sonesta Hotel New Orleans is Bourbon Street's swankiest property, attracting a mix of leisure travelers and on-site convention-goers. Renovations until 2016 left the rooms with a chic, modern design, all of which have Keurig machines, mini-fridges, and free Wi-Fi. Some have jetted tubs or furnished terraces, but street and internal noise are both issues. Club-level guests get their own concierge and access to a lounge with free breakfasts, daily happy hours, and all-day beverages. Multiple dining options include an upscale Cajun and Creole eatery, oyster bar, and a popular jazz club with nightly performances. A courtyard pool with seasonal bar is a lovely spot in warmer months, plus there are 24-hour fitness and business centers. Unfortunately, no spa is available. Travelers wanting a more intimate and historic-feeling stay should consider Audubon Cottages.
7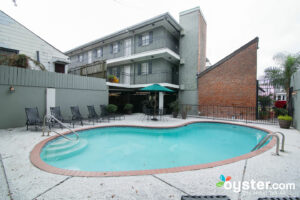 The 34-room French Quarter Suites Hotel is a simple, affordable budget hotel not far from the French Quarter of New Orleans. The rooms are plain, and range from cramped studio rooms to expansive suites, including the Four-Bedroom Party Pads. It's location is great, near the bustling French Quarter, but not right in it, so there's less nightlife noise -- though exterior hallways can result in some noise from neighboring guests. The hotel provides free continental breakfast, free Wi-Fi, and has a small pool to itself, as well as a larger pool shared with neighboring properties.
8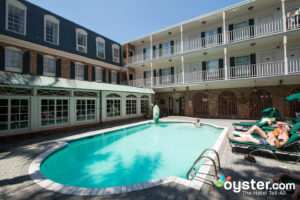 BEST WESTERN PLUS French Quarter Landmark Hotel is positioned just three blocks from infamous Bourbon Street. The three-pearl, 102-room property is ideal for couples and friends, especially during NOLA's many festivals. Families and business travelers may prefer a quieter setting, but for location and price, this hotel is tough to beat. It's located within one of NOLA's most LGBT-friendly areas, walking distance to restaurants, bars, shops, and clubs. The hotel has the basic features of a mid-range chain hotel, and guests are particularly fond of the sizable (though seasonal) pool and generous free breakfast buffet. There's a fee for parking, which doesn't come with in and out privileges, and the hotel is surrounded by a maze of one-way streets, making it less than ideal for guests with vehicles. Check prices at Le Richelieu if you prefer a boutique hotel experience to a chain, but the bathrooms there are from another era.
9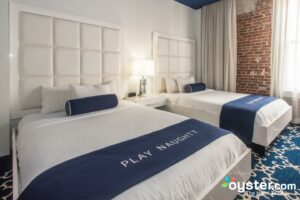 The Saint Hotel is a modern, upscale property two blocks from Bourbon Street in the French Quarter. It offers 166 rooms and suites with a sexy, adult-oriented vibe. Beautifully designed rooms feature free Wi-Fi, flat-screen TVs, and minibars, but no coffeemakers. Sleek suites add living areas and stylish decor touches like Murano glass chandeliers and exposed brick -- some have an angel or a devil theme. Tempt restaurant serves southern fare for breakfast and dinner, while the bordello-chic Burgundy Bar features regular live music. Additional amenities include a fitness center, a business center, meeting space, and a colorful lobby lounge. Valet parking is available for a fee. There's no pool or spa. Guests looking for a modern, boutique-style hotel with a less adult-oriented theme might consider the stylish, journalism-themed Eliza Jane.
10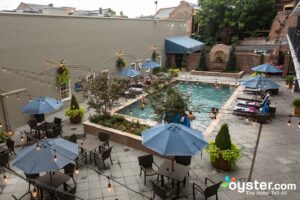 Set on bustling Bourbon Street on the site of the former French Opera House, Four Points by Sheraton French Quarter is an upscale hotel with an almost unbeatable location. The 186 contemporary rooms offer air-conditioning, flat-screen TVs, and coffeemakers, but no mini-fridges. Upgraded rooms and suites add balconies, some overlooking Bourbon Street (these come at a premium during Mardi Gras). Cafe Opera serves breakfast, while Puccini Bar offers southern fare, local beers, and opera singer performances. A lovely courtyard features an outdoor pool, sun loungers, and tables. Other amenities include a 24-hour fitness center, a 24-hour business center, meeting space, a convenience store, and a souvenir shop. Guests looking for similar amenities closer to the convention center and the Central Business District might consider Doubletree by Hilton Hotel New Orleans.
11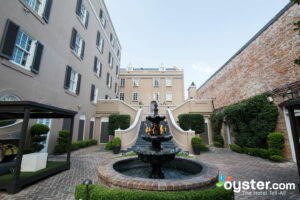 This 97-room, mid-to-upper range hotel, located just blocks from Bourbon Street, is definitely for those seeking a trendier, hipper NOLA experience. Decorated with an eclectic mix of funky voodoo and contemporary jazz-themed elements, the rooms can be a bit on the small and dark side, but have a unique style. The hotel is a tad pricier than some of the others in this area, and rooms are not spotless, but guests get perks like Bliss bath products and plush W signature bedding. Certain luxuries are missing, like free Wi-Fi. There is, however, a stocked minibar along with a cocktail shaker to get the in-room party started (for a price, of course). The small pool and modern interior courtyard are both inviting, and the on-site restaurant SoBou (i.e. South of Bourbon Street) is top-notch.