Best Value Hotels in Central Business District, New Orleans
Take a look at the best value hotels in Central Business District.
See All Central Business District Hotels
1
Housed within the historic Cumberland Phone Building, this mid-range downtown NOLA hotel offers generously-sized, clean rooms with conveniences like free Wi-Fi, mini-fridges, and microwaves. With additions to the old-world structure -- such as a lovely rooftop pool and whirlpool, and a tower of more modern rooms -- and a terrific location, it's a solid value pick. Freebies like daily happy hours and hot breakfast sweeten the deal. However, older rooms are more dated and some smell of smoke.
2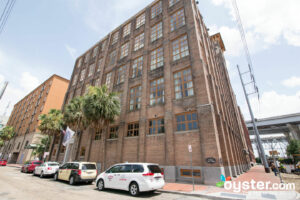 This 288-room mid-range hotel located across the street from the convention center is pretty much perfect for the business traveler or convention-goer. Built in an old cotton factory warehouse, there are high ceilings and lots of space for guests to roam. With in-room amenities like microwaves, refrigerators (mini or full-size depending on the room level), and free Wi-Fi, this can serve as a comfortable home away from home. Convention-goers will appreciate the daily breakfast buffet or On the Run breakfast bags. And there is a swimming pool and the Warehouse Bar for unwinding after a long day. It's a bit far from area attractions, but visitors can still get to the French Quarter and other popular sights with a quick taxi ride.
3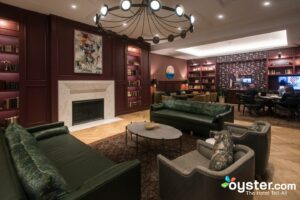 Set in nine former warehouse buildings on busy Magazine Street in the Central Business District, The Eliza Jane is an industrial-chic, journalism-themed, upper-middle-range hotel. It offers 196 stylish rooms with free Wi-Fi, flat-screen TVs, mini-fridges, Keurig machines, and C.O. Bigelow toiletries. Suites feature comfortable and colorful living areas. The sprawling Press Room lobby bar serves coffee and cocktails, and offers plenty of indoor and outdoor lounge seating. Other amenities include the vintage-inspired Library lounge and a modern fitness center with Precor cardio machines and a Peloton bike. A French restaurant, Couvant, opened in the summer of 2018. There's no pool or on-site self-parking. For a fun hotel closer to Bourbon Street, consider The Saint Hotel, Autograph Collection, but note that the saints and sinners theme is not necessarily child-friendly.
4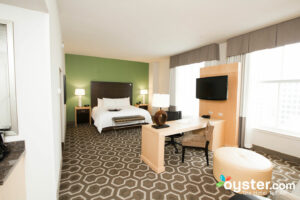 This 197-room, mid-range hotel is located in the Carondelet Building -- noted as the first skyscraper in New Orleans -- and perfectly located for business and pleasure. Just a block or so from the French Quarter (Carondelet Street actually turns into Bourbon Street), guests are just steps from all the action but still slightly removed in the Central Business District. Guest rooms are especially large for the area and have high ceilings and terrific light from big windows (though there are heavy drapes if guests need to sleep off a night of partying). While there is no swimming pool, the free breakfast and fitness center are both quality perks.
5
The 108-room BEST WESTERN PLUS St. Christopher Hotel is a mid-range historic hotel conveniently located near the French Quarter's many restaurants, bars, and attractions. Rooms have charming features like exposed brick walls and high ceilings, but feature modern amenities such as mini-fridges, coffeemakers, and flat-screen TVs. Note that some rooms lack windows and using safes costs extra. The hotel has few frills for a three-pearl option, but a free breakfast is served daily, and the space becomes a lounge with a cocktail hour on select nights. Events space is suitable for business and social gatherings, and there's a 24/7 business center. Travelers preferring to be closer to the Superdome could check out the quirky, modern Holiday Inn New Orleans Downtown-Superdome, which has a rooftop pool and a fitness center.
6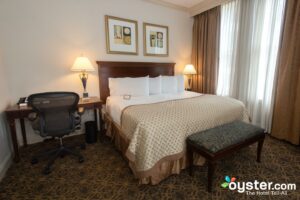 Set in a historic 1890s bank building on busy Poydras Street in the Central Business District, The Whitney Hotel is a lower-middle-range property with original architectural features, 93 warm rooms, and limited amenities. Rooms offer air-conditioning, flat-screen TVs, coffeemakers, and free water, but no mini-fridges or minibars. Suites add comfortable living areas. Breakfast is offered in the beautiful former bank lobby, but there's no full-service restaurant. Other amenities include a fitness center, a small business center, a lobby lounge, and valet parking (for a fee). Wi-Fi is free throughout the property, and free coffee and water are offered in the lobby. As an alternative, the nearby historic St. James Hotel, an Ascend Hotel Collection Member offers a small pool and on-site dining, but there's no fitness center.
7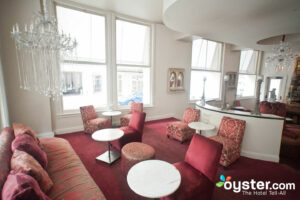 Trendsetters and celebs stay at the International House Hotel for its quietly sexy vibe, attentive staff, and posh rooms designed by a top L.A. designer. At night, the hotel's Loa Bar (just off the rose-scented lobby) serves fancy libations by candlelight. The rates here are surprisingly fair, and the Central Business District location is within walking distance of the French Quarter.
8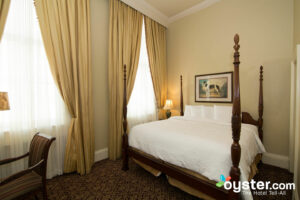 The 60-room Pelham Hotel is a mid-range property with traditional interiors and few frills, conveniently located within walking distance of the French Quarter. Rooms are pleasant and decorated with old fashioned details like four-poster-beds and reproductions of 18th-century paintings, along with modern comforts including flat-screen TVs, iPod docks, and free Wi-Fi. Though this modest property has limited amenities, there is a popular local restaurant adjacent to the hotel and many other dining options in the area. Travelers seeking something with more features might want to consider the nearby DoubleTree by Hilton New Orleans, which has an outdoor pool and fitness center as well as a restaurant and cafe.
9
The 170-room Hyatt Place New Orleans/Convention Center is an upper-middle-range chain hotel located across the street from New Orleans' main convention center. While those seeking a central location and historical experience will want to steer away from what is a fairly bland environment, the property is convenient for business travelers and tourists who don't mind a 20-minute commute to the French Quarter. Rooms are contemporary and attractive, if not quite memorable. The hotel has a sunlit cafe selling an assortment of light bites and beverages including cocktails and Starbucks coffee; it also offers an extensive hot breakfast that's included in the room rate. There's also a 24-hour fitness center and other conveniences like laundry facilities, meeting rooms, and a business center. Travelers seeking something similar, but with a more central French Quarter location, might want to consider the Hyatt French Quarter New Orleans instead.
10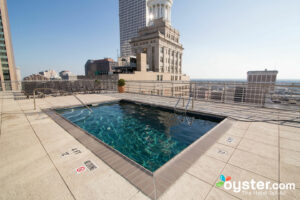 The 155-room Hilton Garden Inn New Orleans French Quarter/CBD is an upper-middle-range chain hotel that's within walking distance of the French Quarter and offers an array of extras including a lovely rooftop pool with great views over the city. Bright, cheerful interiors include a spacious lobby with cozy seating and a fireplace, as well as a casual restaurant and bar. Other conveniences include a fitness center and a small shop selling a sundry of snacks and microwaveable meals. Rooms are clean and pleasant, though decor is a bit bland and chain-like, and are outfitted with Keurig coffee machines, microwaves, mini-fridges, and free Wi-Fi. Travelers looking for something with more character will find many charming boutique hotels nearby, such as the Dauphine Orleans Hotel or the French Market Inn.
11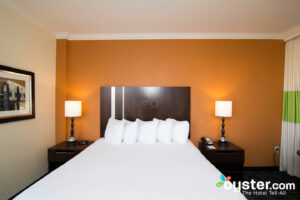 The 143-room Royal St. Charles is a colorful mid-range hotel in the Central Business District, near the French Quarter. Despite its bright, borderline over-the-top styling, its offerings are fairly typical for a hotel of its category. The smallest rooms may feel a little cramped, but pricier rooms offer more space. Other features include a 24-hour fitness center, a coffee shop with some light fare in the lobby, and three meeting rooms. Note that there is a mandatory resort fee, but it covers Wi-Fi access. Rates are among the lowest in the area for this caliber of property, but the nearby International House Hotel has much nicer rooms for only slightly more, while the pricier Country Inn & Suites has a small pool.
12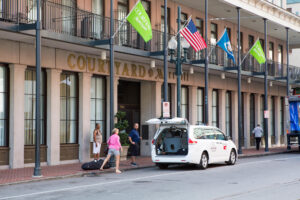 True to its name, this Courtyard property is a 10-minute walk from the famous French Quarter. Belonging to the Marriott chain, this mid-range hotel has 141 guest rooms spread over six floors; some with balconies overlooking the street below. The lobby is modern and bright, and the on-site amenities include free Wi-Fi throughout the hotel, a fitness center, 24-hour convenience store, a Starbucks cafe, and a bistro in the lobby area. Expect to pay extra for breakfast and parking. Travelers may want to consider the nearby Homewood Suites by Hilton New Orleans, which offers free breakfast and a swimming pool.
13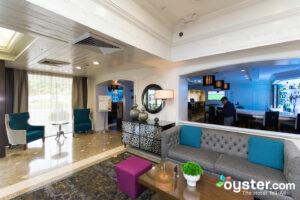 This 296-room mid-range hotel is conveniently located in the downtown NOLA area, about a half-mile from the Mercedes Benz Superdome. The hotel is also convenient to the French Quarter, convention centers, and other area attractions, making it a great choice for those traveling for business or pleasure. The rooms are well-kept but have a decidedly retro feel, which emanates from the original Andy Warhol painting that graces the lobby. There is a nice-sized rooftop pool, a 24-hour fitness center, and a funky lobby bar for relaxation, but if work is on the agenda, rest assured: the hotel provides meeting rooms, business center, and free Wi-Fi. Convenience, comfort, and a little artistic quirk sum up this Holiday Inn.
14
The 166-room Homewood Suites by Hilton New Orleans is an upper-middle-range chain hotel located in the downtown business district, within walking distance of the French Quarter. Though decor is a bit bland, the spacious and comfortable suites offer convenience for longer stays and are outfitted with small kitchens and separate living rooms. The hotel has an indoor pool as well as a small fitness center equipped with a handful of modern machines. Free breakfast and all-day coffee, in addition to a 24-hour minimart and coin-operated laundry, add to the amenities that make this property a good value. There are several other similar all-suite hotels nearby, such as the Country Inn & Suites By Carlson and the Staybridge Suites New Orleans French Qtr/Dwtn, so travelers should compare rates.
15
The La Quinta Inn & Suites New Orleans Downtown is a lower-middle-range property that attracts families and couples looking to explore New Orleans on foot, as many of the city's attractions are within walking distance. A free hot breakfast includes make-your-own waffles, and there's a lovely rooftop pool that's a guest favorite. The hotel also has a small fitness center and a business center. Rooms (and parts of the hotel) are a bit dated and worn, but include flat-screen TVs and coffeemakers, while King Rooms also have microwaves and mini-fridges. Travelers seeking a more style-conscious hotel with similar amenities might want to consider the nearby Hampton Inn & Suites New Orleans Downtown.