Best Business Hotels in Midtown West
Heading to New York City for work? Chances are if business is taking you to the Big Apple, you'll likely be doing some work in Midtown West. It's a large area of the city, filled with hundreds of restaurants, shops, tourist sites, and office buildings. So if you want to be in a central location, a hotel in Midtown West is a good choice. We visited dozens of properties in the area to sleep in the guest rooms, dine at the restaurants, and connect to their Wi-Fi, all to help you book the perfect hotel. Here are our expert picks for the best business hotels in Midtown West.
See All Midtown West Hotels
1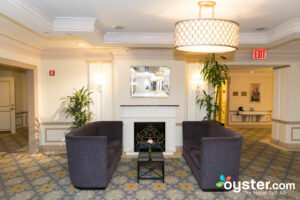 At the Midtown corner of 54th Street and 6th Avenue (and across the street from the Museum of Modern Art) is this historic landmark from media-magnate William Randolph Hearst, built in the 1920s. Hence the fitting name Randolph's for the hotel's bar and lounge, adjacent to the lobby, which is still popular among businessmen and women. The former guest list could fill an entire book with such names as Cary Grant (he lived here for 12 years), Audrey Hepburn, and Elvis Presley, to name a few. The 426 rooms are updated with modern amenities and elegant decor, and a small fitness center is a nice feature. Meeting spaces are also available.
2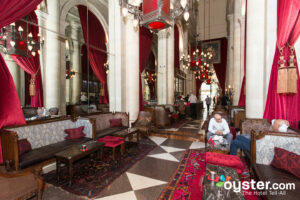 With a 42nd-floor indoor pool, a name-brand independent gym, a prime location just south of Central Park, and three excellent restaurants, the Meridien offers more amenities than most of its competitors. Good thing, too, because its low-tech, no-frills rooms don't quite match up. Meeting and party space abounds, both up high, in the penthouse, and down low, on the 2nd and 3rd floors. (For more on meeting and event planning, click hereandhere, respectively.)
3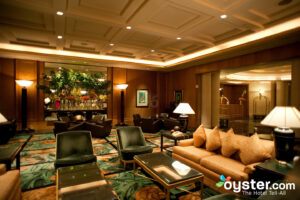 Spacious rooms with large marble bathrooms; impeccable service from a multilingual concierge staff; a well-equipped gym; and a convenient location two blocks from Times Square and close to every major subway in Manhattan; the quiet, 398-room Sofitel is one of the best all-around hotels in Midtown West.
4
European chain Yotel is known for its hip atmosphere and affordable rates. This Midtown West outpost is certainly hip, featuring three bars (including two on an enormous rooftop terrace), a Latin-Asian fusion restaurant, and funky, outer space design. And it's usually affordable, at least for the area. Rooms are tiny, and the location on quiet 10th avenue is a bit out of the way, but the cool factor will make this a worthwhile option for a young, well-heeled hipster set.
5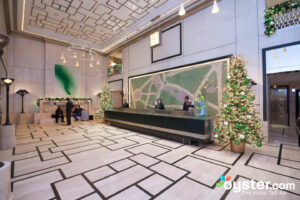 This stylish, all-suite hotel is one of the best luxury deals around -- incredibly large rooms, an on-site bar and restaurant, a central location near Central Park and Times Square, and a great fitness center. All that's missing is an on-site spa.
6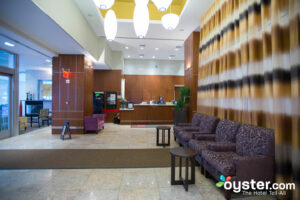 Those looking for a clean mid-range chain hotel right around the corner from the Empire State building can't do much better than this Hilton Garden Inn. Rates are affordable (for New York, at least) and the location is extremely convenient for seeing the sights -- the flagship Macy's store, Madison Square Garden, and multiple subway lines are also within easy walking distance. Just note that rooms ending in "02" are the smallest, so steer clear if you want a bit more space. Some of the city-view rooms have great views of the Empire State building, and all rooms have the microwaves and mini-fridges that are standard for the chain (and particularly helpful for saving money on food in pricey New York City).
7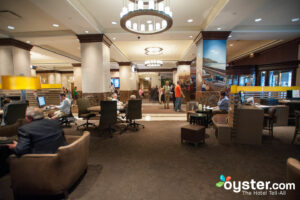 With a convenient Midtown West location six blocks from Central Park, the 1,750-room Sheraton is good for families and its thousands of daily conventioneers. Rooms have attractive contemporary decor with a couple of custom-made touches, plush beds with crisp white linens, and flat-screen TVs; some have striking views of the surrounding skyscrapers. There is extensive meeting space, a solid burger restaurant, and a large fitness center with modern machines -- but there's a fee for use of the facilities, as well as a daily charge for Wi-Fi.
8
With an excellent location and sophisticated decor, the 935-room Park Central is a great upper-mid-range option in Midtown West. Located within easy walking distance of Central Park, Times Square, and thirteen subway lines, leisure travelers will find the hotel well situated for touring. Business travelers will likely enjoy the ample meeting space (over 15,000 square feet), 24-hour fitness center, and stylish hotel restaurant and lounge. Contemporary rooms feature flat-screen TVs, iPod docks, and luxe C.O. Bigelow toiletries. However, as the hotel is so large, service can be slow, and there is a pesky daily fee for Wi-Fi.
9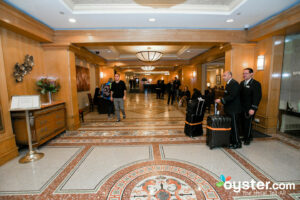 This gorgeous historic building often gets overlooked in the hustle and bustle of Herald Square, but with modern rooms, several dining options, and an interesting history (it's the birthplace of the Professional Golfers Association), the Radisson is a solid mid-range option. The location may not be particularly attractive, but it is certainly convenient; the hotel sits right above eight subway lines, and is within walking distance of numerous sights. It's worth comparing rates with the nearby Eventi, however, which boasts larger rooms and extra freebies.
10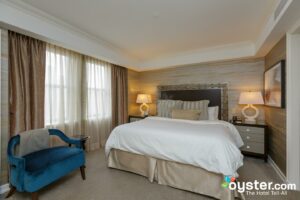 This large, luxurious Art Deco icon, located on the southern edge of Central Park, evokes the opulence of bygone times. A 2007 resdesign put modern technological amenities in the rooms, and the Essex House is moving comfortably into the future.
11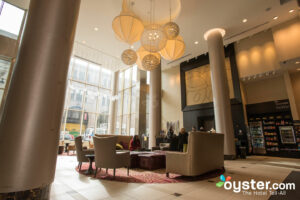 This bright and contemporary Fairfield Inn & Suites is more stylish than many mid-range options and offers a convenient location in Midtown West, just one block from Madison Square Garden and Penn Station. A highlight here is the seasonalrooftop bar, with excellent views of downtown Manhattan's skyline. Rooms feature flat-screen TVs, iPod docks, and free Wi-Fi. Amenities include a free breakfast buffet, 24-hour business and fitness centers, and a grab-and-go marketplace, but there is no full-service restaurant on-site.