Best Value Hotels in Gramercy and Murray Hill, New York City
Take a look at the best value hotels in Gramercy and Murray Hill.
See All Gramercy and Murray Hill Hotels
1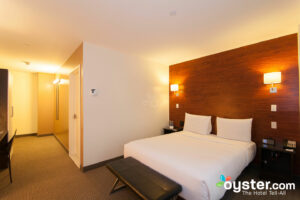 The mid-range Lex Hotel is a sleek, 48-room boutique hotel with affordable rates couched between New York's Gramercy Park and Murray Hill neighborhoods, near the subway and lots of dining options. The stylish rooms have queen-size beds, 40-inch flat-screen TVs, free Wi-Fi, and black-and-white tile bathrooms. Mini-fridges are available on request. Superior Queen Rooms and Junior Suites have balconies, but they face other buildings. A continental breakfast is included in the room rate, adding to the hotel's value. Travelers might want to compare rates with the nearby Marcel at Gramercy, which has funkier rooms and a 10th-floor lounge, but Wi-Fi and breakfast come with fees.
2
The idea of the 366-room Pod 39 hotel is to offer very small rooms (even by New York City standards, a city notorious for small hotels rooms) for low prices (again, by New York City standards). Rooms range from 55 to 140 square feet, and prices start at $119 per night. The smallest rooms, or pods, only fit one person, but all have private bathrooms and smart design touches, like storage under the bed, train-inspired coat hooks, double flat-screen TVs for guests in bunk beds, and both outlets and a "cell phone" close to the pillows. There are three seriously cool -- and colorful -- public spaces: an upscale Mexican restaurant, a rooftop bar with unique architecture, and a hangout space called the Playroom. The hotel keeps prices low by cutting back on amenities and services, but it's a great option for anyone who wants a low price tag without sacrificing cleanliness, comfort, and style.
3
Located in the bustling heart of Midtown East, the mid-range, Hotel 32 32 offers a solid rate for its excellent location -- one block from the subway, and walking distance to numerous landmarks including the Empire State Building. But there are no common areas, and aside from free Wi-Fi, in-house features are lacking. Guests must trek off-site to take advantage of a free daily breakfast and free fitness center access at affiliated establishments. Its 102 apartment-like rooms are stylish, contemporary, clean, and well-equipped with flat-screen TVs, iPod docks, minibars, and marble bathrooms with free toiletries. Many rooms offer cityscape outlooks, balconies (one has a deck), and kitchenettes. Hotel 32 32 is hard to beat on price and location, but travelers seeking more on-site features could try the Bentley Hotel, which can have lower rates.
4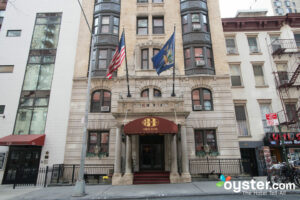 This 80-room budget hotel -- sister property to Hotel 17 a little farther downtown -- is a great value. Many rooms have their own unique decor, down to the patterned wallpaper and outdated bedspreads. That being said, the hotel is clean and maintained by a longstanding housekeeping staff, and technology includes flat-screen TVs and free Wi-Fi. Room sizes and types vary: some have private bathrooms while others are shared -- though it is rare to run into the neighbors except while waiting for the single (and slow) elevator.
5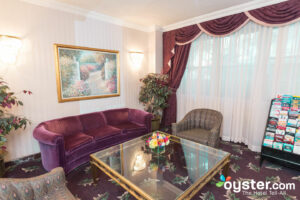 If space is what you crave, Murray Hill East delivers. The 117-room value hotel offers a variety of rooms ranging from studios to two-bedroom apartments, all with kitchenettes and living areas. Yet what the hotel offers in size, it lacks in style. Rooms are finished in dark colors with stodgy furnishings, kitchens that show signs of wear and tear, and small bathrooms. The hotel's location in Midtown Manhattan puts guests within easy reach of transportation hub Grand Central and walking distance to Bryant Park and the Empire State Building.
6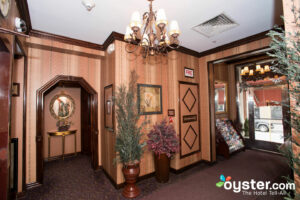 The budget-friendly, 150-room Hotel 17 in the residential Gramercy neighborhood is even cheaper than its smaller sister property in Midtown, Hotel 31. But there are no private room and bathroom options here and the location is a bit less central. Rooms of varying sizes (larger rooms include coffeemakers and sinks) have clean but outdated decor -- think patterned bedspreads and mini-blinds. But prices are consistently among the cheapest in this posh neighborhood. One reason for this is shared bathrooms -- each floor has four bathrooms (two bathrooms for every seven rooms); there's rarely a wait and the hard-working cleaning crew keeps the place spic and span.
7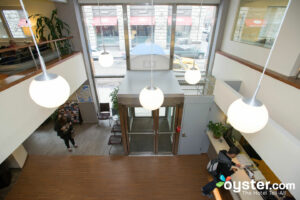 The basic 84-room Seafarers and International House near Union Square contains guestrooms with twin beds and is known for two reasons: value and location. This downtown property is a non-profit with a 100-plus-year history (it's been in this location for 50) as a refuge for seafarers and asylum seekers. Today, guests are anyone looking for a good deal in lower Manhattan. Some rooms have private bathrooms and flat-screen TVs, but most have no bathrooms (they are shared with other rooms on the floor). The lobby is filled with natural light and offers coffee for just a coin and free Wi-Fi.
8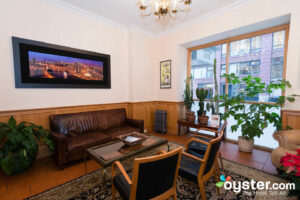 Located in the middle of the vibrant NoMad neighborhood, Hotel Deauville is a budget hotel with character. Built in 1901, the hotel has a Beaux Arts facade and has retained some of the features of that epoch, including a quirky vintage elevator (with its own operator!), an exposed red-brick decorative fireplace, and a piano lounge. The Flatiron Building and the Empire State Building are within walking distance, and there's a subway station a block away. The 54 guest rooms, which range from Singles with shared baths to a Junior Suite with a living area and kitchenette, are spotlessly clean and well-equipped with flat-screen TVs, coffeemakers, and free Wi-Fi, but some can be cramped and dark. Travelers could compare rates with nearby Hotel 31, which has views of the Empire State Building from some rooms.
9
The Hotel @ New York City sits on a street corner in low-key Murray Hill, with some great restaurants and shops as its neighbors. The free continental breakfast is a perk for this mid-range hotel, but the renovated breakfast room didn't update the spare food options or solve all the housekeeping issues where food service and NY pests are concerned. The rooms are adequate with flat-screen TVs and coffeemakers, but the dated decor is hard on the eyes. Budget travelers should compare with the nearby Hotel 31, which has views of the Empire State Building from some rooms. For those more comfortable with brand names, the Hilton Garden Inn New York/Midtown Park Ave is just a few blocks away.
10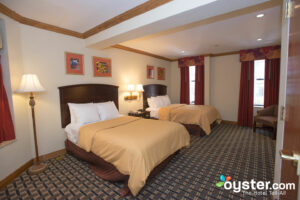 The budget-friendly Clarion Hotel Park Avenue is centrally located, as its name suggests, on Park Avenue. Clean, comfortable rooms and basic amenities for reasonable prices make The Clarion a good choice for travelers looking for a convenient and cheap place to sleep. A free continental breakfast with plenty of choices, as well as an afternoon tea/coffee and snack hour are two cost-saving highlights. However, some of the rooms are tiny, and there's not much in the way of ambience.
11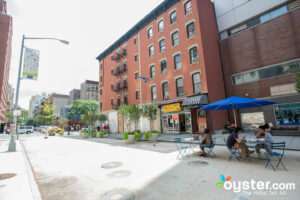 The Carlton Arms is a funky, art-driven 46-room budget hotel with unique, but very basic, rooms and few amenities. Part hotel, part hostel, some of the rooms come with private baths, the rest share showers and water closets on their designated floor. The hotel's location on the corner of busy Third Avenue and the quiet, pedestrian-only section of East 25th Street, is convenient to some of Manhattan's most desirable areas --Gramercy, Madison Square Park, the Flatiron District, the Empire State Building, and Union Square.
12
Located in residential Murray Hill, just south of Midtown East's skyscrapers, the Jolly Hotel is a not-too-swanky 242-room European chain -- not the "charming, Italian boutique" promised on its website. Standard rooms are worn, but clean. There are few extra amenities. But its updated Deluxe rooms make it a fair choice for the price.
13
This hostel in Murray Hill is a great option for visitors traveling to NYC on a budget, with shared rooms starting at just $50 per night, and private rooms for just a bit more. Many of the rooms are small, but clean -- there is daily housekeeping -- and efficient. As in other hostels, many rooms also share bathrooms in the hallway. There is no curfew or lockout, as the hostel is staffed 24/7, and in-room microwaves and mini-fridges help guests save on food (though there is no shared kitchen, unlike at some competitors). Additional conveniences such as free Wi-Fi and free pizza two nights a week are major draws, especially for cash-strapped travelers. Overall, this is one of the best hostels in New York, but it's also worth considering Hostelling International.
14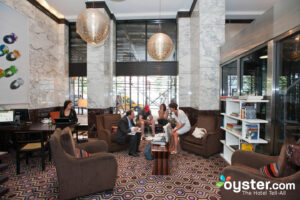 With a world-class gym and spa, plus dozens of customized amenities, the all-suites Dumont is a phenomenal option if you're looking for an urban spa getaway. More than that, it's an excellent high-end choice in general as long as you don't mind being a bit of a hike away from NYC's main tourist haunts.