Most Affordable Hotels in New York City
New York City is notoriously expensive when it comes to rent, food, and recreational activities; unfortunately, that also carries over to the hotel industry. Though it may seem hard to score a clean room under $300/night, there are budget-friendly properties scattered throughout the five boroughs offering just that. After investigating hundreds of hotels in New York City, we've found many that are excellent options for wallet-conscious travelers. Take a look at the most affordable hotels in New York City.
See All New York City Hotels
1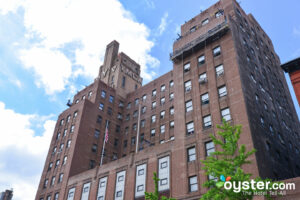 The 90-room Harlem YMCA dates back to 1901, and, as is its tradition, offers low-cost lodging in a safe, wholesome environment. All guests can use the Y's fitness facilities, which include an indoor pool, and spinning and yoga classes. Hostel-style rooms have bunk beds and mini-fridges, while Bunk Bed Deluxe Rooms have flat-screen TVs, small desks, and splashes of color. Bathrooms are shared. There are plenty of common areas to pull out the guidebook or use the free Wi-Fi, and there's a cafe with Starbuck's coffee near the entrance. The main draw is cheap lodgings in one of New York's most culturally rich neighborhoods. A number of good restaurants highlighting Southern cuisine are within fast walking distance, including Red Rooster, which President Obama made famous.
2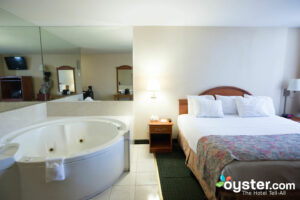 The Best Western City View Inn is a 71-room budget hotel in a slightly unattractive residential area of Queens. It has run-of-the-mill decor, bland yet spacious rooms and, depending on your room number, views of the Manhattan skyline or a cemetery. While it is physically far from the subway -- which is necessary to access tourist spots in Manhattan -- the hotel offers a shuttle to the nearest train station. Some of the hotel's competitors are located closer to public transportation, but the City View Inn offers free full breakfast as opposed to a limited continental breakfast. There is no fitness facility or full business center, but free Wi-Fi and parking are available.
3
The Broadway Hotel and Hostel is a chic (enough) value hotel housed on the multicultural Upper West Side, fairly close to Central Park, the Cathedral of St. John the Divine, the Metropolitan Museum of Art, the Museum of Natural History, and Columbia University. The subway is located just two short blocks away -- the 1 train connects to Midtown Manhattan in 15 minutes. While the hotel is low on frills, you can rely on free Wi-Fi, a 24-hour snack shop, comfortably spacious lounges with a kitchenette, and cozy, colorful rooms with pristine bathrooms.
4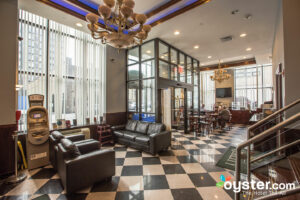 The Quality Inn Long Island City keeps it simple. Located within walking distance of the Queensboro Plaza subway station and bus lines, this Queens value hotel puts Manhattan within a 20-minute reach. Basic and generic-looking, the narrow building does show a bit of personality in the lobby, with its bold black-and-white checkered marble floors and curving gold chandeliers. Some of the rooms have whirlpools. The hotel also offers free Wi-Fi and a continental breakfast, but there's no fitness center, on-site laundry, or free parking, and the business center consists of one computer, printer and fax crammed into a corner of the lobby. Be aware that noise from the nearby overhead train tracks might disturb light sleepers.
5
With shared bathrooms and hilariously small (though cleverly designed) rooms, this West Village landmark offers quirky accommodations for hipsters on a tight budget -- most rooms cost a fraction of the New York average. The Pod Hotel offers similarly priced (and sized) rooms in Midtown East, but it can't compete with The Jane's proximity to the thriving West Village.
6
The loft-style Bowery House (not to confused with the more expensive Bowery Hotel) is best suited for 20- or 30-something hipster types looking for proximity to downtown nightlife. It falls somewhere between a hostel and a hotel, and though snug "cabin" rooms are private, the latticed ceilings make for a lack of aural privacy (hence the earplugs). They're best suited to single travelers on a budget, but adventurous couples can book the Full Cabins (with a full bed), or the one private room that has a queen bed and actual ceiling. Shared bathrooms (gender specific) have upscale touches like Italian marble, Parisian fixtures, rain showerheads, and eco-friendly toiletries. The living room is a great place to mix and mingle, and the great rooftop deck is open in summer months. The eclectic small plates at the downstairs restaurant are excellent, though the bill might cost more than room itself.
7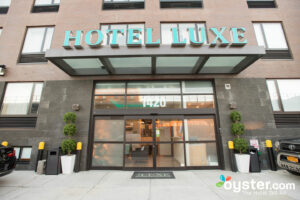 Opened in December 2013, Hotel Luxe is a boutique property located on Atlantic Avenue in Brooklyn, a seven-minute walk to the subway into Manhattan. The rooms are stylish and minimalist and the bathrooms, while small, are clean and modern. The hotel offers affordable rates in an otherwise expensive city and is a good option for the budget traveller who doesn't mind a subway ride to most attractions. However, the neighborhood does have higher crime rates than others in Brooklyn and the rooms can be noisy from train traffic outside and thin interior walls.
8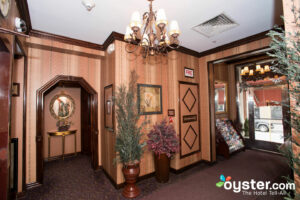 The budget-friendly, 150-room Hotel 17 in the residential Gramercy neighborhood is even cheaper than its smaller sister property in Midtown, Hotel 31. But there are no private room and bathroom options here and the location is a bit less central. Rooms of varying sizes (larger rooms include coffeemakers and sinks) have clean but outdated decor -- think patterned bedspreads and mini-blinds. But prices are consistently among the cheapest in this posh neighborhood. One reason for this isshared bathrooms -- each floor has four bathrooms (two bathrooms for every seven rooms); there's rarely a wait and the hard-working cleaning crew keeps the place spic and span.
9
The Pointe Plaza is a 70-room, mid-range hotel with affordable rates and spacious suites that cater to budget-conscious guests and families, many who are looking for proximity to the Hasidic Jewish community or the music scene of Williamsburg. While the immediate area doesn't offer much in the way of restaurants, shops, or attractions, the hotel provides a handful of services to alleviate that stranded feeling. Morning shuttles take guests to the subway and Times Square while suites allow room to spread out in decent-sized quarters that include separate living areas, kitchens, and free Wi-Fi.
10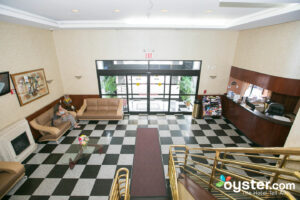 The 100-room La Quinta Inn is a practical choice for budget or business travelers who want to base themselves in Queens. Room rates are low, and some come with whirlpool hot tubs. Breakfast is free and there's on-site parking, making it a convenient choice for those with their own cars. However, the area is noisy and not particularly pleasant -- guests in town for sightseeing may prefer to fork out a bit of extra cash for a hotel in Manhattan, especially if they want to be within walking distance to attractions.
11
The Belnord Hotel offers rooms at some of the most reasonable prices in Manhattan –- this is truly a budget property. The trade-off is space; the rooms are minuscule (the Double Rooms only fit a bed and one end table –- that's it). However, each room has a private bath and the hotel is clean and quiet. Located on a residential street on Manhattan's Upper West Side, the Belnord is removed from the bustle and noise of Midtown and is a short subway ride away to many sights. Offering limited amenities to keep the price down, the hotel is good for guests only looking for a place to shower and sleep.
12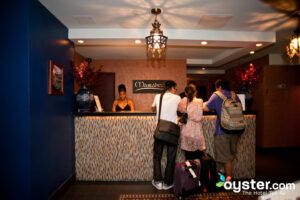 This 127-room walk-up hotel (no elevator!) is a bit cramped and worn around the edges, but a beautiful Moroccan-style lobbyand a cocktail lounge from Sookk Thai restaurant make it a fair option if you want to be near Central Park and Columbia University, in the nontouristy northern outskirts of the Upper West Side.
13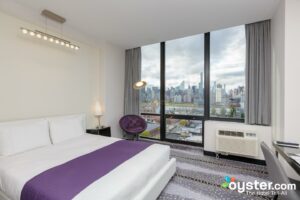 The Z is a hip boutique in the up-and-coming neighborhood of Long Island City, Queens. Stylish rooms have dark grey accent walls with funky murals, floor-to-ceiling windows offering sweeping Manhattan views, and tons of fun details. The attractive, industrial-chic lounge is the meeting point for guests day and night, and offers a solid drinks and tapas menu well into the evening. The hotel's location (a short walk from seven subway lines and one stop on the E train from Midtown); outstanding freebies (Wi-Fi, hourly shuttle to and from Manhattan, loaner bikes, and phone calls); and reasonable rates (cheaper than Manhattan hotels) make it a great value. It's a chic option for those who don't mind staying in a quieter part of the city.