Most Romantic Hotels in Midtown West
If your idea of romance in New York City involves a stroll through Central Park, dining at a renowned restaurant in Hell's Kitchen, and taking in breathtaking views from Top of the Rock at Rockefeller Center, then you should probably stay in Midtown West. The central location is near all this and more, with subway stops close by to get you to other NYC sites. We visited dozens of hotels in the area to see which were best suited to romancing couples — comparing the guest rooms, spas, ambiance, and more. Take a look at our expert picks for the most romantic hotels in Midtown West, and start planning a vacation with your sweetie!
See All Midtown West Hotels
1
One of New York's sexiest boutiques, conveniently sandwiched between Grand Central and Times Square, the Bryant Park Hotel caters to fashion and entertainment types and discerning Europeans. The combination of friendly, personalized service, a great bar and restaurant, and cool, comfortable rooms -- all within a 128-room art deco building -- makes it a distinctive pleasure.
2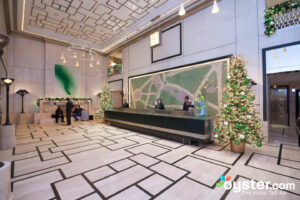 This stylish, all-suite hotel is one of the best luxury deals around -- incredibly large rooms, an on-site bar and restaurant, a central location near Central Park and Times Square, and a great fitness center. All that's missing is an on-site spa.
3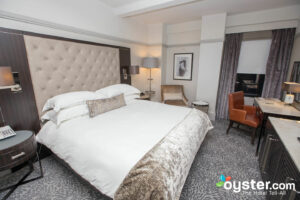 The WestHouse Hotel New York is one of the city's most special boutiques, and easily one of the most luxurious intimate options in this price range in Midtown West. It's on a prime square of real estate, with several train stations within a two block radius and close proximity to numerous sights, including Times Square, Rockefeller Center, and Central Park. The decor is sophisticated, from the marble columns, wall maps and quirky trinkets in the lobby to the 1920s-inspired furnishings in the hotel's 172 rooms and suites. The numerous daily food and drink offerings -- from the breakfast to the happy hour with charcuterie -- add a homey feel, and most guests feel that they are worth the daily fee.
4
This stylish urban boutique hotel in New York's Garment District is located in a historic building that was once a tea salon and hat factory. The property's past inspired its present industrial-chic design, and small details such as decorative milliner's tools pay homage to the building's former function. In the lobby, cool white stone and Gothic arches are contrasted against colorful contemporary art, while in the rooms, a minimalist black-and-white motif is warmed up by the oak hardwood floors. Features include a fitness center, a lobby bar (named for the historic tea salon's owner), Parker & Quinn bistro, and a cool rooftop bar.
5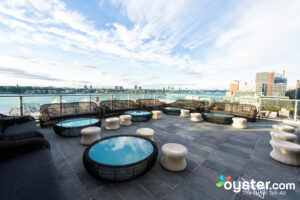 Quiet, stylish, and a 15-minute walk from touristy Times Square (and the subway) -- Ink48 (opened September 2009) is on the far western reaches of Hell's Kitchen, an increasingly fashionable but somewhat desolate neighborhood. Its solid service, gorgeous rooftop lounge, free wine receptions, and pet-friendly features make it a great choice, as well as its full-service spa.
6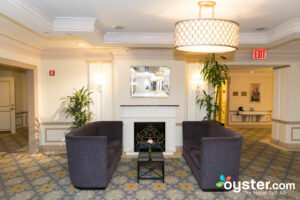 At the Midtown corner of 54th Street and 6th Avenue (and across the street from the Museum of Modern Art) is this historic landmark from media-magnate William Randolph Hearst, built in the 1920s. Hence the fitting name Randolph's for the hotel'sbar and lounge, adjacent to the lobby, which is still popular among businessmen and women. The former guest list could fill an entire book with such names as Cary Grant (he lived here for 12 years), Audrey Hepburn, and Elvis Presley, to name a few. The 426 rooms are updated with modern amenities and elegant decor, and a small fitness center is a nice feature. Rates are on par with other luxury hotels in the area, but a daily fee for Wi-Fi makes some feel nickel-and-dimed.
7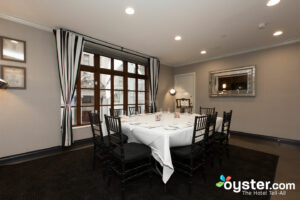 Five minutes from Grand Central and 10 minutes from bustling Times Square, the Iroquois is an uncommonly quiet, 114-room hotel with an ideal Midtown West location. High-end perks include a sauna and a vintage library, but the rooms feel older than most boutique hotel rooms, despite their flat-screen TVs, iPod docks, and free Wi-Fi.
8
The 94-room, upscale Pearl Hotel has a convenient location just off of Times Square and is surprisingly quiet for the area. Modern rooms have super comfy Sterns & Fosters mattresses and big fluffy pillows, Keurig machines with top-end coffees and teas, and large rainfall showerheads. And although there's an American grill restaurant and bar attached to the hotel, the property also offers a free continental breakfast buffet (although the space can get cramped), hosted wine and cheese hour, and 24-hour tea, coffee, and snacks. (Don't worry, you can work off the extra calories in the small, but impressive fitness room.) There aren't many rooms per floor, allowing for more privacy.
9
Archer Hotel New York is a 180-room upscale luxury boutique located within blocks of Manhattan's Bryant Park. Archer has taken great pride and care in selecting top-notch amenities and extras specifically made in New York, from the free in-room bottles of water and hand-selected welcome sweets to celebrated artists' work hanging from the walls and ceilings. If you are after in-your-face views of the Empire State Building, a rooftop bar and steakhouse, and a hip, bespoke experience, this is your spot. But beware, space is tight and slightly claustrophobic overall, especially in guest rooms.
10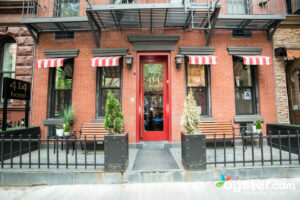 The 414 Hotel is a 22-room boutique in Midtown West, along a quiet, tree-lined stretch of Restaurant Row (a popular area for pre-theater diners). Times Square and its eight subway lines are a short walk away, as are Broadway's main shows, making this a convenient stay for tourists. But the hotel also feels miles away from the hustle and bustle of NYC -- a vibe created by the homey nature of the hotel. Rooms in the two historical townhouses that comprise the hotel are bright and airy, with flat-screen TVs, iPod docks, and mini-fridges. Many face the hotel's charming courtyard, where guests can enjoy the hotel's free continental breakfast in warmer months.