Most Romantic Hotels on the North Carolina Coast
Check out the most romantic inns, resorts, and hotels on North Carolina's beautiful coastline.
See All North Carolina Hotels
1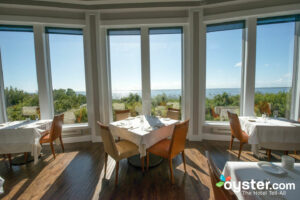 The Sanderling Resort stretches from the Currituck Sound to the Atlantic Ocean and has a beautiful, long sandy beach. The upscale hotel has 100 homey rooms, some with better views than others. There's a lot to do here, with pools, a fitness center, spa, water sports, fire pits, live music, and on-site dining. Prices can add up with extraneous fees tacked on, including a resort fee and a fee for Wi-Fi.
2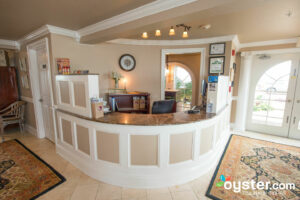 Located on the Roanoke Sound, the Oasis Suites Hotel is a luxury boutique hotel with weatherboard siding and white balconies. The 16 charming suites have homey furnishings, private master bedrooms, and kitchenettes. There's no beach access, but there is a wooden walkway with a big gazebo on the waterfront as well as an outdoor pool and hot tub with a separate children's pool.
3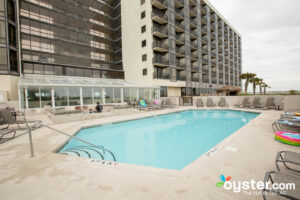 The mid-range Shell Island Resort is situated in a quiet spot at the north end of Wrightsville Beach, offering excellent views of the Atlantic Ocean from all accommodations. All rooms are individually owned Suites and have a bedroom, great room with kitchen and dining, and one-and-a-half bathrooms. Because proprietors vary from unit to unit, decor is uneven -- some Suites are fresh and contemporary, while others could use an update. An oceanfront restaurant offers indoor and al fresco dining, while indoor and outdoor pools supplement the wide, sandy beach. This condo-style hotel is well-suited for families and couples looking for a relaxing beach vacation in a semi-secluded corner of the Carolina coast.
4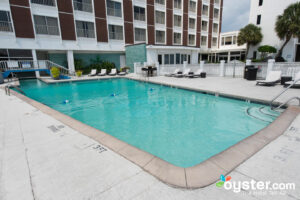 Families and couples looking for an oceanfront resort on a wide and beautiful stretch of sand that's not a cookie-cutter throwback will enjoy Blockade Runner. There's easy beach access with amenities like kayaks and a fishing pier and a small outdoor pool for lounging. The rooms are comfortable with varying decor -- from standard tile floors and white bedding all the way to electric-blue wallpaper and zebra rugs. Many rooms have true balconies, but lower-prices ones have balconets that serve little purpose aside from charm. One of the upper-mid-range property's best perks -- aside from free parking and Wi-Fi -- is the free daily buffet breakfast. But some guests think rates are on the high side, especially in the off-season, when the beach isn't always an option.
5 The 272-room, upper-middle-range Hilton Wilmington Riverside is a corporate hotel, but its downtown Wilmington location right on the Cape Fear River is suitable for couples wanting to explore the area's historic sites, restaurants, shopping, and nightlife. Rooms, which include free Wi-Fi and excellent mattresses, aren't the freshest in the Hilton chain, and some accents like frilly bedskirts and heavy drapes look outdated. There are two on-site restaurants, a fitness center, and multiple meeting spaces, and the outdoor pool that overlooks the riverfront and is a popular spot for events.
6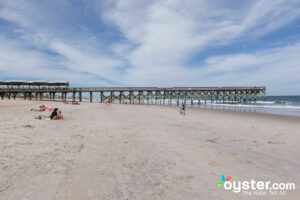 The two-and-a-half-pearl Sandpeddler Inn & Suites is a classic gem just across the street from the ocean and Crystal Pier in Wrightsville Beach. Each of the 21 rooms here is a one-bedroom condo with a full kitchen (or kitchenette) that's individually owned and decorated, and all offer a furnished balcony or terrace with ocean views. Room style can vary, and while all have free Wi-Fi and daily housekeeping, some have outdated decor and features like tube TVs. There's a small outdoor pool on-site, and while a free continental breakfast is served, there is no on-site restaurant. The hotel caters to families and couples looking for a simple place for a laid-back beach vacation.
7
Staying at Edwards of Ocracoke is like stepping back in time. With just eight dated rooms ranging from Standard Rooms to Cottages to Efficiencies with very few amenities, this two-and-a-half-pearl hotel is immaculately clean and a favorite for repeat guests. Family-owned and operated, the Edwards is a bit like a home away from home, with touches like a porch swing and rocking chairs. It's a quick walk to the shops and restaurants in the village of Ocracoke, but the location of the hotel and dedicated quiet hours, allow for a true "getting away from it all" kind of feeling.