Best Value Hotels in Orlando
A team of Oyster reporters spent weeks exploring 31 hotels in Orlando. We slept in the beds, ate in the restaurants, tested the service, and lounged by the pools, all with an eye toward selecting the most distinguished properties. Here's a list of some of our favorite value hotels.
See All Orlando Hotels
1
It's value over frills at the enormous, 2,880-room Disney Pop Century. Elements like the Hippy Dippy Pool nod to trends from the latter-half of the 20th century. The small rooms are a bit grimy, but the convenient location near Epcot and fast, direct shuttle access to the theme parks make it a great choice among Disney's Value-category resorts.
2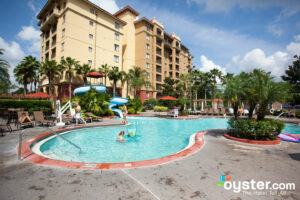 A non-Disney time-share resort on the Disney World property with enormous one- and two-bedroom condos, four elaborate pools, free Internet, and a quiet, relaxed atmosphere just five minutes from Epcot. Service can be middling and the on-site dining options are limited. But this is a good alternative to a Disney resort for those who want proximity to the parks but appreciate a respite from Disney's pervasive theme-driven atmosphere.
3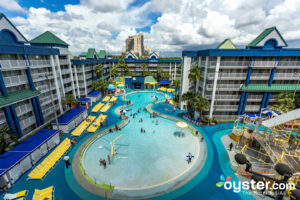 The property's 777 suites, all with kitchens or kitchenettes, are spacious and well designed to sleep families. The huge range of kid-pleasing features include two water parks, an arcade, and a "4-D Experience" theater. The resort focuses on entertaining on-site, but also offers infrequent shuttles to Disney, Universal, and SeaWorld.
4
Bright, recently renovated rooms are the highlight at this otherwise unremarkable 742-room Doubletree across from Universal Studios. The courtyard pool is small; the service is bare bones; and an Uno Express Pizza is the best on-site dining available. It'll do if all you expect is a fresh, clean, and fairly inexpensive place to sleep near Universal Studios or the on-site convention center.
5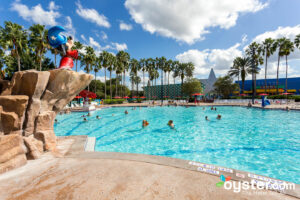 One of Disney's least expensive resorts, the 1,920-room All-Star Movies Resort is one of three adjacent, virtually identical All Star properties, which differ mainly in their respective themes. Small, worn rooms, scarce food options, two fairly ordinary pools, and Disney's standard set of free services add up to a good-enough option for the price -- but Disney's similarly priced Pop Century offers more convenient access to most of Disney's theme parks.
6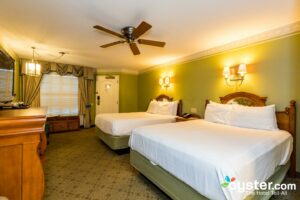 Designed to evoke an old town in the Mississippi Delta, the huge, 2,048-room Riverside is one of Disney's best mid-price hotels. Its guest rooms aren't as new as those at the Coronado Springs Resort, for example, but its more central location, fun pool complex, large rooms that sleep five, and beautiful (even romantic) setting makes it a great pick for the price.