Best Value Hotels in the Bahamas' Out Islands
The name "Out Islands" certainly has a lot of allure for travelers wanting to escape to a distant beach. Remote island getaways are often equated with lots of dollar signs, but these hideaways in the Bahamas' Out Islands (the whole archipelago minus New Providence and Grand Bahama islands) are remarkably well-priced compared — and satisfyingly far out.
See All Out Islands Hotels
1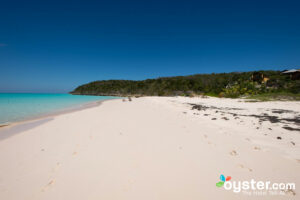 Located on beautiful and remote Cat Island, the mid-range Shannas Cove Resort is a secluded, quiet property. Its five bungalows are nothing fancy, but they feature private furnished porches with dazzling ocean views. The resort's highlight is the stunning beach with calm turquoise water, white sand, and a handful of loungers. Due to the small size of the resort, many guests report having the beach to themselves. There are also nature trails that lead to even more secluded beaches. But note that there's no pool. Shannas Cove's on-site restaurant serves delicious albeit pricey food. Nearby Pigeon Cay Beach Club is another solid option for those who would enjoy the quiet seclusion of Cat Island.
2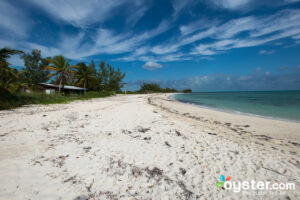 The mid-range Small Hope Bay Lodge is an informal, natural, all-inclusive property located on Andros Island, a short flight from Nassau. Guests looking to get lost in the secluded, quiet, rugged nature of the property can be found lounging in hammocks, Adirondack chairs, or on one of two beaches. There's also a large variety of excursions, including diving, fishing, snorkeling, and nature walks, that keep guests active and occupied. The 21 cabins are rustic, a little worn, and lack Wi-Fi or TVs, but they all have porches facing the ocean. There's a friendly and communal atmosphere as guests gather together to share meals in the restaurant, sip drinks at the bar, or linger by the outdoor grill. Small Hope has one of the best rates on the island given its features.
3
The small, intimate, budget Pigeon Cay Beach Club is located on beautiful and secluded Cat Island. With only seven beachfront cottages, the atmosphere is friendly and laid-back but also private. The simple, rustic cottages have dated decor and no TVs or Internet, but they include fully-equipped kitchens and furnished outdoor spaces. The beach is the best part of Pigeon Cay -- it's quiet, secluded, and gorgeous with turquoise blue water and powdery white sand. This isn't an updated or lavish property, but the very affordable rates make Pigeon Cay a good choice for those looking to get lost in Cat Island's natural beauty. Travelers may want to compare rates and amenities with nearby Shannas Cove; rooms are more updated there, but they don't have full kitchens.
4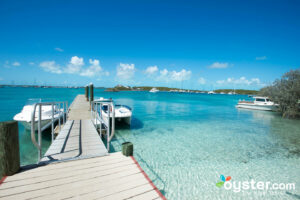 A quiet and remote getaway, the mid-range St Francis Resort is located on Stocking Island, a ten-minute boat ride from Exuma. With only eight rooms, the property is small and intimate, and guests report they often have the beach to themselves. The spacious rooms have dated decor and lack TVs, but they do offer private balconies with stunning views of the beach. The on-site restaurant is lively and draws plenty of boaters and daytrippers, so guests don't get too isolated. Aside from that, there are few other features, but the real draw is the lush surroundings, nature trails, blue holes, and beaches. A free in-room breakfast, Wi-Fi, and transportation from George Town is also included in the room rate.
5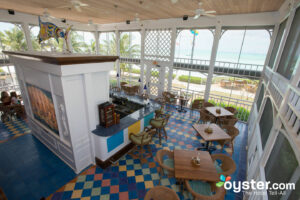 Cape Santa Maria Beach Resort & Villas is a 41-room property located on Long Island. A short flight from Nassau, the middle-upper-range resort is peaceful and scenic with a show-stopping beach -- it's one of the most pristine, calm, and scenic stretches of sand in the Bahamas. Cape Santa Maria offers two tiers of accommodations: Bungalows are homey but basic and have private verandas; they're a great option for those on a budget. Villas are huge and have added luxuries: full kitchens, washer/dryers, and more upscale furnishings. Note that there is no pool, and the bungalows don't have TVs or Wi-Fi. While bungalows are nothing fancy, the rates are a good value and give budget guests access to this stunning beach.
6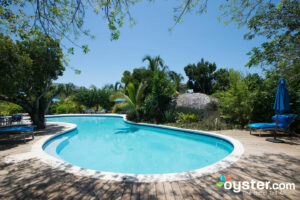 This relaxed, family-friendly condo complex offers 32 units in central Eleuthera Island, known for its naturally rugged and secluded beaches. Guests requiring typical hotel amenities should probably look elsewhere, but units are bright, clean, and cheery, and come with fully equipped kitchens with stainless steel appliances, spacious bathrooms, pull-out sofa beds, and stackable washer/dryers. Guests can start the day with fresh chocolate croissants from the on-site deli, and then hit the beach across the street, or nap the afternoon away on a lounge chair at the pool. Guests tend to use the kitchens for dinner, or watch the sunset from Tippy's -- a popular restaurant with a fun mix of locals and tourists.
7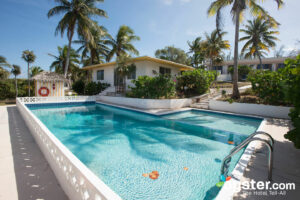 On beautiful and remote Long Island, the mid-range Stella Maris Resort Club is a large and natural property with competitive rates and a range of accommodations. With hotel rooms, cottages, and villas with up to four bedrooms, the resort has lodging to fit most parties and budgets. The 45 rooms are spacious and beachy, but lacking in TVs and Wi-Fi. Stella Maris has three pools, a rugged, scenic (but not swimmable) beach, and an on-site restaurant and separate beach bar. One of the highlights of the resort is its range of activities, many of which are free, including day trips, boating, nature walks, caving, bikes, kayaks, and rum punch parties. There's also a free shuttle to multiple, swimmable beaches around the island. The resort is nothing ritzy, but in all, Stella Maris provides a great value for the activities and amenities.
8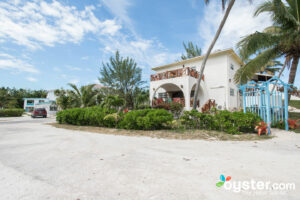 Perched on a hill overlooking the Atlantic Ocean, Unique Village is a 14-room hotel in North Palmetto Point on Eleuthera. The two-and-a-half-pearl property has a simple and relaxed vibe throughout. It's a humble, homey spot that includes an open-air restaurant serving casual grill fare with a Bahamian influence, a compact pool overlooking the Atlantic Ocean, and a quiet beachfront along the pink sands of Poponi Beach. Rooms are spacious, with simple island decor that's bright and pleasant, and all have air-conditioning, free Wi-Fi, and an outdoor terrace -- many facing the ocean.