Best Beach Resorts in Palawan
West of the Filipino mainland is Palawan, an archipelago with 1,780 islands and nearly 1,200 miles of isolated, tropical shoreline. Here are the region's best beachfront resorts.
See All Palawan Island Hotels
1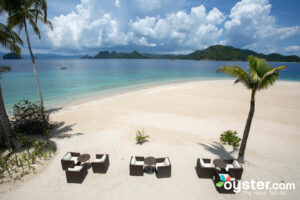 This luxury, 42-villa resort is on Pangulasian Island, an island of mostly untouched lush forests, pristine white sands, and clear azure waters. It is the newest and most expensive among four El Nido properties in the region, and its beautiful beach is the widest of the group. The villas are spacious and elegant, with Balinese design plus modern features like flat-screen TVs and high-end coffeemakers. The on-site restaurant highlights local ingredients, and the pool and spa are ideal spots for relaxing. The resort, a destination in itself, offers a variety of activities such as snorkeling, diving, kayaking, sailing, island tours, and hiking.
2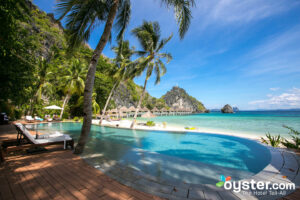 The intimate and stunning El Nido Resorts Apulit Island has a remote location on a gorgeous beach in northeastern Palawan. Aside from the hotel's private beach and sea-facing infinity pool, there is another wild stretch of powdery sand a short distance away where guests can swim and sunbathe virtually on their own. Rappelling, climbing, snorkeling and sea kayaking can be arranged at the hotel, and the on-site PADI center offers scuba diving day trips to coral reefs and a shipwreck. The Clubhouse Restaurant is housed in a charming open pavilion with a striking thatched roof and beach views. It offers a wonderful buffet spread made with locally sourced ingredients, and fish and seafood from sustainable fishing suppliers. All meals are included in the standard rate, but drinks come at an extra charge. A tiny hut on the beach offers bar service throughout the day. The 50 rooms are housed in stand-alone thatched cottages built on stilts directly over the clear waters. Interiors are simple and in-room amenities are limited, but that only adds to the unplugged feel and tranquil vibe.
3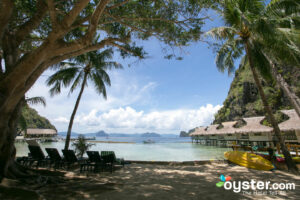 A tropical oasis with rustic style, the 50-room El Nido Resort Miniloc Island is an all-inclusive resort with a spectacular setting. The sandy beach is backed by huge limestone cliffs with lush vegetation all around. Palm trees and other tropical plants dot the beach as do straw huts with pairs of cushioned lounge chairs. Water sports include diving, snorkeling, and kayaking, and the marine sanctuary just fronting the beach is teeming with sea creatures such as jack fish, sergeant majors, and damsel fish. Relaxing on the beach is another option, with cushioned lounge chairs, palapas for shade, and an adjacent beach bar serving snacks and drinks. Guests also can take a free tour to the island's lagoons, the most well-known spots in El Nido, and they can use the facilities at its sister resort, Lagen, with free island transfers. Boats also take guests to the resort's private island, Entalula.
4
The upscale Club Paradise Palawan is the only outpost on Dimkaya Island, a slice of paradise that's teeming with plant and animal life. It's a nature lovers' dream, from the beach to hiking to world-class diving and snorkeling. The 55 rooms are modern and spacious, with tropical flair, and some have furnished porches with hammocks. Fresh caught seafood is served at the beachside restaurant, and the outdoor zero-entry pool is a lovely place to relax. Just beyond the pool is the gorgeous white-sand beach with aquamarine water and majestic rocks in the distance. Shells, coral, and big and small rocks dot the beach, and trees provide shade. Water sports are available on the beach, as well as an on-site dive shop -- snorkeling and diving are available just off shore.
5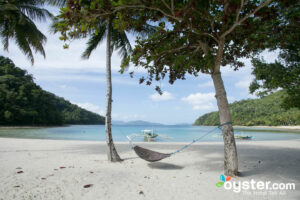 Secret Paradise Resort & Turtle Sanctuary is a gorgeous property surrounded by jungles and white-sand beaches flanked by turquoise sea. The grounds are filled with grassy lawns and palm trees and the place generally feels secluded given that it stretches out over 172 acres of protected turtle sanctuary and only has 11 rooms and cottages, all of which open onto a beach. Note that the resort runs on its own generator, and while hot water for the showers is powered by gas and thus available 24 hours, the resort turns off the generator for a few hours every morning. There are four private white-sand beaches with plenty of room to lounge out on hammocks or palapa-shaded lounge chairs, plus lots of swimming opportunities out in Turtle Bay. The resort also offers plenty of activities, including island-hopping tours, hiking excursions, speed-boat trips, fishing, diving, and day trips to Port Barton, Sabang, and the Underground River. Kayaks and snorkeling gear are free to borrow.
6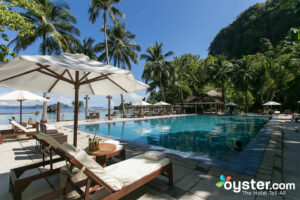 The upscale, 50-room El Nido Resorts Lagen Island is located on the western coast of Lagen Island, a largely uninhabited island in Bacuit Bay. It sits directly on a sandy beach complete with padded loungers and a bar serving drinks and snacks throughout the day. Non-motorized water sports, such as paddleboarding, sea kayaking and snorkeling, are available free of charge, and there is a diving center offering trips to nearby beaches and islands, as well as diving courses. The property offers free boat transfers to sister property El Nido Resort Miniloc Island, which features a lovely private beach, a restaurant, and a bar. The property has an intimate atmosphere, with low traditional Filipino buildings tucked away amid lush forests, and small clusters of villas and thatched huts on stilts located right on the beach.
7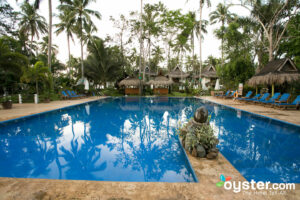 The mid-range Daluyon Beach and Mountain Resort's remote location and thatched-roofed buildings create a relaxed and quiet setting. Serene Sabang Beach, directly outside the hotel, has hammocks strung between palms and lounge chairs on the sand. Note that the currents are often too strong for swimming. Many of the hotel's 27 spacious rooms have beachfront balconies and patios. Features include two tropically landscaped pools, two restaurants, two bars, and a kids' pool, plus a modest gym and a billiards room. The hotel has a 24/7 generator, but the remote village doesn't have electricity and lacks nightlife. Many travelers choose this property for its proximity to the area's zip lines and popular Underground River.
8
The Sheridan Beach Resort and Spa is an upscale property with spacious grounds that attracts vacationing couples and families alike. Paved and gravel pathways weave through the tropically landscaped grounds, which house the resort's colonial-style room buildings, spa, open-air fitness center, and sprawling pool with hot tubs and a swim-up bar. The wide, uncrowded beach  is ideal for travelers seeking a quiet oceanfront vacation, and is often the lovely backdrop for movie nights and candlelight dinners. The waters, however, are often too rough for swimming and beach flags are often posted on the sand warning guests of hazardous currents. For this reason, most guests keep occupied by the on-site pools, sports facilities, and dining and drinking spots.
9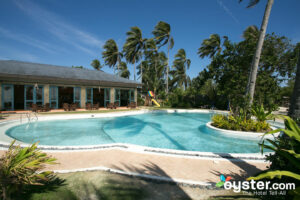 The best feature at Microtel Inn & Suites by Wyndham Puerto Princesa is the long stretch of uncrowded and serene beach that sits directly outside most of the 50 bright rooms and suites, many with beachfront patios or balconies. However, the shallow waters aren't great for swimming, so most guests prefer to use the outdoor lagoon pool that overlooks the beach. The concierge can help guests book kayak rentals and horseback riding trips through the mangroves. Breakfast is included in room rates and served in an airy restaurant with poolside dining. The hotel is located 15 minutes from city center, but there's free shuttle service (though advanced booking is required).