Best Beachfront Hotels in Panama City Beach
Miles and miles of beautiful white sand attract thousands of tourists annually to Panama City Beach — an especially popular destination during spring break. Here are some of the top beachfront hotels in the area.
See All Panama City Beach Hotels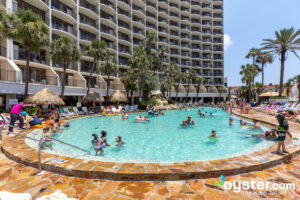 Holiday Inn Resort Panama City Beach is located on the busiest part of the Panama City beach strip. There are many amenities here geared towards families, including the large kids' play pool (in addition to main pool) and a game room, but families and spring breakers alike are drawn to the hotel for its killer spot on a wide sandy beach, where chair and cabana rentals are available. Rooms aren't full-on condo-style, like many units in Panama City Beach, but all have full-size fridges, microwaves, and balconies with Gulf of Mexico views. While there have been some complaints about noise and thin walls, the oceanfront location and affordable rates make this a top Panama City Beach hotel.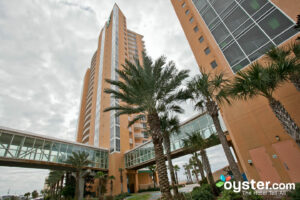 This 276-room, condo-style property may be even more kid-friendly than Holiday Inn Resort. It has an interactive water park, on-site ice cream shop, arcade with mini bowling alley, and two pools, including a lazy river. Each of the cheerful, homey condos -- some of which can sleep up to 10 people -- offer kitchens, washer/dryer, and balconies with gorgeous views of the Gulf of Mexico. As with most condo properties, the decor here varies from unit to unit (not an issue at Holiday Inn Resort). The hotel has direct access to a wide stretch of beach with wooden sun loungers and umbrellas. Dolphin tours, parasailing, and jet-ski and pontoon rentals are available from a kiosk in the sand.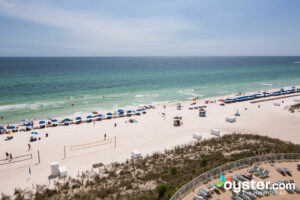 Wyndham Panama City Beach Vacation Resort is a mid-range time-share property with 400 units, each with full kitchens and Gulf-view balconies. The resort is situated on a sandy beach and shares some of its facilities with a neighboring property, including its two outdoor pools, hot tubs, and kids' pool. (Families may want to compare rates with Holiday Inn, where kids eat free, and Splash, which has a lazy river and mini bowling alley.) Wyndham also features an on-site Starbucks, a fitness center, and two bars, one of which is poolside. Drawbacks here include long elevator wait times and steep fees for beach chairs and umbrellas.
Calypso Resort & Towers is an enormous double high-rise resort with an incredible beachfront location. The resort is one of the nicer properties in the area with private beach access, two pools, and a convenient location just one block away from the shopping, dining, and attractions of Pier Park. Each of the 600 rooms are equipped with expected condo amenities such full kitchens with dishwashers and washer/dryers. Guests should be aware that decor varies widely between condos (Wyndham's decor is more consistent). Even if the inside of the resort is a bit dated, its location and beach access cannot be beat.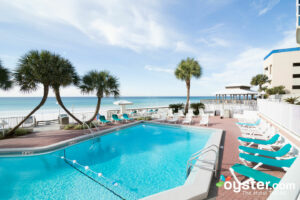 The laid-back and relaxed Palmetto Inn and Suites has a great beach area, two swimming pools, and a hot tub -- all of which are kept in immaculate shape. (Beachside lounge chairs and umbrellas are available for rent from a separate business.) Other perks include a Tiki Bar and a beachside deck with grills for guests who want to barbecue food right on the beach. There are no resort fees and parking is free, but guests sometimes have to park in an overflow lot when the Palmetto's main parking lot fills up. While all of Calypso's condos offer sweeping Gulf views and kitchens, only some of Palmetto's 122 rooms have these features, plus the decor and furniture look dated. The property is popular with older couples and families (kid-friendly features include a game room with arcade games and a play area on the beach).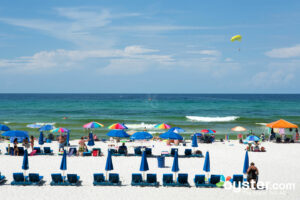 As a condo property with direct beach access and numerous pools and facilities, the 25-story Majestic Beach Towers largely attracts families on extended holiday getaways. Room prices are comparable for the area, but more than a few guests have complained about unsatisfactory housekeeping in the common areas (there are also fees for daily housekeeping). As with most condos, units might vary in decor and amenities, but all (except studios) are large with full kitchens and balconies.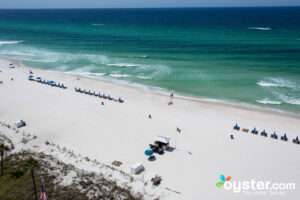 Long Beach Resort is a Panama City Beach condo property within walking distance of restaurants, bars, and shops. The value property has direct access to a flat, sandy beach, as well as three separate outdoor pools and hot tub with sundecks lined with lounge chairs. The complex also has a pool bar and free parking. The 85 privately owned condos range from studios to three-bedroom units; all rooms have large balconies with pretty Gulf views as well as living rooms and kitchens (except the smallest Efficiency units). Past guests have complained of datedness as well as cleanliness issues, like sandy floors and beds. There's an age requirement of 25 and older, so active families with children would be better at Majestic (note that both properties tack a cleaning fee onto the rental rate).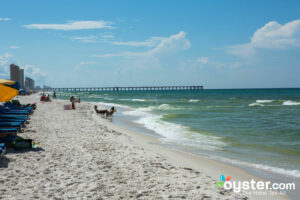 The 96-room Beachcomber by the Sea is a good fit for vacationers who prize beach access over luxurious accommodations. Guest rooms are spacious, with kitchens and balconies, but -- like most hotels on this list -- decor is bland and dated throughout. The hotel is popular with budget-minded families, which could be a drawback for travelers seeking a peaceful, kid-free getaway. Another con is Beachcomber's fee for in-room Wi-Fi (free at Palmetto and Majestic).
Beach Tower By The Sea is a relaxed and welcoming family-run property right next to a water-sports rental company, so guests can whizz up and down the seafront on jet-skis and even inflatable whales (a quirky take on the banana longboat). It's a 10-minute walk from Shipwreck Island Waterpark, which has wave pools, a lazy river, and flume rides. Beach Tower has direct beach access, an outdoor heated swimming pool with lounge chairs, and renovated rooms with balconies that look out over the Gulf of Mexico. There's also a tiki bar where guests can have drinks and watch the sunset, but, like Beachcomber, there's no on-site restaurant.