Best Value Hotels in Panama City Beach
Affordable beach getaways are a breeze at Panama City Beach's top value hotels.
See All Panama City Beach Hotels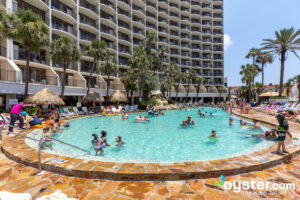 Reasonable rates plus an excellent oceanfront location on a white-sand beach make this one of the top values in Panama City Beach. Rooms are basic (not condo-style), but all come with full-size fridges, microwaves, and balconies with Gulf views. The hotel's many amenities geared toward families include two pools, a game room, and a kids-eat-free policy.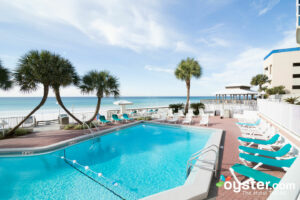 Palmetto Inn and Suites is a low-key, family-friendly hotel with 122 big rooms. Decor is dated, but some of the rooms come with kitchens and views of the Gulf of Mexico. Palmetto's fantastic beach, two swimming pools, and hot tub are all kept in immaculate shape. Unlike many area hotels, there are no resort fees, and Wi-Fi, parking, and lobby newspapers are all free.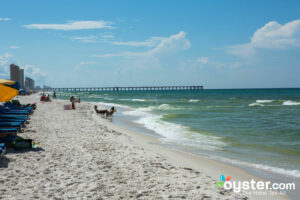 Beachcomber By The Sea is a 96-room budget property that scales back on some of the perks found at higher-end resorts. Among the on-site amenities are an outdoor pool, hot tub, shuffleboard court, and a free daily breakfast, but there's no restaurant, fitness center, or bar on the property (Palmetto's poolside tiki bar is open seasonally). Free Wi-Fi is available in the lobby only -- in-room Wi-Fi comes with a fee.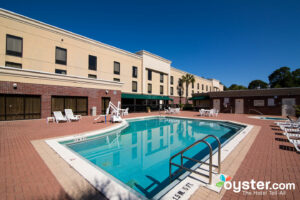 This mid-range and well-maintained chain hotel is a reliable choice for those on a budget. Each of the 89 rooms is equipped with a fridge, coffeemaker, microwave, flat-screen TV with satellite channels, and free Wi-Fi. The hotel lacks Beachcomber's oceanfront proximity and sea views, but it does have an outdoor pool plus free parking, cold breakfast, a gym, and a business center.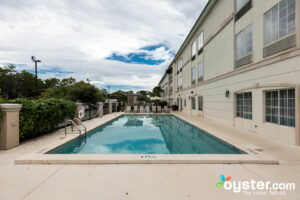 The 86-room La Quinta Inn & Suites Panama City Beach even further from local beaches than the Hampton Inn -- about a 10-minute drive away. It's still a good budget pick for the area, with simple rooms with mini-fridges and microwaves. The outstanding feature here is the heated outdoor pool with separate whirlpool; extra perks include a small fitness room, free Wi-Fi, free parking, and free daily breakfast with hot items.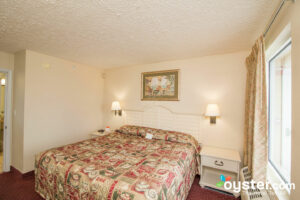 Although Legacy by the Sea could use a serious makeover -- decor is dated and drab throughout -- the beachfront property offers great value, as all 139 of its rooms are suites with kitchenettes and sea-view balconies. The hotel also offers on-site coin laundry, a free breakfast that includes waffles, and free daily room cleaning -- a rarity at condo apartments. Unlike its sister property, Beachcomber by the Sea, this hotel sits adjacent to its affiliated restaurant, Barefoot Hideaway Grill.
Sleep Inn & Suites is a basic chain hotel off the main strip in Panama City Beach with 90 rooms, all with fridges, microwaves, and free Wi-Fi. Away from the hustle and bustle of Front Beach Road, the property has a more tranquil vibe than the hotels near the beach, yet the location is only a few minutes' drive from the Gulf of Mexico. Features include a fitness center, movie room, and outdoor pool that's heated in the cooler months. There's a free breakfast, but it gets busy.
The 90-room Quinta Inn is a great value hotel in Panama City Beach -- for visitors who don't mind the 10-minute walk to the beach. Rooms are a big step up from Palmetto, Beachcomber, and Legacy; all have cheery decor, mini-fridges, coffeemakers, and flat-screen TVs. La Quinta's extensive freebies include breakfast, parking, and hotel-wide Wi-Fi. Also on offer: laundry facilities, a convenience store, a fitness center, a business center, and an outdoor pool and Jacuzzi, though these perks can't make up for the lack of beach proximity. Nonetheless, this hotel is a solid budget-friendly option.
This hotel has an excellent waterfront location on Panama Beach, within walking distance to Shipwreck Island Waterpark and Half Hitch County Pier. All rooms have balconies with views of the beautiful palm-fringed beach and ocean, and some have kitchenettes with microwaves, fridges, and stoves. Parking and resort-wide Wi-Fi are both free, and there is coin-operated laundry for guests' use.