Best Beach Hotels in Karon, Phuket
Take a look at the best beach hotels in Karon.
See All Karon Hotels
1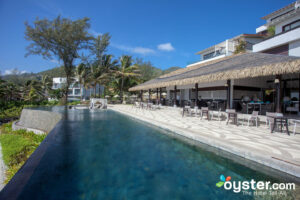 The Shore at Katathani is an upscale, 36-room villa hotel that caters mainly to couples and honeymooners. Its private location, tucked away in a cove along Kata Noi Beach, adds to the hotel's intimate, beachy atmosphere. Guests spend most of their time lounging beside their private plunge pools or in oversize daybeds facing the ocean at the main infinity pool. While the property, which includes a small spa and oceanfront restaurant, does not allow children under the age of 12, its sister property, Katathani Phuket Beach Resort, about a 10-minute walk along the beach, is family-friendly.
2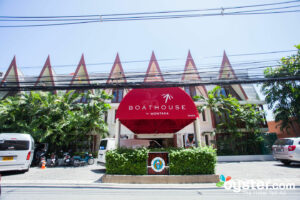 The 38-room Boathouse Phuket is a cozy and upscale romantic hotel directly on Kata Beach, offering postcard-worthy views from two small pools, stylish restaurants and bars, a spa, and a beach club lounge. Beach views are also available from balconies or terraces in rooms -- which are small but modern -- with flat-screen TVs, coffeemakers, and minibars. The crowded poolside scene and the night-time DJ and fireworks noise, however, might spoil the serene setting. For a secluded beach locale, check rates at the Mom Tri's Villa Royale.
3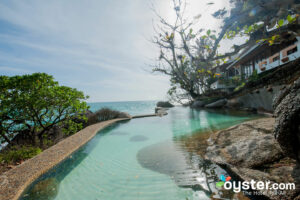 Mom Tri's Villa Royale is an upscale boutique hotel and spa set on a headland overlooking Kata Noi beach on the southwestern side of Phuket. The hotel's 35 rooms are housed in Thai-style buildings, including the former home of Thai artist and architect Mom Tri. Rooms are decorated with Thai antiques and have private balconies with sea views; some have direct shoreline access, or access to a private pool. There is a main pool overlooking the sea, saltwater pool tucked into the hillside, and separate pool for Kata Suites. The spa offers an outdoor steam bath and full range of treatments. Mom Tri's Kitchen serves excellent Thai cuisine, the wine cellar is consistently awarded for excellence, and there are a cozy piano bar and lounge. The hotel's unique Thai design is tough to compete with, but guests wanting a more modern setting could try the nearby Foto Hotel.
4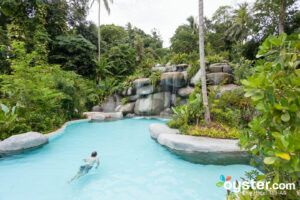 Marina Phuket Resort is a luxury complex set in a lush garden of dense tropical greenery overlooking the south end of Phuket's Karon Beach. Rooms are beautifully finished with outstanding technology that even includes Apple Mac computers, while bathrooms are impressively spacious with excellent amenities. The large lagoon pool is an on-site highlight and there's also direct access to the sea from the property. There isn't a spa, though there is an extensive dinosaur themed mini-golf course. Rates aren't cheap, but the Marina Phuket is a quality resort with little quite like it in the area.
5
Centara Grand Beach Resort Phuket is a luxury property geared towards families with kids. The highlights here are water-related: guests can borrow kayaks to explore the wide stretch of Karon Beach, or spend an entire day at the waterslides, lazy river, and enormous outdoor pool. The location isn't the most convenient, but there are several dining and bar options on-site, along with a kids' club and fitness center. Rooms and suites are on the cramped side, though they all have large, furnished balconies. Villas with private pools, Club level access, and ocean views are available for a hefty price. Couples will appreciate the adults-only pool and Cenvaree Spa, but may want to consider comparing rates at the tranquil Renaissance Phuket Resort and Spa -- though it's further from the nightlife of Patong.
6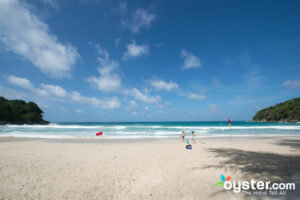 Le Meridien Phuket Beach Resort is a huge, self-contained complex surrounded by lush jungle that looks out over its own sandy beach. The hotel's large size can make it feel a little impersonal, but its scale does mean a vast array of facilities, including an enormous pool and a range of sport facilities. Spacious rooms have been sleekly renovated and many include lovely sea views. All this doesn't come cheap though, and you might also find yourself paying for plenty of extras -- including Wi-Fi -- if you book the room-only rate.
7
On a prime seaside location along a quiet stretch of Kata Noi Beach, this 479-room luxury resort looms large, with six pools, bars, and restaurants across the grounds. Spacious suites in the Thani Wing face the Andaman Sea, but other rooms in the Bhuri Wing are looking tired and need renovation. Catering to families and couples, Katathani is jam-packed with recreational activities, a beachfront spa, a fitness center, a Kids' Club, and other features. But it's somewhat isolated from any other entertainment in the area. Those seeking a livelier atmosphere might prefer Club Med or hotels along Kata Road. And couples looking for a more romantic vibe might try the more luxurious (but more expensive) Shore at Katathani.
8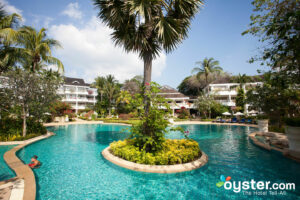 Right by the beach in the center of Karon, this luxury resort is an enormous complex with enough on-site activities to keep the average guest content within its boundaries. The 196 rooms range from simple Superiors with uninspiring views to a huge three-bedroom Presidential Suite suitable for a large family. While all the rooms have plenty of features, including furnished balconies, rainfall showers, and teak furnishings, it's the huge array of facilities that make this property worth considering. Compared to other resorts, there's a huge array of restaurants on-site serving buffets and a la carte menus. Along with traditional Thai dishes, guests can dine on pizzas, Chinese food, and even Mexican -- complete with mariachi entertainment. There are also five pools, including one with a swim-up bar and another just for kids, plus a kids' club, a fitness center, and a beauty salon.
9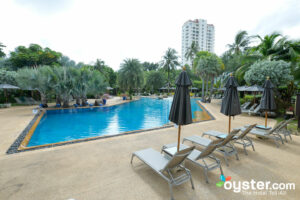 This Movenpick Resort location, part of a global chain, is a huge upscale property set in extensive tropical gardens overlooking Phuket's beautiful Karon Beach. Facilities are plentiful and include four pools, four restaurants, a spa, and plenty of activities to keep the kids amused. A breakfast buffet is included in the room rate. Most rooms and villas have balconies with sea views, though, while generally well-maintained, some units are starting to show signs of wear. Rates are on the high side but it's a solid option for this type of high-end holiday retreat.
10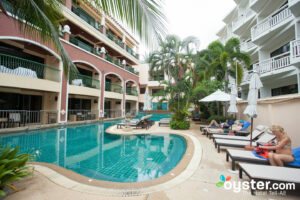 Karon Sea Sands Resort & Spa is a mid-range, 89-room property with everything you might expect but not a great deal more. The location is bustling with easy access to a beautiful beach that's just a minute away by foot. Rooms are typically styled and pleasant enough, with an extra fee for Wi-Fi that's also typical for the area. The hotel pool is long enough for plenty of loungers but still feels sandwiched between buildings. For a decidedly average hotel, it's hard to justify the Karon Sea Sands' higher-than-average rates, although spacious suites might suit families and longer-term guests.
11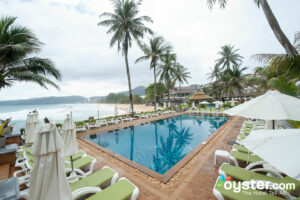 Beyond Resort Karon is an upscale, adult-only hotel claiming the distinction of being the only resort set right on Karon's beach. The location makes for some wonderful ocean views -- from the rooms, both pools, and its restaurant -- as well a relatively peaceful atmosphere. Guest units are spacious with furnished balconies, though there have been reports of issues with mosquitoes. Rates are certainly on the expensive end of the scale for this caliber of hotel, but you're paying for its unique setting and superb sea vistas.
12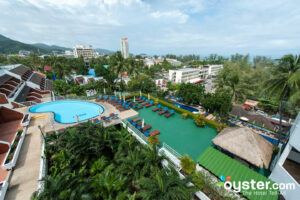 BEST WESTERN Phuket Ocean Resort is a mid-range, 240-room holiday complex set on a hillside overlooking the north end of Phuket's Karon town. Although set on a busy road, the hotel's terraced tropical gardens are relatively serene and perfect for experiencing sunsets. While the site's three swimming pools are impressive, some facilities feel dreary and dated, and climbing the property's numerous stairs can become a chore. Ultimately, there's not a lot to get excited about, though the hotel is perfectly adequate with reasonable rates.
13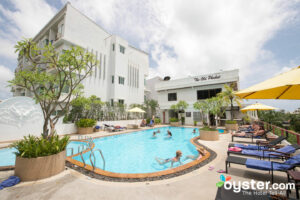 The Old Phuket is an upscale, 184-room complex set on sprawling grounds offering two different types of stays. The colonial-style Sino Wing has traditional decor while the Serene rooms have contemporary interiors. While neither is huge, a pool can be found in each of the two sections along with plenty of on-site food and drink options. The surroundings might feel a bit too touristy for some, but the beautiful sandy beach of Karon is just a minute's walk away. While The Old Phuket isn't the cheapest option in the area, some of its amenities, like private whirlpools, are worth the splurge.
14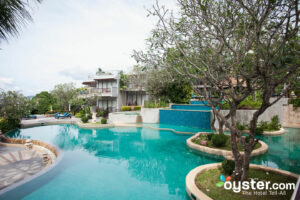 The 114-room Andaman Cannacia Resort is a romantic upper-mid-range getaway on a lush hillside with stunning sea views. Spacious rooms and suites offer balconies or terraces overlooking the beach; some have private hot tubs. There's also a tour desk, airport transfers, spa treatments, outdoor pools with a swim-up bar, and romantic dining on-site. Thai cooking classes and yoga are available. But the steep hillside location makes it burdensome to explore the area on foot. An alternative choice may be the higher-priced Kata Beach Resort and Spa, sitting directly on the beach.
15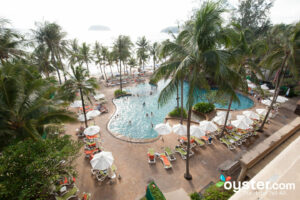 Decorated in retro Thai decor, the 275-room Kata Beach Resort and Spa provides an affordable beachfront vacation for families and couples. Spacious, minimal rooms feature flat-screen TVs, balconies facing the sea, and some have access to private pools. Worn furnishings, though, detract from the beautiful seaside location. This resort offers water sports rentals, three restaurants, poolside and beachside bars, two pools, spa treatments, and supervised kids' activities. More modern rooms are on offer at the Katathani Phuket Beach Resort, but prices may be higher, so compare rates.