Most Romantic Hotels in the Poconos
The Poconos' most romantic hotels include mountain lodges and couples-only fantasy resorts (you know, the kinds with wood-burning fireplaces and heart-shaped whirlpools).
See All Mount Pocono Hotels
1
Surrounded by 400 acres of private woodland in the Pocono Mountains, The Lodge at Woodloch is an upscale adult-only retreat where all rooms have private verandas, armchairs with ottomans, and flat-screen TVs. The resort's private lake is the center of many outdoor activities, with kayaking and fishing available in the warmer months, and hiking around its five miles' worth of paved and unpaved nature trails possible year-round. The wood-beamed Tree restaurant and bar is the only on-site dining option, with all-inclusive seasonal meals designed around locally raised meats and fish, as well as organic vegetables, many of which come from the resort's own (pesticide-free) produce garden. Guests can partake in cooking demonstrations, and for extra fees, wine tastings and special event dinners hosted by the chef.
2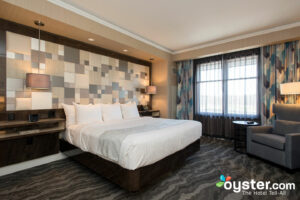 Packed with adult entertainment and leisure facilities, Mount Airy Casino Resort is a mountain playground for grown-ups. There are multiple bars and restaurants, a spa, regular live entertainment, and an 18-hole golf course (open seasonally). The 51,000-square-foot indoor/outdoor pool area features whirlpools, waterfalls, fire pits, day beds, and private cabanas. Rooms are modern and quiet, despite all the action downstairs at the heart of the hotel -- the smoking-allowed casino.
3
Founded by Quakers in 1902, this historic mountaintop manor is the oldest continuously operating resort in the Pocono Mountains. The five-square-mile grounds include an 18-hole championship golf course and driving range, fishing ponds, and trails for horseback riding, cross-country skiing, and biking. The 237 rooms are bright and elegant, but are lacking in basics like coffeemakers, and the  thin walls can be a problem on busy weekends when wedding parties and other events may be occurring. But overall, the property has been beautifully maintained.
4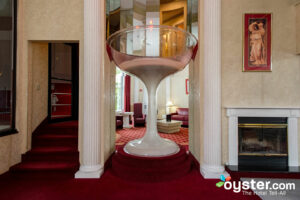 The most modern of the three mid-range couples-only resorts in the Poconos region owned by Cove Haven, the Pocono Palace has all-suite fantasy rooms and heart-shaped whirlpool baths beloved by couples looking for a tawdry getaway. Though the saggy round beds and chintzy decor aren't for everyone, it's hard not to marvel at the Roman Tower Suites with private plunge pools and whirlpools shaped into giant Champagne glasses. Still, the resort's housekeeping isn't quite up to task, a concern when so much  romance-themed fantasy decor is involved. All guest units can be booked with all-inclusive rates covering food and drink. (Discerning diners need not apply.)
5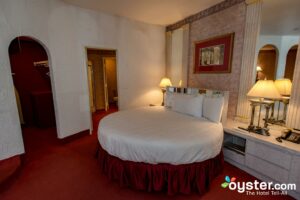 A throwback to the glory days of heart-shaped bathtubs and gaudy theme decor, Cove Haven Resort is a couples-only property stuck in the summer of love. A honeymoon destination since the 1960s, this Poconos getaway has become an American institution whose founder invented the heart-shaped Sweetheart Tub. Nostalgic couples can immerse themselves in a fantasy of giant Champagne glass-shaped whirlpools and choose all-inclusive packages, though foodies should stay clear of the uninspired fare. Most guests will also find cleanliness lacking even if they appreciate the aging decor. There's plenty to do indoors and out, including boating on Lake Wallenpaupack.
6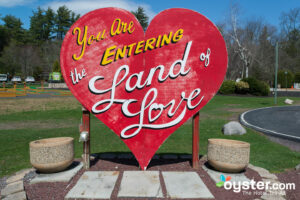 Paradise Stream Resort is the most conveniently located of three couples-only resorts in the Poconos region owned by Cove Haven, though it has fewer on-site amenities than its sister properties. It's otherwise similar in terms of its all-suite rooms designed to ignite passion with wood-burning fireplaces and heart-shaped whirlpool baths, though aging decor and stained carpets may be a turnoff. The resort's private grounds are just a short distance from town -- a necessity for travelers who want other options beside questionable buffet food. For less finicky eaters, all-inclusive options include breakfast, dinner, and most non-alcoholic drinks.