Best Value Hotels in Portland
Take a look at our favorite affordable hotels in Portland, and discover where to stay for less cash.
See All Portland Hotels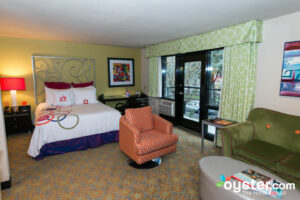 The Inn at Northrup Station offers great value, especially for families or groups. Its 70 spacious suites have sofa beds in the living area, and well-equipped kitchenettes with microwaves, dishwashers and mini-fridges (King Suites feature full kitchens). There is not much in the way of amenities, but the central location, solid freebies, and attractive rooftop terrace add to the value.
The Ace's Single or Triple Basic Shared Rooms may just be the best deal in town -- for those who don't mind sharing a bathroom outside the room. Hotel highlights include a local, organic breakfast in the breakfast room, a great happy hour scene at the Clyde Common lobby bar, coffee at the Stumptown Café, and a great central location for exploring Portland on foot.
Unassuming from the outside, the 24-room Nordic Motel offers some of the cheapest lodgings in Portland. The rooms are nothing fancy, but all are well-maintained and have mini-fridges, microwaves, air-conditioning, and 32-inch or larger flat-screen TVs with premium HBO and Showtime channels, DVD players, and free Wi-Fi. Suites include kitchens with stoves and full-size refrigerators but no cooking utensils. Free coffee is served daily in the reception area, and fax and copy services are available, along with free parking.