Best Value Hotels in SoMa, San Francisco
Take a look at the best value hotels in SoMa.
See All SoMa Hotels
1
San Francisco Inn is a basic two-pearl hotel with a convenient location, clean spaces, and a free basic breakfast, but little else. The 21 dated rooms come with tube TVs along with microwaves, mini-fridges, and coffeemakers. It's definitely a no-frills property that mostly attracts guests for its free parking in a city where parking is hard to come by. For a little more per night, the nearby Good Hotel is an eco-friendly choice with flat-screen TVs in the stylish rooms plus free access to a pool and gym nearby.
2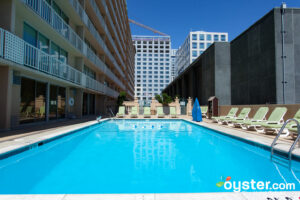 The 14-story, 388-room Holiday Inn San Francisco-Civic Center is located just south of the Civic Center Plaza in a somewhat seedy part of the city that few tourists frequent. It is, however, the center of most of San Francisco's governmental and cultural institutions, including its courthouses, and if you have business in the area, the Holiday Inn can be an attractive choice. This is due to its heated outdoor pool, modest but functional fitness center, and, largely, its guest rooms, which have flat-screen TVs, small balconies, and coffeemakers. But compare prices at the eco-oriented Good Hotel one block away, which also has a pool, fitness room, and free loaner bikes.
3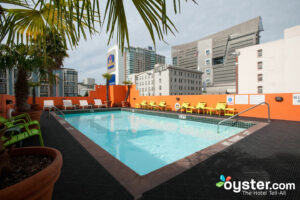 Situated on a somewhat desolate stretch of the artsy SoMa neighborhood, the Good Hotel earns its moniker, "hotel with a conscience." With features like a water-conserving toilet-top sink, the Good is environmentally friendly, charmingly quirky, and -- for those who don't mind venturing a bit off the beaten path -- one of the best budget hotels in the city.