Best Historic Hotels in Santo Domingo
The Dominican Republic's capital, Santo Domingo, may be the New World's first city, but its top historic hotels are alluringly Old World.
See All Santo Domingo Hotels
Hodelpa Nicolas de Ovando is not just one of the most historic hotels in Santo Domingo, but in the New World. Dating back to 1502, the hotel was once home to Santo Domingo's founder, Governor Nicolas de Ovando. Five hundred years later, it's evolved into one of the city's finest upscale hotels with many of the original fixtures, architecture, and decor intact. In fact, the three buildings that make up the hotel are collectively listed as a UNESCO World Heritage Site. The atmosphere is quiet, relaxed, and sophisticated -- but not stuffy. The 97 rooms range from small to sprawling, but all include original, centuries-old design elements plus minibars, flat-screen TVs, free Wi-Fi, and Nespresso machines. The outdoor pool offers decent views of Rio Ozama and La Residence restaurant serves up fine French dining in one of the city's most romantic alfresco dining spaces.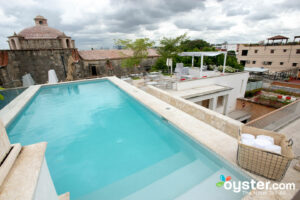 Billini Hotel is steeped in history. The property has served as a convent, a depot for the French army, a school, and then a private home. Today, the hotel is outfitted with sleek white and red furniture alongside original architectural relics and polished concrete flooring. Every inch is a clever blend of Scandinavian, modern, and industrial design motifs paired with beautiful original 17th-century architecture that reflects this hotel's complicated Spanish Colonial history. A beautiful terrace restaurant, ultra-modern lobby bar, and rooftop infinity pool with panoramic city views help form an upscale city oasis.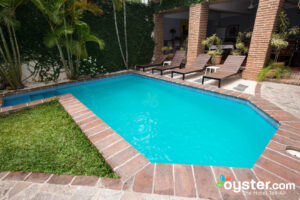 This hotel's unassuming front entrance doesn't hint at the wonderful interiors of the 1920s Hotel Villa Colonial, which blend Old World, Art Deco, and contemporary styles. Exposed brick columns, vine-covered stone walls, and property-wide Spanish Colonial decor create an atmosphere that's historic, intimate, and romantic. Hotel Villa Colonial's biggest selling point is that it packs a surprising amount of historic charm into a relatively small space. The list of noteworthy amenities is fairly thin, including a small outdoor pool, free Wi-Fi, and free continental breakfast.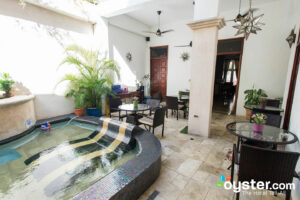 Casa Sanchez is a relaxed boutique hotel whose overall architecture, original columns, and beautiful, centuries-old tile have all been preserved. However, modern upgrades have been applied throughout in a way that's tasteful and cohesive with the original colonial look and feel. For a tiny, city center hotel, there's a surprising amount of social space. In addition to the narrow pool courtyard, there is a spacious rooftop sundeck with several lounge areas and a hot tub. Casa Sancehz is in Zona Colonial, minutes from shops, restaurants, and El Conde pedestrian mall.
Boutique Hotel Palacio is a historic hotel without the features and finish of our first four picks. The 200-year-old property is charming, but the lack of attention to detail is evident in some areas with peeling paint, missing light bulbs, and non-functional lamps and electrical sockets. Still, Boutique Hotel Palacio, built around a beautiful outdoor garden terrace, is distinctly inspired by Spanish Colonial architecture, and is centrally located in Zona Colonial, within walking distances to shops, restaurants, and Cathedral Primada of America.