Most Romantic Hotels in Seville, Andalucia
Take a look at the most romantic hotels in Seville.
See All Seville Hotels
1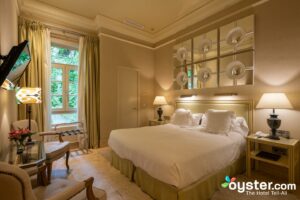 The 18-room Hotel Casa del Poeta is an intimate, upper-mid-range property centered around a charming three-story courtyard brimming with plants and open to the sky. The interior architecture as well as the setting are particularly romantic; the property is removed from the street down a tiny, pedestrian, cobblestone alleyway, and situated two blocks from the Alcàzar (within walking distance of many of the most beautiful tourist destinations in the heart of the city). Rooms are simple and elegant with marble floors, white walls, stocked minibars, and free Wi-Fi. Bathrooms are on the small side, and there is little drawer space for clothing. A few guests have noted noise from the inner courtyard.
2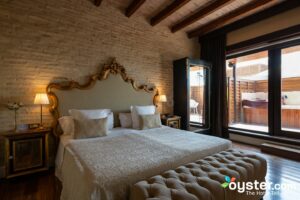 The three-story, 33-room Hotel Casa 1800 was originally a mansion built in 1864. The owners have taken care in its conversion to retain the original historic character. Nonetheless, Casa 1800 still has the modern conveniences and cutting edge technology today's travelers expect in a boutique property, with a prime location in the city center near a world-famous cathedral.
3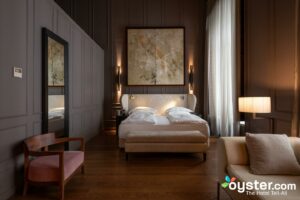 Built in the early 18th century in the traditional Sevilian baroque style, this gorgeous palace now houses a luxury boutique. Its 50 rooms are all elegant and stylish, with a few original architectural details -- including wall moldings and, in some, intricate coffered ceilings -- and high-end amenities, such as flat-screen TVs, free minibar items, and free Wi-Fi. The small spa, lovely courtyards, intimate restaurant, and rooftop plunge pool offering panoramic city views are all great perks. The location, in a quiet area of the historic center, is ideal for those looking to see Seville's main attractions.
4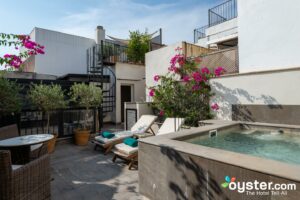 The 12-room luxury boutique Corral del Rey is located in two houses several yards apart. The buildings were built as a casa palacio in the 17th century, and have been carefully restored to preserve their architectural history but updated and refurbished to meet the demands of the modern traveler. Located in the center of Seville's historic district, along a winding cobblestone street, the Corral del Rey is packed with romantic atmosphere.
5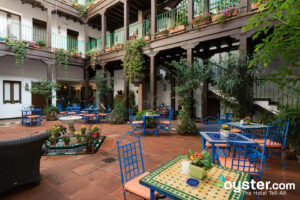 The El Rey Moro Hotel Boutique Sevilla is a three-pearl property in the Santa Cruz neighborhood of central Seville. Its 20 individually decorated rooms are arranged on three floors around a lovely courtyard. The building's roof deck offers city views along with a hot tub. Guests are welcomed with a glass of regional orange wine, coffee, and biscuits, and a breakfast buffet (for a fee), is served in the main restaurant -- a charming space with cascading plants and an atrium ceiling. Loaner bikes are free to borrow, and walking tours are also available. Be aware that the hotel is located around narrow pedestrian streets, which makes parking difficult. Travelers could also consider the Hotel Dona Maria, another centrally located hotel in the historic district, which has a rooftop pool.
6
Hotel Las Casas de El Arenal is a three-pearl historic hotel set in two traditional 18th century Sevillian homes, a four-minute walk to the Plaza de Toros in Seville's city center. The 27 rooms are classic and elegant so expect antique furniture, floral patterns, and some wooden ceilings with exposed beams. Space is limited in the rooms, but all have flat-screen TVs, minibars, electric kettles, and air-conditioning. The lovely cold breakfast buffet, on-site parking, and free Wi-Fi are all great perks. Guests can gather in the central courtyard or rooftop solarium. A lack of a restaurant or gym are downsides, though as a historic boutique property, the missing features aren't all that surprising. Travelers could also consider Vincci La Rabida Hotel, which has two restaurants on-site.
7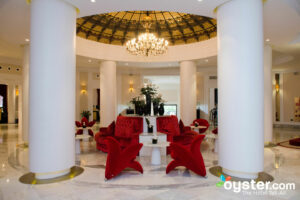 The luxurious, 189-room Gran Meliá Colón is a Seville landmark, steeped in history and tradition but also emphasizing modernity and quality. Meliá Colón embraces the culture of Seville's painters and bullfighters in its architecture and decor. For example, elegant rooms have doors painted to look like framed masterpieces by some of Seville's famous artists. The hotel feels like an integral part of the cultural fabric of the city, and the three excellent restaurants are popular meeting spots for both tourists and locals.
8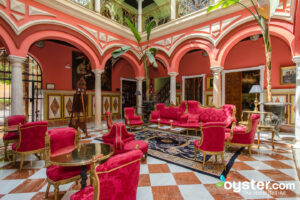 The 10-room Hotel Ateneo Sevilla is a three-and-a-half property set within the historic area of Seville. The boutique hotel has a trendy Renaissance style that attracts mostly couples. The rooms vary from Standard to Suites and come with comforts like air-conditioning, flat-screen TVs, kettles, and minibars. With a pool, bar, breakfast buffet (for a fee), and a library, there are quite a few features for such a small boutique property. Take note that Wi-Fi may be spotty at times and there's no on-site parking or restaurant. For a hotel with a modern design, consider EME Cathedral Hotel which has a rooftop pool, spa, and gym.
9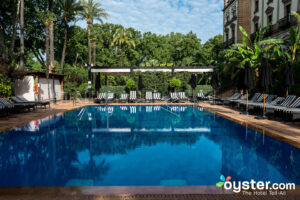 This luxury hotel dates back to the late 1920s and features impressive palatial architecture, decadent interiors, and beautiful gardens. Its location is also prime, situated near the Royal Alcázar and within a five- to 10-minute walk of Seville's top attractions. Features include a lovely outdoor pool with a poolside bar, two beautiful restaurants (including one in and overlooking an attractive courtyard), an atmospheric bar with chic Art Deco decor, a gourmet foodie shop, and a fitness room. Though some of the 151 guest rooms are small and lack tea/coffee facilities, they feature stylish contemporary decor, attractive bathrooms with arabesque tiling, and some balconies. Though nowhere near as opulent, the five-pearl Hotel Palacio de Villapanes is a more intimate alternative with a rooftop plunge pool, small spa, and tapas restaurant.
10
The Hotel Holos is a modern, upper-middle-range, B&B with seven rooms in a residential house retrofitted with contemporary geometric architecture. It's situated in a pretty, leafy neighborhood built for the World Exposition of 1929 full of Victorian-era houses and orange trees. The minimal rooms have air-conditioning, fun extras like colored toilet paper, and bathrobes. The modern garden and wood-paneled solarium terrace offer lovely places for lounging. Some guests have noted that the location is far from touristed areas (it's 45 minutes on foot to the Jewish quarter) and that there are no real dining options within the property. Wi-Fi is free and there are rental bikes available.
11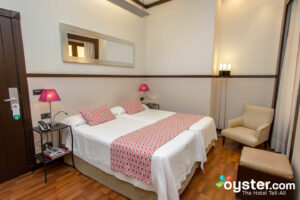 Originally home to one of Spain's lace mantilla companies, this historic property was fully renovated in 2014. The 12-room Alminar Hotel is now a stylish mid-range boutique on a quiet pedestrian street in the heart of Seville's Old Town, within walking distance to major attractions and close to restaurants and shops. The hotel's clean, impactful design -- contemporary furnishings set against colorful mosaics and carved wooden panels -- sets it apart, but there are few common areas and features. The rooftop deck is only available seating for guests staying in the adjacent rooms. Buffet breakfast is served, for a fee, in a small dining area. Travelers in search of additional amenities should try the nearby Dona Maria for a rooftop pool and hip bar.
12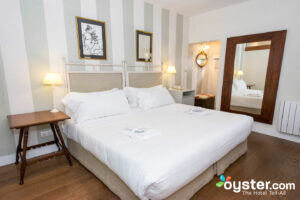 This three-pearl, 30-room boutique hotel is housed in an 18th-century townhouse in Seville's Santa Cruz neighborhood. Interiors have a musical theme, with classical instruments adorning the walls and soundproofed practice rooms for budding musicians. Bright guest rooms are done up in well-kept classic decor, and all include flat-screen TVs, minibars, and air-conditioning. Some add private terraces or balconies, and all are quiet. The pretty rooftop terrace offers gorgeous city views, and features a cocktail bar and hot tub. A continental breakfast buffet is served here daily, but this costs extra. There is no full restaurant, but snacks are available from the bar throughout the day. Wi-Fi is free throughout the property. Alternatively, travelers could also consider Los Seises by Fontecruz, which adds a rooftop pool.
13
The Hotel Posada del Lucero is a three-and-a-half-pearl property in a nationally listed 16th-century building. Located in Seville's historic city center, it's within walking distance of many shops, restaurants, and attractions. The 38 air-conditioned guest rooms have been designed around a central Andalusian courtyard, and decorated in a contemporary, minimalist style. Modern amenities include flat-screen TVs, coffeemakers, and free Wi-Fi. The hotel has some attractive facilities, including a rooftop terrace with a small seasonal pool surrounded by sun loungers and umbrellas. There's a restaurant and bar serving tapas and light dishes throughout the day, plus a generous breakfast buffet for a fee. Guests can also take advantage of a free afternoon buffet in the patio. Alternatively, it's worth taking a look at Hotel Fonetcruz Sevilla, which adds a full-service spa.
14
This three-pearl property is set amid the cobbled streets of Seville's Old Town, within walking distance of major attractions, restaurants, and shops. Its glass-topped central atrium, surrounded by Roman arches, exemplifies the Mudejar architectural style that draws tourists to the area. The decor and furniture in the 56 rooms are stylish, but veer toward plain and aging, and past guests have reported audible noise. Coffee and juice are free, though there's no restaurant or drink service on the panoramic rooftop deck. Breakfast may be purchased in the mornings. Bikes, iPads, and Wi-Fi are free to use. Travelers seeking on-site restaurants or fresher decor should check out the nearby Vincci la Rabida, but it's pricier.
15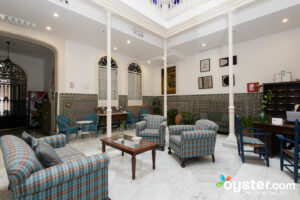 The family-run Casa de Colón is a mid-range, boutique hotel with classic Andalusian decor that's exceptionally well-located in the historic center near many major attractions. Its 17 rooms range in size and decor, but tend to be stylish and comfortable. Some include bright patterned floor tiling, exposed brick walls, claw-foot tubs, original wood or wrought-iron work, or balconies. Rooms have AC, flat-screen TVs, and free Wi-Fi, but lack extras like coffee/tea service or mini-fridges, plus bathrooms can be tiny. Standout features include a small atrium-style lobby and a tiered rooftop terrace with a solarium and magnificent views of the cathedral and city, but there are few other extras. For more in-room amenities, the nearby Alminar Hotel is another mid-range option.