Best Value Hotels in Sosua, Dominican Republic
The small Dominican beach town of Sosua is known for sex tourism, so many of its cheap hotels can be quite seedy. These three affordable options are good alternatives.
See All Sosua Hotels
1
Unfussy yet modern and well-maintained, Casa Valeria Boutique Hotel offers great value for travelers on a budget. Amenities throughout the hotel's nine rooms and apartments include wall-mounted flat-screen TVs, free Wi-Fi, and small work desks. Minibars are stocked with an assortment of snacks and liquor. Safes, hairdryers, and irons are tucked away in wooden cabinets. The slim lineup of hotel features includes a small outdoor pool and a lovely restaurant, which offers breakfast, lunch, and dinner (free breakfast is included). The location around the hotel is a bit nondescript, but the beach as well as numerous restaurants and shops can be reached within a few minutes' walk.
2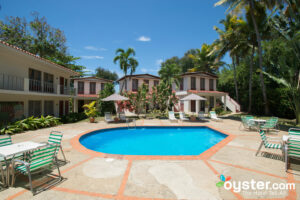 Travelers would be hard-pressed to find a better hotel for this rock-bottom rate. Though it is by no means a luxury resort, Tropix is one of few family-friendly hotels left in the area, thanks to its strict registered guests only policy (aka no sex tourists allowed). Because of this, the hotel hosts a great deal of families and return guests (who call themselves "Tropixies"). The 10 guest rooms are tropically inspired but also seriously dated, with cheap, uncomfortable furniture and air conditioners that hardly work. The unplugged nature of the property also means there are no TVs or phones, but there is free Wi-Fi. There's a communal kitchen, and the hotel serves an a la carte breakfast for a fee each morning. Guests are within a short walk of the beach and a grocery store.
3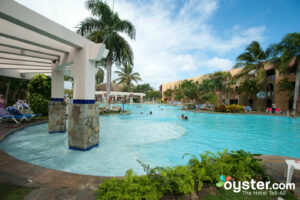 One of the older resorts in the Dominican Republic, the mid-range Casa Marina Beach & Reef is beginning to show some wear and tear. The property is less relaxing and luxurious than many resorts in the region, yet it has an especially friendly and casual vibe. Highlights include two nice sandy beaches, appealing oceanfront pools, a huge central pool, free sports rentals, and all-inclusive food and drinks (however, the restaurants can be crowded and most of the food is mediocre). Rooms are basic and pleasant with tile floors, wall-mounted flat-screen TVs, and small balconies -- but no free Wi-Fi. It's also one of the few resorts that's within walking distance of a real Dominican town, giving guests a chance to escape from the all-inclusive bubble. The bulk of the clientele are budget travelers looking for some beach, booze, and fun -- all of which the resort delivers.