Best Beach Hotels in St. Lucia
Best known for The Pitons, which are two striking volcanic mountains, St. Lucia is one of the most stunning Caribbean islands. It lures everyone from honeymooning couples to vacationing families with its hidden beaches, lush rainforest, and banana plantations. Since it's packed with gorgeous beaches, travelers should book a hotel that sits along the ocean; then they can easily enjoy pretty vistas from their room and walks on the sand. A team of Oyster investigators went to St. Lucia to see which of the beachfront hotels were the best of the best, reviewing their guest rooms, pools, and restaurants. Take a look at our expert picks for the best beach hotels in St. Lucia and start planning your getaway!
See All St. Lucia Hotels
1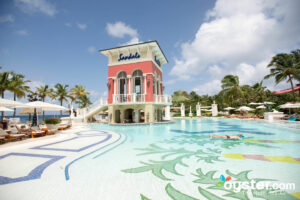 The newest of the three Sandals resorts on St. Lucia, Sandals Grande is a 301-room, upscale, couples-only resort that's set on a peninsula adjacent to Pigeon Island, a historic national landmark. Its signature pool with a huge tower and swim-up bar is the center of the action, a place where young honeymooners mix and mingle. Three other (quieter) pool areas, a slew of water sports (including unlimited scuba), a beautiful spa, gorgeous beach, and eight restaurants, including an authentic British Pub, help keep guests occupied. Club Level and Butler Level rooms are available for upgraded service.
2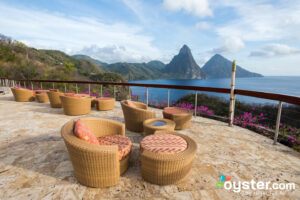 Romantic? Undoubtedly. Unique? Absolutely. Expensive? For sure. Through an innovative, open fourth wall, each of Jade's 29 enormous suites overlooks the sea from its chromatherapy-lit whirlpool tub, canopied bed, and private infinity pool. Getting to Jade Mountain can be tedious, even nauseating, but its organic cuisine, doting service, unwavering silence (no TVs, radios, or children), and extraordinary design make the long journey worthwhile.
3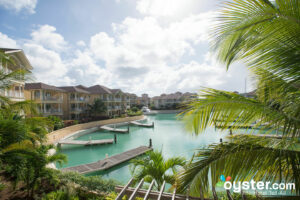 Opened in December 2007 as St. Lucia's first private residential yacht community, The Landings is one of the island's most luxurious boutique resorts. Upon entry, it's obvious that the developer spared no expense in the construction of the pavilionlobby, which boasts towering ceilings, polished marble floors, and a carefully curated decor that's understated and elegant. Most of the owners of the development's 72 residences choose to place them in the rental program. The spacious one-, two-, and three-bedroom villas cater to families and traveling couples, offering a homey atmosphere that is quieter and more personal than nearby mega-resorts -- just don't expect a huge list of activities.
4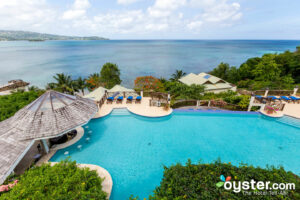 Opened in 2009, this upscale 26-room boutique resort rests on a gently sloping hill above Bonaire Bay, providing stunning Caribbean Sea views from virtually everywhere -- whether at the stunning infinity pool, the open-air restaurant and spa, the cozy library, or on the private beach. Three very distinct room types create varying experiences for guests, though all feature elegant furnishings and private balconies. However, like many St. Lucia resorts, a secluded location means guests must rely on pricey taxis or rental cars to do anything outside of the resort.
5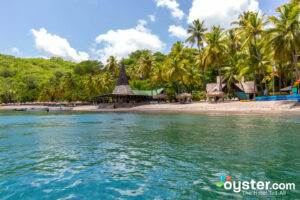 Opened in 2000, the 49-room Anse Chastanet Resort was one of the first properties to focus on eco-luxury design, and to deliberately shun technology such as TV, telephones, air conditioning, and Wi-Fi. The resort offers four open-air restaurants, two beaches, extensive water sports, a beachfront spa, and an outdoor fitness pavilion. Technology-free rooms have wrap-around terraces, many with views of the Pitons. For the price, guests might expect the standard rooms to be a bit more spacious; however, free extras such as daily afternoon tea, twice daily yoga classes, and non-motorized water sports add value. While there is no fitness center or pool, the peaceful location with direct beach access is a serious perk.
6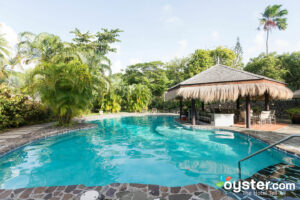 East Winds Inn doesn't try to compete with the mega all-inclusive resorts on St. Lucia. Instead, the intimate, 30-room, upper-middle-range all-inclusive caters to guests who want to relax in a quiet location without constant attention. It lacks amenities such as a gym and spa but offers a laid-back vibe among lushly landscaped gardens. Guests hide out in air-conditioned, cottage-style rooms, snorkel the reefs from the lovely gold-sand beach, and lounge at the pool, where they can also mix their their own cocktails at the swim-up bar.
7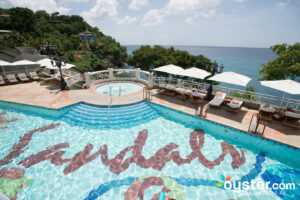 The first of the three Sandals resorts on St. Lucia, the 331-room, adult-only La Toc is a bit more traditional in style than its sister properties. It's set on 210 acres that roll through the forested grounds and over dramatic cliffs to the half-mile of brown-sugar sand beach. Geared to couples and honeymooners, the upscale resort has three pools, including a beachfront signature pool with a swim-up bar, the largest on St. Lucia. A nine-hole golf course, beautifully landscaped grounds with private lounging spots, and nine restaurants, including a fine-dining French restaurant, keep guests occupied. Sunset Bluff Village is a resort within the resort, offering elevated views and high-end butler-serviced villas with private pools.
8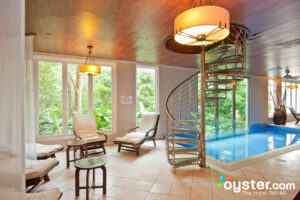 Quiet, sophisticated, and stylish, this luxury resort doesn't skimp on amenities -- it boasts a beautiful Olympic-size pool, an exceptional spa and fitness center, an extensive kids' club, and a secluded beachfront with open-air restaurant and lounge. The resort's 49 stately residences range from sizable one-bedroom apartments to four-bedroom villas of impressive proportions -- each with a private balcony or terrace and a full kitchen. This is a great choice for families, given the spaciousaccommodations and many children's perks, but couples will feel relaxed here too, as it is not overrun with loud children.
9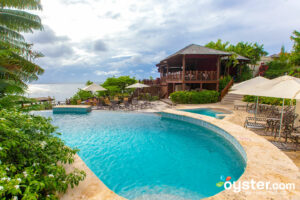 One of the quieter and more subdued resorts on St. Lucia's northern end, the luxury Cap Maison features plenty of opportunities for pampering and serenity. Rates are about where they should be (high) for a luxury boutique with so much to offer -- a charming spa, waterfront yoga and tai chi classes, two mellow pools, an elegant cliff-top restaurant and bar with stunning views, a small beach, and rooms so gorgeous and comfortable guests will be hard-pressed to find a reason to leave at all. Families with small children might think twice about staying at a resort so focused on maintaining a tranquil atmosphere, though the resort does try to cater to the little ones with deals like letting kids eat free at the restaurant when they're with their parents.
10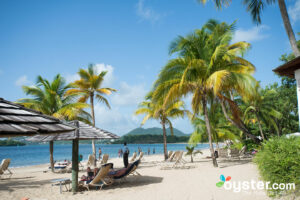 Founded in 1966, Rendevous is an established all-inclusive, upscale resort that caters specifically to couples. Set on the shores of the white-sand Malabar Beach close to St. Lucia's capital city, the 100-room resort is both intimate and grand. Property features include two pools, a spa, and tennis, and rooms have sophisticated tropical style. The main restaurant has fabulous ocean views but the cuisine is a bit bland, and the planes coming and going at the neighboring airport can be noisy.
11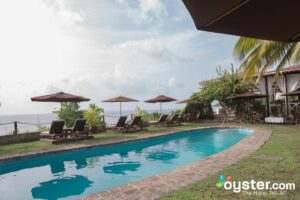 Ti Kaye, which means "little house" in Creole, is an intimate rustic-luxe resort with 33 private cottages built into a hillsideoverlooking the Caribbean. The resort's way-off-the-beaten track location, accessed via a precariously steep and bumpy road, means it's a hassle to leave once you check in. Yet the difficult location is also one of the reasons guests come to Ti Kaye -- they come to relax, unplug, re-connect, and lounge in quiet isolation all the while enjoying gourmet cuisine and wines from St. Lucia's largest cellar.
12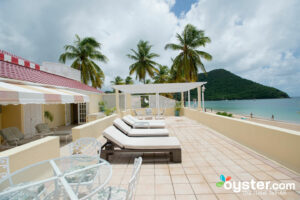 This 95-suite upper-middle-range resort delivers on location -- it's steps from Reduit Beach and close to Rodney Bay Village. A stylish swim-up bar services a lagoon-style pool ringed by palm trees and cushy white loungers and day beds, which are spaced far enough apart for privacy. The resort offers three restaurants, but the most intimate is the Beach Shack, an open-air pavilion right on the beach. Some of the spacious suite-style rooms have terraces with dead-on views of the sea, but the rooms do show hints of wear and tear with scuffed floors and spots on the rugs.