Most Romantic Hotels in St. Thomas
Oyster knows what travelers look for in their hotels. When we visit properties around the world, we evaluate how every feature stacks up against the competition, from the rooms to the pools to the restaurants. So if you're planning a romantic trip and need a place to start, you've come to the right place. Take a look at our top romantic hotel picks in St. Thomas, and get inspired!
See All St. Thomas Hotels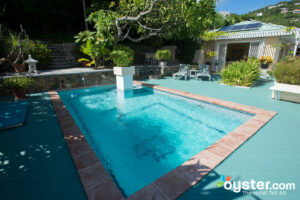 With only four rooms, Bellavista Bed & Breakfast is a relaxing and upscale hilltop retreat with personalized service from the owners, who live right next door. The property is charming and quaint, and the pool area, sundeck, and two of the rooms have gorgeous harbor views. The island-style decor is whimsical and fun, yet tasteful, and quirky touches such as a cactus garden give the property character and personality. Breakfast is one of the best parts of the stay – it's two courses and feels decadent but still healthy.
Opened in 2006, At Home In the Tropics Bed and Breakfast Inn is a small, four-room property in a historic part of town. Steps from Blackbeard's Castle, the Government House, and downtown Charlotte Amalie, At Home In the Tropics has a convenient and central location. The four guest rooms are charming, bright, and well-appointed with safes, flat-screen TVs, high-end toiletries, and private bathrooms. There are plenty of common spaces and the views around the property are stunning. It is not located directly on the beach, but the beach is never far away on St. Thomas.
A clean, modern resort with stunning views, this 478-room Marriott is a cut above every other hotel in St. Thomas–, except, maybe, the pricier Ritz Carlton. It's sprawling, the food's overpriced, and it can, at times, become packed with conventioneers. But its excellent gym, great pools, top-notch beds, and soft-sand beach rival the island's best. The spa has its own pool area with therapeutic bubble beds and massage tables.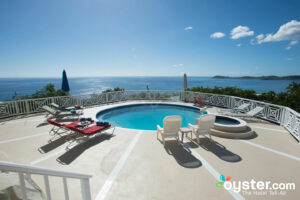 Villa Marbella Suites is located on Frenchman's Bay on the south coast of the island. It's a tiny hilltop property with only four rooms, giving it a relaxed, intimate atmosphere, and every unit offers gorgeous views of the bay, Charlotte-Amalie, and the surrounding area. The rooms are stylish yet homey and all have fridges, microwaves, and coffeemakers as well as beach towels, coolers, and bags. Property features include a pool with terrific bay views and a  gas grill, but no restaurant or beachfront -- and there's not much within walking distance.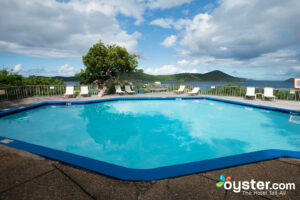 The upper-middle-range Point Pleasant Resort is a large, spacious hillside property on the East End of the island, a convenient, scenic location close to Red Hook's restaurants and shopping. Features include three pools, an on-site restaurant, and a spa. The villas are privately owned and managed, with varying decor, but each unit is spacious with a large living room and fully equipped kitchen. There is a small but rocky beach in front of the property that doesn't have much room for lounging, but guests are free to use the beach next door at Sugar Bay Resort.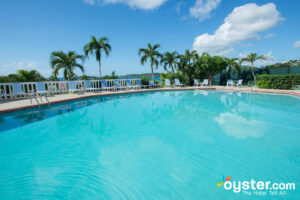 Secret Harbor Beach Resort is an upscale boutique property located on Nazareth Bay on the East End of St. Thomas. The resort's beach is truly a tropical paradise, with palm trees, hammocks, loungers, white sand, and turquoise water. The resort has two on-site restaurants and a lively beach bar. Guests have a choice of Studios or One- or Two-Bedroom Condos, and each has updated decor (except for some bedspreads) and fully equipped kitchens. All units are beachfront and offer great views. The pool is slightly off-site, a two-minute walk to another property, but with this beach, you won't miss it.
The Ritz-Carlton is St. Thomas' classiest resort, located only five minutes from Red Hook's fun dining and yacht scene. Its private sailboat, fitness center, spa, and soft-sand beach -- a marine-life sanctuary -- are all among the best in St. Thomas. But the food and service don't compare to swankier Ritzs elsewhere.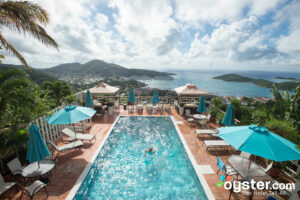 At 900 feet above sea level, the Mafolie Hotel is known for its incredible island and sea views. Mafolie is a landmark hotel in St. Thomas and has been in operation since the 1940s, with many people's grandparents having fond memories of vacationing here. A gorgeous pool area with a bar, cabanas, and loungers, as well as a popular restaurant are the highlights of the hotel. The rooms are clean and island-style but not contemporary, and you have to drive to get to any off-site dining. However, the hotel is a great value for the scenery, atmosphere, and amenities.