Best Hotel Spas in Switzerland
Chocolate, cheese, watches, and a stable economy—these are likely the first things that pop into your mind when you think of Switzerland. Perhaps they're quickly followed by visions of trains rolling through mountain passes, snow-lovers soaring down pristine ski and toboggan runs, and funiculars plying between lake shores and quaint hillside towns. Yes, the country's cuisine, crafts, and countryside are iconic, but Switzerland's many world-class spas are also worth weaving into a vacation itinerary. Thermal baths are, after all, a great way to cope with alpine temperatures or weary muscles after an epic hike or ski day. And just imagine getting your massage on a heated bed as you gaze over the snow-capped Alps beyond Lake Geneva. Oyster has visited more than 400 hotels throughout Switzerland, from Basel to Zermatt, and here are the ones with spas as magnificent as a high-altitude ride in an aerial cable car—or a rose-gold Rolex. Welcome to SwitZENland.
See All Geneva Hotels
1
The luxurious 19th-century Beau-Rivage Palace on Lake Geneva is the crème de la crème of Lausanne hotels. And its stylish Cinq Mondes Spa—with separate men's and women's hammams, a sauna, and a Shu Uemura hair salon—is the area's spa par excellence. The fantastic space includes a modern gym with hardwood floors and floor-to-ceiling windows looking out over the gardens and water, plus two year-round pools. The indoor pool features lounge chairs, a hot tub, and an outdoor swim passage, while the outdoor pool is surrounded by manicured lawns and a furnished deck facing the lake, with the snow-capped Alps in the distance. The treatments are just as exceptional as the facilities. In lieu of the usual catalog of massages and facials, Cinq Mondes offers experiences like Japanese and North African bath rituals, Ayurvedic and Balinese massages, and acupressure facials inspired by Chinese herbology. Products used are non-toxic and paraben- and silicone-free. Spa treatments are hard to get, but for guests staying in the hotel's lavish suites, spa reservations are guaranteed. For the truly spa-devoted, there is Spa Suite with a hammam, two massage tables, a wine refrigerator, and a fireplace.
2
A hotel with four restaurants (one Michelin-starred), three bars, and an extensive wine cellar would have a luxurious spa, too. The historic 138-room Lausanne Palace & Spa's CBE Concept Spa has a heated indoor pool, a hot tub, a panoramic terrace, an organic vegetarian cafe, and a silent relaxation room. There are separate Finnish saunas and Moroccan hammams for men and women, as well as ice showers for men and a mud chamber and therapeutic baths for women. The modern fitness center offers cardio equipment, weights, and a Pilates studio, and an Aveda hair salon provides cuts, styling, and scalp treatments. All this, and we haven't even mentioned the 50-plus massages and body treatments on offer, which include hot wax, Shiatsu, Tui Na, and more than a dozen Ayurvedic options. Towels, water, and hot herbal tea are all free.
3
Opened in 1904, Le Mirador Resort & Spa offers unparalleled Lake Geneva and mountain views from its hillside location. In fact, no other hotel in the area has a higher vantage point—something that Le Mirador displays from nearly all of its facilities, including the 12 treatment rooms at its luxurious Givenchy Spa. Here, guests can enjoy anti-wrinkle facials, four-handed massages, or moisturizing body wraps with a side of spectacular views. There are also men's and women's saunas and steam rooms, a modern fitness center overlooking the lake, and a beautiful glass-domed pool with a hot tub and sun terrace where Vevey's alpine splendor is on full view. An on-site medical center provides anti-aging remedies, dermatology, and dental services.
4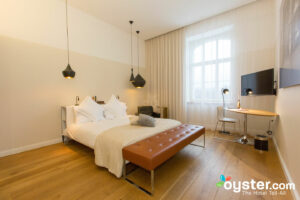 To soak in healing waters is to dip into alpine culture. Though technically separate businesses, Thermal Bath & Spa Zurich and B2 Boutique Hotel + Spa are both located in the former Hurlimann Brewery, which was built in the late 1800s outside of town (the repurposed complex also houses Google's Zurich offices). B2 Boutique guests get private access via an elevator and discount privileges (half-off visit, plus free admission for a second visit) to the adjacent spa and its many aquatic offerings, including steam baths, whirlpools, meditation baths, an Irish-Roman water circuit, and bubbling wooden hot tubs (the oak barrels were used to store Hurlimann beer in their former lives). But the spa's main attraction is its heated rooftop infinity pool, which, because of the brewhouse's hillside, out-of-town location, offers a view of Zurich's rooftops, church steeples, and surrounding countryside. The spa's mineral-rich waters come from the Aqui spring water source deep below the city.
5
The Hotel President Wilson is a beautiful luxury hotel with an even more beautiful location overlooking Lake Geneva. Its proximity to international organizations and government buildings makes it popular with business travelers, but all travelers can appreciate its many on-site amenities, including a luxurious spa by La Mer, which is accessed via a private elevator and where treatments use—what else?—ultra-posh La Mer beauty products. (Posh could be a stand-in for pricey, in this case, as about an ounce of a La Mer product costs as much as an hour-long treatment.) Each of the five spa treatment rooms features a private marble bathroom, and the Spa Suite has a large hot tub, sauna, and steam room. The menu offers facials (including one centered around the brand's signature Miracle Broth), massages (including one designed to fight jet lag), anti-cellulite treatments, waxing, and mani/pedis. On the day of their treatment, spa guests get free sun beds at the hotel's heated seasonal pool.
6
The Europe Hotel & Spa is a charming chalet nestled in Zermatt, a short walk from the Swiss Alps ski village's main square. Some of its 39 rooms have views of the Matterhorn. The property's namesake spa—with its Finnish and herbal saunas, bubbling warm pool, steam bath, and lounge for cooling off—offers a heavy dose of Swiss-style Zen, and is an especially lovely (and adult-only) place to relax after a day on the slopes. The spa's massage-and-bath menu offers nearly 20 options, and many incorporate indigenous ingredients like local herbs, Alpine hay, marmot oil (used for its healing properties for centuries), and edelweiss (known to help rheumatism and stomach pain). Facials use certified-organic Dr. Spiller Biocosmetics products.
7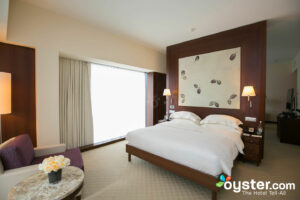 Park Hyatt Zurich was the city's first purpose-built luxury hotel when it opened in 2004, and still holds the position of one of the finest properties in the city. Its on-site Club Olympus Spa & Fitness features a 24-hour health club (where cardio machines have individual TVs) and a wellness center with notably long operation hours. Towels, bathrobes, slippers, water, and fruit are provided for free. Spa facilities include separate men's and women's areas with saunas and steam baths, plus a unisex relaxation room. Treatments like body polishes, algae wraps, facials, and scented-oil massages occur in private rooms, while a beauty room is dedicated to makeup, nails, and waxing services. However, there's no pool—unusual for such a high-end property.
8
Like all of InterContinental Geneve's common areas, the Spa by Clarins wows with its attractive design. The gorgeous space, outfitted in Clarins' signature color scheme of white and red, features six treatment rooms (one for couples), a hammam, a sauna, and a tranquility lounge, perfect for unwinding after a long day of walking around the city or running from one meeting to the other. Treatments range from firming facials and salt scrubs to eyelash and eyebrow tinting. The adjacent fitness center is open 24 hours and the outdoor pool offers views of Mont Blanc.