Most Romantic Hotels in Tenerife
Tenerife in the Canaries is a realm of lush, laurel-covered ravines; striking volcanic landforms; and spectacular, sun-kissed beaches. Couples wanting to experience the romance of the island would do well at these eight hotels — sprawling resorts and beachfront high-rises that Oyster's investigators hold to be Tenerife's most romantic.
See All Costa Adeje Hotels
1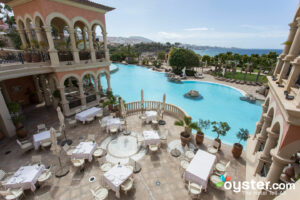 Built in Moorish Revival style with neo-Roman accents, adult-only El Mirador is one of the most striking hotels around. Its huge heated pool overlooking the ocean, luxurious spa, and high-end services make it one of the top hotels in Costa Adeje. Rooms are attractive and upscale, with large canopy beds, modern amenities, and natural stone baths with separate showers and tubs. The common spaces full of columns, fountains, and arched entryways are grand and impressive, though perhaps a bit gaudy for some tastes.
2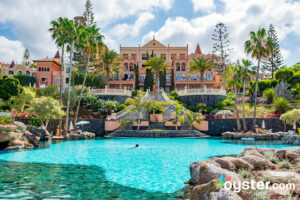 One of Costa Adeje's largest resorts, the luxurious Bahía del Duque has 351 rooms and villas on sprawling lush grounds. The long list of on-site amenities includes four large free-form pools, eight (pricey) restaurants, extensive sports facilities, a beautiful spa, and a fitness center with Pilates, yoga, and meditation classes. Rooms are decorated in a soft palette of ocean neutrals -- taupe, seagrass green -- with touches of beach-y wicker. And all rooms include a furnished balcony or terrace. Villas are a notch above standard Double Rooms and feature more upscale furnishings, large terraces, and private pools. The resort's location, right on Costa Adeje's prettiest beach, is a major selling point.
3
Smaller in size than many of its neighboring hotels, La Plantación del Sur is a serene, luxurious hotel located a few blocks from one of the nicest beaches in Costa Adeje. Elegant Canarian colonial decor, solid amenities, and upscale bathrooms make rooms -- all with furnished balconies or terraces, some with outdoor hot tubs -- appealing and romantic. With four beautiful pools, two restaurants, a great spa set in a volcanic cave, and a well-equipped fitness center, this hotel is a great pick for leisure travelers. Nearby Gran Hotel Bahía del Duque offers more on-site features, but it is also busier and more expensive.
4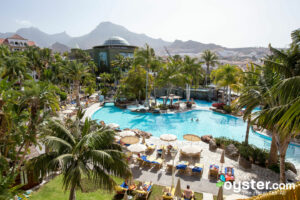 A huge stained-glass dome is the centerpiece of this luxury Art Deco hotel's four-story tall lobby. The large, 271-room property has five buildings, two pools, three restaurants, four bars, and a wide array of on-site amenities -- but sprawling grounds allow for uncrowded and mostly serene spaces. Rooms are appealing and elegant, with wooden furniture, cream-colored tiles, crisp white linens (note that there are no duvets), and furnished balconies or terraces. This is one of the best luxury hotels for the price in Costa Adeje, and most will prefer the rooms here to those at the similarly priced Iberostar Grand Hotel El Mirador.
5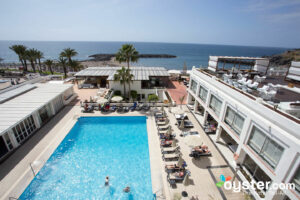 Housed in a glossy white high-rise reminiscent of Miami's South Beach, this attractive adult-only hotel has direct beach access to El Bobo, a pleasant stretch of sand with straw umbrellas, loungers, and a drinks hut. Unlike South Beach, though, the vibe here is subdued, despite live entertainment at the club, and it mostly draws vacationing couples. Rooms are clean and contemporary, with flat-screen TVs, minibars, air-conditioning, and furnished balconies. The hotel features three pools (including two free-form ones with waterfalls and footbridges), a spa, fitness center, two restaurants, and a tennis court.
6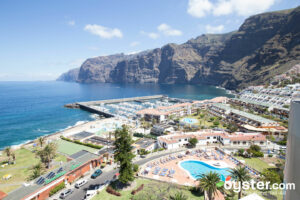 This adult-only oceanfronter has 225 contemporary rooms and striking views of the neighboring Los Gigantes cliffs. The chic property has solid on-site amenities including two gorgeous pools with sea and mountain views, a spa, and sports facilities including outdoor tennis courts. Located within walking distance of restaurants, bars, and a quaint harbor, the hotel is a good pick for those looking to spend some relaxing days in the sun -- but guests should be aware that the nearest beach is a 10-minute drive away. Some bathrooms could use an update and there is a pesky fee for Wi-Fi.
7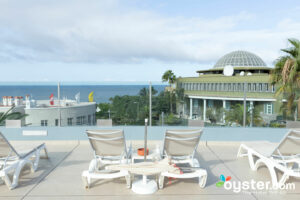 Colon Guanahani is a quiet adult-only hotel with a few great features, including two heated saltwater pools, a solid buffet restaurant, a small spa, and a well-equipped fitness center. The upper-middle-range property was fully renovated in 2014, and its colonial-inspired decor is stylish, with a few quirky details. Rooms have up-to-date amenities -- such as flat-screen TVs, free Wi-Fi, and minibars -- as well as modern bathrooms, some with glass-enclosed walk-in showers and separate tubs. Light sleepers may want to request a room overlooking the pool, as street-facing units can get some traffic noise.
8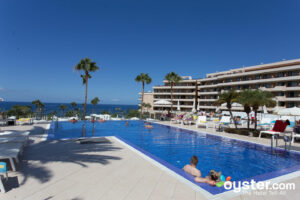 Formerly the Luabay Costa Adeje, this hotel is now a mid-range, adult-only all-inclusive with a somewhat quieter vibe than nearby hotels. While marketed as a luxury property, rooms are pleasant but just average, with basic blonde wood furniture and typical amenities such as flat-screen TVs and mini-fridges. There are two restaurants, a small spa, a basic but modern fitness center, and daily entertainment. But the highlight here are the pools, especially the infinity-edge one on a higher floor, which features wonderful ocean and sunset views. The hotel offers good value overall -- just beware of the many extra fees.