Best Value Hotels in Chaweng, Koh Samui
Take a look at the best value hotels in Chaweng.
See All Chaweng Hotels
1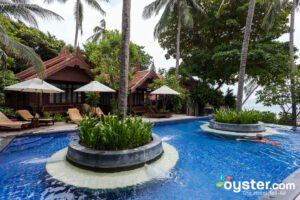 There are 43 rooms at this mid-range property set on the quieter, south side of Chaweng Beach. It's a great location for those wanting to be in a beachfront spot but away from the noise of the town center, though the selection of bars and restaurants down here is far thinner. Rooms are simple, with traditional Thai decor that's a bit old school, plus minibars, free Wi-Fi, and balconies. Some have private outdoor hot tubs as well. Facilities include a pretty spa with beachside treatments, an outdoor pool, a well-liked beachfront restaurant, and a pool bar. Those looking for a more contemporary and trendy decor should try the OZO Chaweng Samui, which is closer to the center of town, though rates will be higher.
2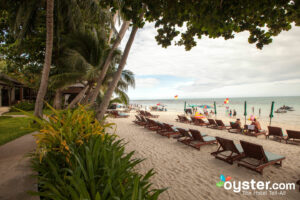 This mid-sized, reasonably priced hotel located in the center of the action of Koh Samui offers easy access to the town of Bophut but is also a quiet retreat thanks to Chaweng Beach being its backyard. Rooms range from value units to villas, and include modern conveniences like flat-screen TVs, minibars, climate controls, and free Wi-Fi. Beach views and suites are pricier but worth it. Breakfast is free and served at the on-site beachfront restaurant. A lovely pool and full-service spa are also available.
3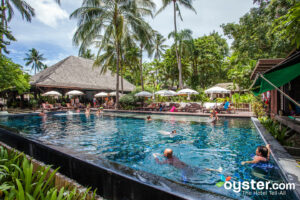 There are 162 guest rooms at this busy three-and-a-half-pearl property on beautiful Chaweng Beach, right in the middle of the bustling little town. The shops and raucous nightlife that the area is famous for are just a minute's walk away, but the property itself is a fairly quiet retreat (providing travelers don't get a room near the road). The hotel has two beachfront restaurants, pretty gardens, a swimming pool, a gift shop selling local crafts, and free Wi-Fi throughout the resort. Guest rooms are spacious and quite lovely, with charming traditional Thai decor plus flat-screen TVs and air-conditioning. Villas with private pools are also available. It's worth comparing with the nearby Samui Resotel and Spa, a quieter options with a swim-up bar and modern fitness center, though rates are higher.
4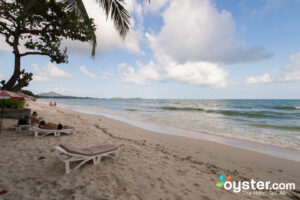 Sans Souci Samui is a small beachfront hotel located at the quiet southern end of Chaweng Beach, Koh Samui's longest and most popular strip of sand. This value property sits right on the beach, with waves lapping up to the delicious open-air restaurant. There are only 22 rustic rooms here, all of which have red-tiled floors and humble wood and rattan furnishings. There are no safes and rooms include old school TVs, but they are spacious and offer a decent value for being right on the sea. Aside from a massage room, there's not much in the way of features, but there are plenty of restaurants within a 10-minute walk. Compared to the nearby Chaba Resort, Sans Souci is a far more charming option.
5
Jungle Club is a hilltop retreat with a back-to-nature vibe and budget rates set along a lush jungle hillside with breathtaking ocean views. It's located a 20-minute drive from Chaweng's buzzing nightlife scene, along ultra steep roads with hairpin turns and sheer vertical drops. Room options include rustic semi open-air bungalows with thatched roofs and wooden interiors, plus an ultra modern two-bedroom villa compound with a private plunge pool, lounge, and kitchen. Jungle Lodge Rooms are perched along the cliffside and have the best views. Facilities include a small infinity swimming pool and a multi-cuisine restaurant and bar. The restaurant is often packed with outside guests, who come for the views and photo ops. As an alternative, Montra Hotel has more modern rooms and a gorgeous garden swimming pool.
6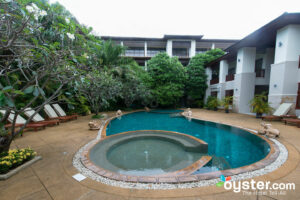 Le Murraya is a mid-range resort with 41 rooms located in downtown Chaweng, Koh Samui's most popular beach town. The property is a five-minute walk from the beach, and guests have access the sister property's beach club and pool. The Thai boxing stadium is next door, and nightlife, restaurants, and shopping are nearby. Rooms here are a good value for Chaweng, as they're some of the largest in town and have spacious balconies. The resort has a swimming pool with built-in kiddy pool and whirlpool plus a small fitness center. There's also a poolside restaurant, which serves a free breakfast. Wi-Fi is also free. For large rooms at reasonable rates, this is a solid bet, but for more style consider the Samui Resotel and Spa, though rates are higher.
7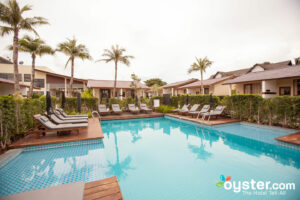 Baan Talay Resort is a contemporary option right on Chaweng Beach, about a five-minute drive from the center of Chaweng nightlife. The 54 spacious and contemporary rooms are simple and minimalist in their look, and all come with minibars, free Wi-Fi, and flat-screen TVs. The best features include direct beach access, a 25-meter outdoor pool, and a free breakfast buffet with hot and cold items. There's also an open-air restaurant serving Thai and international dishes. Travelers who need a fitness center should check out Samui Resotel, which is right next door, though rates there will be significantly higher.
8
Ark Bar Beach Resort is a mid-range hotel set along a scenic white-sand beach in the heart of downtown Chaweng's party district. The hotel has been hosting some of the island's wildest parties for over 15 years and holds free bi-weekly pool parties, with international DJs and fire dancers that often attract upwards of 1,000 partygoers. The 328 rooms have clean contemporary interiors and balconies. Facilities include three outdoor swimming pools, a multi-cuisine restaurant, and three bars. Guests should note that the hotel is loud, with rowdy party goers and nonstop music at almost all hours of the day and night. Another hotel worth considering is OZO Chaweng, a trendy property featuring a great range of facilities and a gorgeous white-sand beach.
9
Papillon Resort is a small, mid-range property located at the northern end of Chaweng Beach on Koh Samui's east shore. It's a five- to 10-minute drive from the airport, and sits at the bottom of a hill outside town -- the restaurants and bars of Chaweng are not within walking distance. Rooms consist of 23 bungalows decorated in the Lana-Thai style -- five face the water and 18 look out on a tropical garden. All have small outdoor terraces, and come with mini-fridges, TVs (mostly flat-screens), free Wi-Fi, and air-conditioning. Bathrooms, while small, are beautifully tiled in stone. The Papillon sits above the water, which comes right up to the resort, so there is no beach here. There are two swimming pools, including a kids' pool, plus a whirlpool, and a small outdoor massage hut. The cafe-style restaurant serves French, Italian, and Thai cuisine. While the resort is not fancy, it's charming, and its prices are low for Chaweng -- the Papillon can be a nice place to chill.
10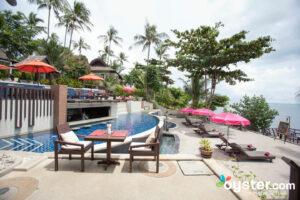 Bhundhari Spa Resort & Villas Samui is a quiet upper-middle-range hotel, with a classic Thai aesthetic and sprawling tropical grounds. It's set along a scenic beach (that's not great for swimming) on the outskirts of downtown Chaweng, and a 10-minute drive from dining, shopping, and nightlife hotspots. A range of 124 private pool villas, wooden bungalows, and nice rooms are available. Rooms feature hardwood interiors, balconies, and ocean views (hillside rooms). Although, there are reports of maintenance issues and the hotel's steep hillside location means lots of climbing -- or buggy rides. Facilities include two swimming pools, a swim-up bar, a restaurant, two bars, a spa, a beachfront wedding gazebo, and a gym. As an alternative directly on Chaweng Beach, check rates at the Amari Koh Samui.
11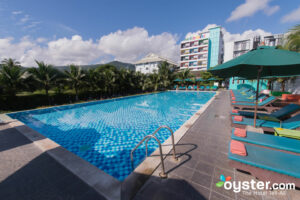 On an island of bland and basic mid-range and budget options, Samui Verticolor is a colorful and cheerful alternative just a 10-minute walk from the beach and Chaweng Walking Street. The 151 contemporary rooms feature eye-catching art and bright details along with amenities like flat-screen TVs, mini-fridges, and free Wi-Fi. Family Studios are excellent for the little ones, with a wall full of dolls and toys, as well as a separate living area with sofas that can be used as extra beds. There's also a kids' pool plus a proper pool and a small fitness room, but while breakfast is offered, it isn't included with all rates. For something with similar prices that's right on the beach, check out First Bungalow Beach Resort, though it's less modern and sits 10 minutes south of Chaweng by car.
12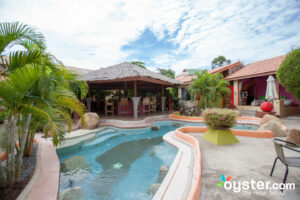 This nine-room mid-range hotel is more B&B than resort; it offers a pretty little escape with quirky touches in the middle of the North Chaweng Beach area. Spacious rooms have modern amenities that include in-room computers with free Wi-Fi, while simple bathrooms have rainfall showers and chemical-free toiletries. Breakfast is included and there is a nice variety of cold buffet and made-to-order items. On the whole, this hotel is a surprisingly charming find for a reasonable price.