Tulum's Most Romantic Beach Boutique Hotels
Selecting the perfect romantic hideaway can be a lot of pressure — especially in an area as filled with romantic retreats as Tulum, a boho-chic beach town on Mexico's Caribbean coastline. That's why we sent our hotel investigators to discover which Tulum hotels offer the chicest rooms, the breeziest restaurants, the tastiest cocktails, and the prettiest beaches. See our picks for Tulum's top beachfront boutique hotels geared toward romance and relaxation.
See All Tulum Hotels
1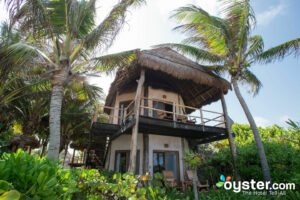 On a quiet spot on the southern end of the Hotel Zone, the eight-room Encantada has a beautiful and secluded beachfront location that's still in walking distance to restaurants, bars, and shops. The palapa-style rooms have rustic white-washed walls, exposed wood beams, natural wood plank floors, and slat-wood window shutters. Spacious and stylish, they all have fans (no AC), chic king-size canopy beds, doorless walk-in showers with mosaic tailing, and private furnished terraces. The restaurant specializes in authentic, local, and healthy Yucatan dishes; vegan, vegetarian, and gluten-free options are available. Free breakfast includes egg dishes, yogurt and granola, fresh breads, fruit, and coffee and tea. The bar showcases local craft beers, tequila, and mezcal, and offers a daily two-for-one happy hour so that guests can squeeze in a few cocktails between the beach and dinner. Three nights a week, the restaurant and bar host live music ranging from Latin to acoustic guitar. Children under 12 are not permitted.
2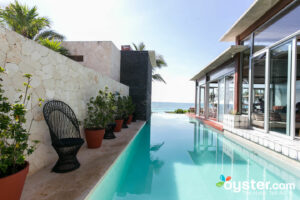 Mi Amor is an intimate, upscale boutique resort on the beach that attracts a primary clientele of vacationing couples. The 17 chic, rustic rooms have air-conditioning, Bluetooth speakers, Nespresso coffeemakers, minibars, flat-screen TVs, and walk-in rainfall showers. Most rooms come with either balconies or private plunge pools. The well-received restaurant's international menu has a heavy emphasis on French- and Italian-inspired cuisine, and the infinity pool faces the ocean. The hotel's rocky coastline is beautiful, but not ideal for those wanting to swim.
3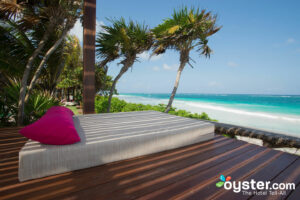 One of the first boutique hotels in the area, the nine-room Mezzanine Hotel sits on mangrove-laced grounds on the northern end of the Hotel Zone -- about a three-minute drive north of Tulum's Maya ruins. The adult-only boutique property has a popular afternoon margarita happy hour at its bar and a celebrity chef-curated Thai menu at its restaurant. All of the rooms have a contemporary casita style, with decor that tilts either bohemian (wicker basket chairs, driftwood end tables) or East Asian (coconut incense, a Kama Sutra book in the closet). All rooms also have air-conditioning, mini-fridges or minibars, yoga mats, and stocked beach totes. Tulum's beaches are public, but the limited sand on Mezzanine's beach means that day-trippers typically give it a pass -- leaving it to feel like a wild and private, if rocky, white-sand, turquoise water haven. There are also two covered sundecks overlooking the ocean, semi-private sunbeds among mangroves, and small lagoon-style rock pool. Guests get free breakfast baskets, free check-in margaritas, and free Wi-Fi throughout.
4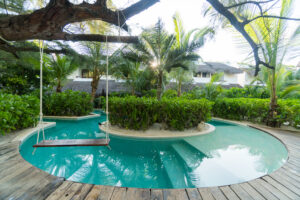 The adult-only Beach Tulum is a popular upper-middle-range option in the heart of the Hotel Zone, and for good reason. Its 28 rooms are right on the beach (you can step out onto the sand from the ground-floor units), the two restaurants both serve generous free breakfasts, and the small size allows for lots of personalized attention from the staff. Charming rooms combine rustic wooden furniture and romantic four-poster king-size beds with modernities like coffeemakers, overnight AC, and free Wi-Fi. All rooms have large ocean-view balconies or terraces and peekaboo bathrooms with organic bath products, candles, and incense. Junior Suites have large jetted tubs and separate showers. Property features are impressive for a boutique, and include a meandering pool, outdoor whirlpool, daily yoga classes, and Naj Naay Spa, which opened in 2016 and provides traditional Mayan treatments.
5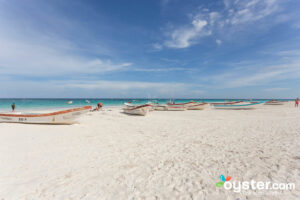 In 2014, a collection of local fishermen huts were converted into Villa Pescadores Tulum, a laid-back beachfront hotel that's a 15-minute drive from downtown Tulum. Hammocks hang all over the sandy grounds, which are filled with palm trees and lush tropical plants. At night, guests can take in great views of the stars and hear the sound of crickets and the palm trees moving in the breeze. All 18 rooms are wooden bungalows with thatched roofs, wood floors, and rustic-chic decor that includes handcrafted wood furniture, painted chests, and mosquito netting on beds. Rooms have ceiling fans, air-conditioners (available overnight), mini-fridges, robes, and free Wi-Fi. The open-air restaurant is open all day and has a specials menu that changes daily and focuses on fresh ingredients, especially fish. The open-air space on the beach is casual and laid-back, with a high thatched roof and ceiling fans overhead. There's also a thatched-roof beach bar with wooden swings in place of bar stools. The wide, sandy beach is gorgeous, and cushioned double daybeds topped by umbrellas are available for relaxing on the sand.
6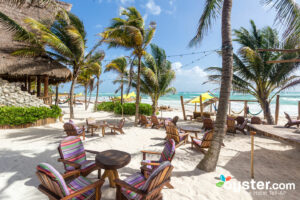 The 26-room Ahau Tulum is a rustic-chic eco hotel right on a beautiful white-sand beach. The hotel blends handcrafted artwork and bohemian decor with rustic architecture that used 100 percent locally sourced materials. The rooms have outdoor space (most have great ocean views) and bathrooms with natural stone countertops and rainfall showerheads (some outdoor). Note that the the entry-level Bali Huts really are little more than huts, and have shared bathrooms. Ahau also has two restaurants, windsurfing and yoga classes, bike rentals, and a pet-friendly policy.
7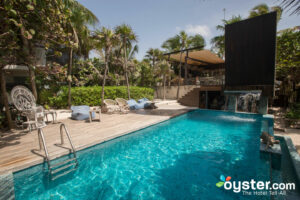 The ultra-chic, adult-only Be Tulum is one of the most well-equipped properties on the strip, and an ideal spot for anyone looking for an upscale beach vacation with great views and a high design. The 20 rooms have a mid-century-meets-boho look that's simultaneously rustic and sharp. White limestone walls and touches like cowhide rugs, leather butterfly chairs, lace curtains, and furniture made from reclaimed wood set the tone. Luxurious extras like indoor and outdoor showers, personal plunge pools or rooftop hot tubs, bathrobes, incense boxes, and hammocks, as well as modern comforts like air-conditioning, phones, and 24-hour electricity (a bit of an anomaly in this area) are all part of the package. Property features include an attractive beach club, a small infinity pool, a large restaurant with raw bar and grill, two bars with a mezcal selection, and a fashionable spa compound across the street. The restaurant's fresh-caught seafood barbecue adds some authenticity, but overall the fashion-forward decor feels very Mexico-by-way-of-Brooklyn. Those looking for a bona fide Mexican vibe may want to look elsewhere.
8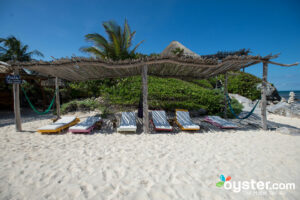 The Azulik Hotel & Spa, an adult-only boutique property on a short stretch of beach, merges beautiful views, rough-hewn eco architecture, and close proximity to nature to create a rustic, off-the-grid experience -- electricity and Wi-Fi are in short supply here. Rooms are simple and designed to be open to nature. Privacy is not the primary priority at Azulik, as windows are large and covered only with slats of wood tied together with cording. While this lets in light, it's still possible to peer into individual villas. Bathrooms have large, circular mosaic tile tubs that can comfortably fit two adults. Doors open onto terraces, so guests can bathe in the open air with striking views of the ocean or jungle. Sockets are available for charging mobile devices, but nighttime lighting depends on candles. The resort has opened a beachfront bar, where guests can purchase breakfast and drinks that rely on fresh, locally sourced ingredients, but no full restaurant. The coastline is mostly rocky, and while lounge chairs and hammocks line the clothing-optional beach, sand space is limited.