Best Value Hotels in Upper East Side, New York City
In a neighborhood where nightly hotel rates can approach quadruple digits, there's something to be said for reasonably priced rooms. Especially when those rooms feature perks like rainfall showers, free Wi-Fi, coffeemakers…even full kitchens. Take a look at the hotels that offer the most value in New York City's Upper East Side.
See All Upper East Side Hotels
1
Located up in the East 90s on 2nd Avenue, a high-trafficked Manhattan artery with a number of low-key bars and restaurants, the Marmara Manhattan is about 30 blocks away from the the famous designer boutiques of the Upper East Side. But the location does have some meaningful advantages -- room rates that are lower than what is typical for the neighborhood, but the hotel is still within walking distance of Central Park and the Guggenheim Museum. All 108 rooms are large studios and apartments (one and two bedrooms available) with free Wi-Fi and full kitchens with dishwashers, microwaves, and ovens.
2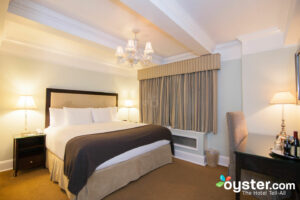 The 1930s-era Franklin brings Old Gotham romance to a modern boutique hotel. Rooms are small (far smaller than the rooms at the Marmara, which start at 350 square feet), but extremely stylish, with crystal chandeliers and black-and-white fashion photography. Excellent in-room amenities include Bulgari toiletries, bathrobes and slippers, bathtubs with rainfall showerheads, flat-screen TVs, minibars, and free Wi-Fi. Free breakfast with pastries from a downtown patisserie are on offer in the mornings, and free wine and gourmet cheese are available in the afternoons. In all, it's a well-priced hotel to serve as a base from which to explore nearby cultural offerings
3
This 226-room property on the Upper East Side caters to those in the healthcare professions (many hospitals are based nearby) as well as savvy travelers who know how to get around NYC using a MetroCard (it's far from the tourist sights and a 10-minute walk to the 6 train). Prices are fair for the renovated rooms -- ask for one with a south-facing view -- and features include laundry facilities, an indoor pool, a fitness center, sauna/steam rooms, and free Wi-Fi throughout. There's no on-site restaurant, though a small market is open round the clock for essentials. Just don't expect free breakfast and afternoon wine-and-cheese receptions, like at the Franklin.