Best Zanzibar Honeymoon Resorts
A cluster of islands off of Africa's east coast, Zanzibar is home to beautiful white-sand beaches with sapphire waters, a rich history, and even hidden rainforests. It's popular for honeymooners who want to couple a safari in mainland Tanzania with a relaxing beach getaway.
See All Zanzibar Archipelago Hotels
1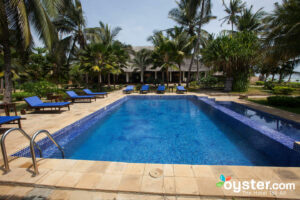 It'd be hard find a more intimate boutique resort on Zanzibar than this -- or one on a more picture-perfect beach. There are only six villas here in all (each with a private plunge pool and views of the Indian Ocean) and the beach in front of The Palms is considered one of the finest in the world. The peaceful and secluded location, child-free policy, small guest count, extra-personal service (hello, private butlers), and undeniable natural beauty attract couples and high-end honeymoons in search of total relaxation.
2
Zanzi Resort is a seafront retreat on Zanzibar's west coast, about a hour's drive from the island's capital. Jungle gardens are particularly lush and create a truly secluded vibe, and the 13 rooms make perfect bolt-hole hideaways. Villas have private pools and private access to the sea. The beach here is rocky, though, and not great for swimming -- it doesn't compare to the beach at The Palms. A la carte meals are served in the restaurant, in guests' villas, or on the hotel's small beach (sunset and candlelit dinners are particularly popular).
3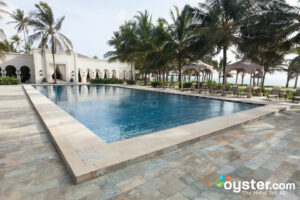 Baraza Resort & Spa on Zanzibar's southeast coast also attracts honeymooning couples with its romantic ambience, but it's not explicitly adult-only, like The Palms (Zanzi technically welcomes children, but is visited primarily by couples). The gorgeous five-pearl resort has 30 elegant villas, all of which have their own private plunge pools. Along with a few restaurants serving cuisine from around the world, the hotel also offers a water sports center, an incredible spa, fitness center, pool, and a kids' club. Overall, it's a beautiful and romantic place to stay, but expect to pay a premium.
4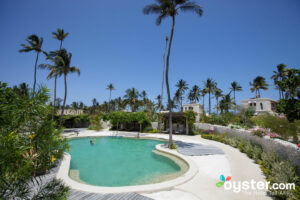 Opened in 2014, Zanzibar White Sand Luxury Villas & Spa is one of the newest and chicest of its kind on the island. Featuring superb architectural details that blend contemporary and rustic elements, the resort is set on a huge white-sand beach particularly famed for kite-surfing. The 15 units are elegantly minimalistic and breezy, and villas have private pools and extras like espresso machines -- some are right on the beach. There's little within walking distance, which means guests have to rely on the resort's one restaurant or have their own rental car (Baraza has four bars and restaurants serving cuisine from around the world, but its average starting rates are more than double the ones at Zanzibar White Sand).
5
The secluded three-and-a-half-pearl Next Paradise Boutique Resort offers only 16 simple rooms plus a restaurant and breathtaking beach. However, it manages to feel far more refined. The hotel's low-key profile combined with thoughtful details like beachside candlelight dinners, free decadent breakfast, and free bicycles makes this boutique property special -- and explains why honeymooners flock here. Rooms are outfitted with handsome carved wood furniture plus flat-screen TVs and air-conditioning, and everything from tennis to diving classes to pools are on-site. Unfortunately, super-low tides make it impossible to swim in the sea for much of the day. Zanzibar White Sand's isolated setting on a huge, private powder-sand beach may be better for beach lovers.
6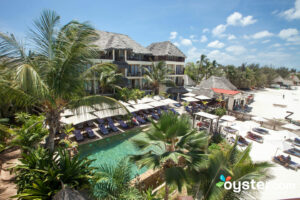 The four-pearl Z Hotel is an attractive boutique option on the shores of Nungwi. While it may lack the array of features of its larger neighbors, there's an attention to detail here that keeps everything sharp and romantic. It also helps that the beach is one of the best on the island, with tame tides and swimmable aquamarine water. The 33 rooms have bright, vibrant decor with a rustic-chic finish, plus air-conditioning and free Wi-Fi. The pool area feels a little tight, but the bar, rooftop lounge, and two on-site eateries provide plenty of other places to relax (beyond the massive beach). Many rooms are compact (the ones at Next are much more spacious), but there's a ton of charm here.
7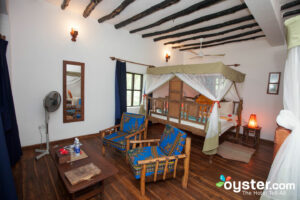 The three-pearl Pongwe Beach is a quiet and secluded retreat with tons of local appeal. The beach is one of the area's best, as is the hotel's infinity pool that overlooks the ocean. The property's 20 guest rooms have simple, attractive traditional decor and colorful accents. All units have balconies or terraces, but lack most modern amenities, including TVs, coffeemakers, mini-fridges, air-conditioning, and free Wi-Fi (all on hand at Z Hotel). Some rooms are located right on the beach, and others feature private plunge pools. There's a full-service restaurant that gets high marks from guests, which serves regional cuisine and offers breakfast for a fee.