Best Value Hotels in Zurich
Zurich is one of the the most expensive cities in Europe (actually, make that the world). Find some financial relief with these solid-value hotels, where perks like free breakfast and bike rentals mean that you'll be able to devote more of your travel budget to important Zurich specialties, like Zürcher Geschnetzeltes (creamy veal and crispy potatoes, a signature dish in this region), fondue, and, of course, chocolate. Take a look at the top value hotels in Zurich, Switzerland.
See All Zurich Hotels
1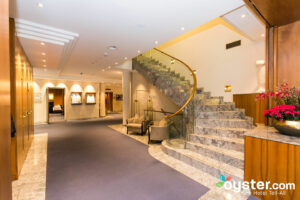 Located in central Zurich's business district, Hotel Glaernischhof is an eco-friendly hotel popular with business travelers. The hotel's "all-inclusive" rate includes Wi-Fi, breakfast, welcome drinks, minibar treats, and on-demand TV, though lunch, dinner, and parking cost extra and are typically expensive. Free access to a decent health club is also a bonus. Overall, this is a good value for an upscale hotel -- even if single units can be a little on the small side. The 62 rooms are simply decorated in a modern but staid corporate style and all come equipped with particularly comfy adjustable Airlux mattresses and have free Wi-Fi, on-demand TVs, and minibar snacks and drinks. Other amenities include Tassimo coffee machines and air-conditioning.
2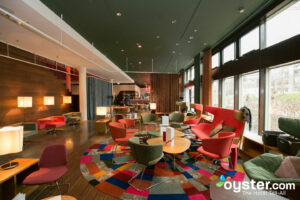 Loaded with hip designs, the 25hours Hotel Zurich West is a cheerful, upscale property in the Technopark area, a 20-minute tram ride to Old Town. (The hotel offers free Stilrad bike and MINI car rentals.) Quirky and colorful designs fill the stylish, modern interiors that include a restaurant and bar serving Asian and Mediterranean cuisine, as well as three meeting rooms that include a demonstration kitchen. The business area is equipped with two iMacs, and there's a tiny fitness room as well as a cool, top-floor sauna with pink-tinted windows that overlook the city. The 126 trendy rooms and suites have flat-screen TVs, writing desks, minibars, iPod docks, and free Wi-Fi. Free luggage storage is available.
3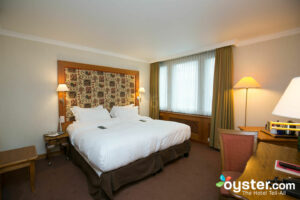 The Hotel Continental Zurich - MGallery Collection is a mid-range hotel with Alpine chalet-themed interiors located a short walk from the main train station. The attractive Old Town is also just a 10-minute walk away, while regular trams whisk visitors to the city center in minutes. Some of the hotel's 138 rooms are small and show signs of wear, although they are cozy with decent amenities (some even have Nespresso machines). An excellent breakfast buffet particularly stands out, but it's expensive and not included in most rates. That said, room rates however are relatively reasonable for Zurich.
4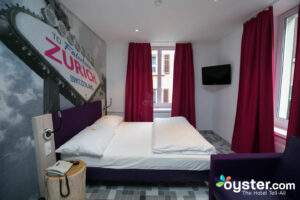 Rates at the 48-room Walhalla Hotel are a good value for Zurich. The mid-range property is conveniently located in central Zurich, close to major tourist sights and within walking distance of the main train station. Clean and bright guest rooms are well-maintained and offer a few punchy decorative details and snazzy amenities like tablet computers uploaded with useful tourist information. Free Wi-Fi is available throughout the hotel, and free coffee is available 24/7 in the lobby.
5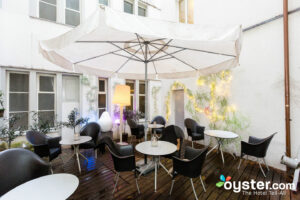 The Plattenhof Hotel is a small, stylish boutique hotel in a quiet neighborhood near the University of Zurich and several museums. Its rooms are small too, but modern, and benefit from sleek designer furnishings and locally produced art. The 37 contemporary rooms feature flat-screen TVs and iPod docks, but there's no air-conditioning. Guests get a free buffet breakfast and there's an Italian restaurant with a great seasonal garden patio, along with a lobby lounge bar.
6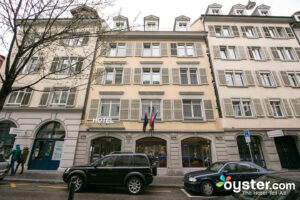 The Sorell Hotel Rutli is a mid-range chain hotel housed in a charming 19th-century building in Zurich's picturesque Old Town. Stylish, modern rooms have high-end amenities such as Nespresso machines and sleek bathrooms of glass and tile -- though those facing the street can get some noise. A decent breakfast of meats, cheeses, and pastries is included in the rate -- as is Wi-Fi. There's no restaurant or fitness center, but prices are fair for what you get, given the location.
7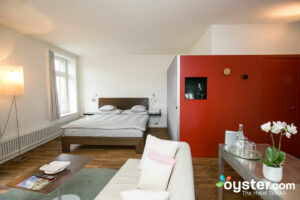 The Sorell Hotel Zurichberg is an upscale property consisting of an original turn-of-the-century building and a super-modern annex rotunda, both set on a hillside overlooking Zurich. The location is peaceful and picturesque, while being just 10 minutes by car into the city or a five-minute walk from the nearest tram. The 66 rooms are sleek but simple, and most have superb views. The lack of a spa or fitness facilities on-site is a drawback, though the restaurant and bar are top-notch, and room rates are cheap by Zurich standards.
8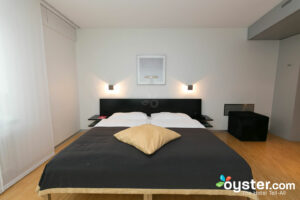 The 64-room mid-range Sorell Hotel Seefeld is located in an Art Deco building on a busy street corner in Zurich's trendy Seefeld district (just south of the city center). Chic design, free breakfast and W-Fi, and on-site bar, restaurant, and fitness center make Seefeld a solid value pick. The contemporary-style guest rooms are sparse and minimalist, and some of the Single Rooms are small. Be aware that few rooms are air-conditioned.