Best Boutique Hotels in St. Germain, Paris
Picturesque, upscale, and rich with history, the central Saint-Germain-des-Pres neighborhood is thought to be the quintessential Parisian neighborhood. Despite its considerable swankiness, the neighborhood retains the ambience of an artistic hub, with ample galleries, shops, patisseries, wine shops, and cafes — many historic hotbeds of intellectual activity once frequented by the likes of Ernest Hemingway and Pablo Picasso. Take a look at the top boutique hotels in the classically Parisian and well-heeled neighborhood of Saint-Germain-des-Pres.
See All Saint-Germain-des-Prés, France Hotels
1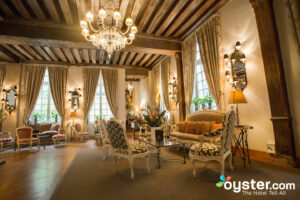 The luxurious 49-room Hotel d'Aubusson has been a scene since its beginnings as a manor house in the late 17th century, when it began drawing coffee-sipping writers and intellectuals to its Cafe Laurent. The 21st-century iteration of the hotel epitomizes the Paris experience, with its antique-filled lobby, elegant courtyard garden for cocktails, free daily afternoon tea with pastries, live jazz evenings, and weekly literary talks. Rooms are stylish and sophisticated, with Hermes toiletries, sumptuous textiles, and cool modernist takes on canopy beds. All in all, Hotel d'Aubusson is the place to stay for an unforgettable Paris getaway.
2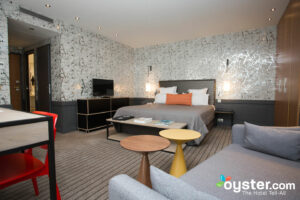 Housed in a typically elegant Haussmannian Parisian building, the 26-room Hotel Signature St Germain des Prés underwent a 14-month transformation and reopened in 2013 in its current incarnation. Run by the friendly Prigent family, the vibe is unabashedly modern and colorful, with a stylish mid-century aesthetic. Rates might feel high for so few facilities -- Wi-Fi is free, breakfast is offered for a fee (no historic cafe here, like Hotel d'Aubusson), and little else is included. But the boutique-style rooms (with top-notch amenities) are something special, the location is hard to beat, and service is generally agreed to be outstanding.
3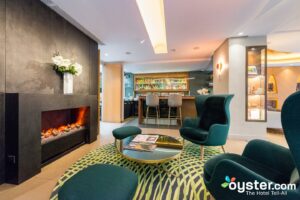 Situated on a quiet street in the lively Latin Quarter, the 41-room Le Six offers contemporary rooms with flat-screen TVs, minibars, and spacious bathrooms with L'Occitane products. The top-floor suite is a standout room at this hotel, with not one, but two balconies. Additional hotel perks include a spa with hammam and exposed-brick lounge area for cocktails by the fireplace. While Le Six lacks a full restaurant, breakfast is served daily (fee), and Wi-Fi is free. Prices may be higher than at nearby hotels (its entry-level rooms are costlier than Hotel Signature's), but the design-driven philosophy and great location make this hotel a solid pick.
4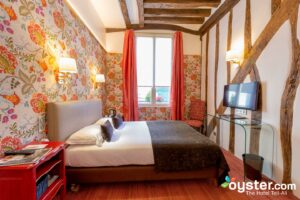 Run by the fourth generation of owners, this 31-room boutique hotel is set in a 17th-century building, where architectural details such as wood-beam ceilings, stone walls, and a fireplace in the lounge help create an intimate and welcoming atmosphere. There is a morning breakfast buffet served in an inviting cellar full of stone arches. Rooms are cozy with floral wallpaper along with flat-screen TVs and minibars. There is no spa (unlike Le Six, which has a spa and hammam) or parking, but the staff is particularly friendly and helpful.
5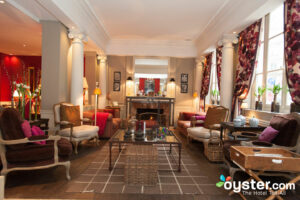 The 22-room Hotel Sainte Beuve is a charming boutique hotel near the Luxembourg Gardens. At once chic and homey, the well-appointed interiors are charming and inviting, doused in crimson shades that complement the wooden floors and furniture. There are plenty of comfortable couches and armchairs that invite lingering before the fireplace in the lobby lounge, or with a cocktail in the adjoining lobby bar. Rooms are small yet stylish, with vintage furniture and modern bathrooms with towel warmers, flat-screen TVs, minibars, and free Wi-Fi. Some rooms have lovely balconies overlooking the street. The nearby Hotel Le Six, though a tad pricier, has a fitness room, spa, and hammam.
6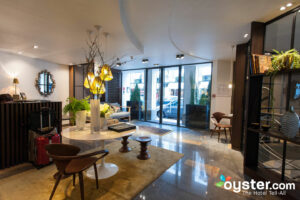 Located in the heart of Saint-Germain-des-Pres on stylish Rue Jacob, the 31-room La Villa Saint-Germain is an upscale boutique hotel with contemporary design that favors clean lines over the cozy charm found at Hotel Sainte Beuve. Stylish rooms -- each one individually decorated -- maintain the modern aesthetic of the hotel. Classic Rooms are small, but some of the larger rooms include separate living areas. The hotel has an elegant lounge and bar adjoining the lobby, and a lovely basement breakfast room (breakfast comes with a surcharge). The hotel also has a small but bright fitness center, which has a handful of cardio machines and weights. There is no on-site restaurant, but the hotel offers room service from a nearby dining spot.
7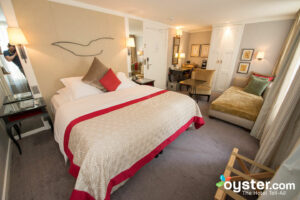 The simple stone building on a quiet side street says little of the lush interiors and distinctly sensual atmosphere guests will find inside this upscale, family-owned boutique hotel. The verdant Secret Garden out back is perfect for lounging, and the nature theme seeps throughout the common areas, which offer up more flowers, candles, and the scent of essential oils -- these have been custom-blended for the hotel and change according to season. The 28 rooms feature contemporary furnishings and decor, plus touches like room diffusers and showerheads that can dispense essential oils. On the downside, Villa Madame lacks a gym or full restaurant, though it does offer a cozy bar and breakfast service that can be made-to-order and delivered to rooms. Travelers in search of free breakfasts might check out the nearby Hotel de l'Abbaye Saint-Germain.
8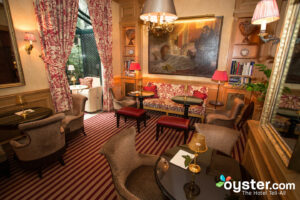 A cozy and luxurious oasis in the center of the Saint Germain quarter, and a short walk to the Luxembourg Gardens, this boutique hotel is praised for its stylish decor and tranquil garden where guests can enjoy free breakfast of breads, jams, and pastries (savory items cost more). Rates can be on the high side -- they're generally a bit higher than those at Villa Madame -- though many feel that the tasteful decor and ample charm are worth the slightly higher price.
9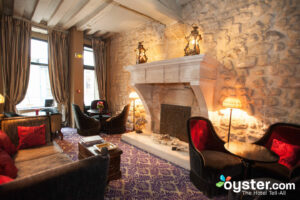 Designer Jacques Garcia has worked on many hotels and properties across Paris and created a unique space within the 27-room Hotel Odeon Saint-Germain. Housed in a historical building, the stately boutique features an inner courtyard and dimly lit public areas with Baroque-influenced decor -- expect to find antique furnishings, floral carpeting, and sculpture fountains throughout. Rooms are spread across five floors, and feature velvet upholstery, antique toilets, and plush armchairs. They vary in size and can feel too small for those traveling with multiple bags -- but space in Parisian hotels generally runs on the small side.
10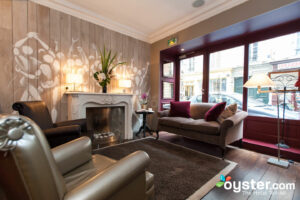 The intimate and elegant Hotel des Academies et des Arts is a self-described design hotel at the southern edge of Paris's 6th Arrondissement. Artsy interiors are decorated with works by celebrated contemporary artists. The small but refined rooms have views of the courtyard or a quiet street; some have balconies. Breakfast (included in some rates) is served daily, and the hotel offers room service in the evenings, but there's no proper restaurant beyond the charming tea room on the ground floor.