Best Luxury Hotels in Paris' 6th Arrondissement
The most luxurious hotels in the 6th Arrondissement of Paris have served as homes of royalty and gathering places for artistic and intellectual luminaries of history, from 18th-century philosopher Denis Diderot to 19th-century writer Oscar Wilde to 20th-century film icon Lauren Bacall. Here, we've spotlighted the very best luxury hotels in the 6th Arrondissement, among the most fashionable neighborhoods in Paris.
See All Paris Hotels
1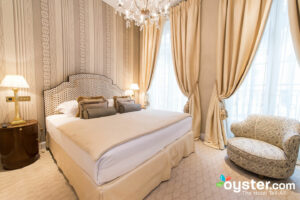 The historic Relais Christine is a beautiful boutique hotel with an enviable address in the Left Bank of Paris. While it only has 48 rooms and suites, it has the amenities of a larger luxury hotel, including an on-site spa, fitness center, 24-hour room service, and first-rate concierge service. One of the most charming features of this former mansion is its entrance through a leafy courtyard. Modern rooms reflect the character of the building with details such as exposed beams and wallpaper in antique Parisian prints. Bathrooms are particularly luxurious; some have soaking tubs and all have signature Relais Christine fluffy robes. The breakfast room is in the historic vaults of the building, parking and Wi-Fi are free, and the Left Bank location is within walking distance of Notre Dame Cathedral.
2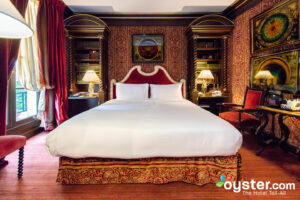 During the 19th century, this chic 20-room luxury boutique was home to Oscar Wilde. Its reputation for famous inhabitants has continued into the 20th and 21st centuries, and slews of celebs have dotted the clientele in recent decades. L'Hotel's 20 rooms and lobby pay homage to its rich history, with gorgeous and carefully curated 19th-century decor accents throughout. The nearby Hotel d'Aubusson and Relais Christine are often just as high-priced (or more), but their rooms are arguably not as special as the ones here. L'Hotel also has impressive features for such a tiny property, such as an underground spa pool and Michelin-rated restaurant that serves exquisite seasonal French fare. It's hard to find another hotel that matches the L'Hotel's rich history, elegance, and character -- though the age of the building can make for some small spaces, including a tiny elevator.
3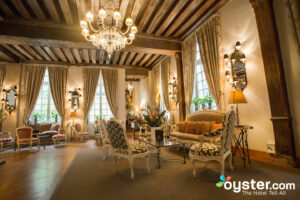 At this 49-room luxury boutique hotel housed in a stately 17th-century home, guests enter through the original oak porte-cochere and into the lobby, which glistens with vintage mirrors, parquet floors, genuine Aubusson tapestries, and fine marble. Visitors may lounge before an enormous marble fireplace with hot chocolate or a cocktail from bar at Cafe Laurent -- it's no Michelin-starred eatery, like L'Hotel's Le Restaurant -- but Cafe Laurent is renowned for being a literary hotspot since 1690, when it enticed great philosophers such as Voltaire and Rousseau. (Ensuing generations of artists and intellectuals who congregated here include Sartre and Camus in the 1940s.) Today, Cafe Laurent hosts weekly literary evenings, and there is live jazz several nights a week. The Hotel d'Aubusson encompasses the feeling of Paris through the centuries, while still managing to offer maximum comfort. Everything in the beautifully decorated rooms is of the highest quality, including the Hermes toiletries and deep, marble soaking tubs. However, rooms have little storage space (no dressers and small closets), and the hotel doesn't have Relais Christine's spa, fitness center, and 24-hour room service, or L'Hotel's one-of-a-kind hammam pool and steam room.
4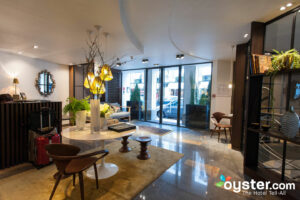 The 31-room La Villa Saint-Germain isn't as luxe as our top three picks, and nowhere near as historically significant. The boutique hotel in the heart of Saint-Germain-des-Pres on chic Rue Jacob features fresh and modern interiors that favors clean lines and whimsical details, such as the various plants, flowers, and succulents sprouting out of vases in the lobby. Stylish rooms maintain the modern aesthetic of the hotel, and each is individually decorated. Classic Rooms are small, but some of the larger rooms include separate living areas. The hotel has an elegant lounge and bar adjoining the lobby, a lovely basement breakfast room (breakfast comes with a surcharge), and a small but bright fitness center, which has a handful of cardio machines and weights. There is no on-site restaurant, but the hotel offers room service from a nearby dining spot.
5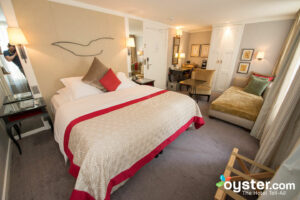 Villa Madame is an upscale, family-owned boutique hotel in the heart of the 6th Arrondissement. Its interiors manage to be lush without feeling overdecorated, thanks to minimalist furnishings complementing a proliferation of flowers, candles, and the scent of essential oils. This style extends to the cozy library, bar area, and 28 rooms, which feature special touches like wide-plank wooden floors, room diffusers, and showerheads that can dispense essential oils. Out back, the verdant Secret Garden provides quiet outdoor space for lounging, eating, or smoking cigars from the owner's collection. Villa Madame's rooms are less contemporary than La Villa Saint-Germain's, and it lacks that hotel's fitness facilities, but Madame's breakfast service (fee) features organic meals that can be delivered to the rooms, while Saint-Germain's breakfast is only served in a designated area.
6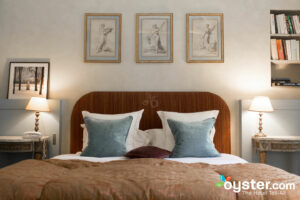 Built in 1658 by Daniel Gittard, the head architect of Louis XIV, this elegant mansion has a stone facade that sets its refined tone. Stepping inside, guests will find a small understated lobby that leads to the hotel's inner courtyard -- a secluded spot where the peace is broken only by the chiming bells of the nearby of Saint-Germain-des-Pres and Saint Sulpice churches. Most of the Hotel des Saints-Peres' 38 rooms are decorated in a blend of muted, contemporary decor, with traditional touches and original artworks. Higher-priced rooms tend to include antique furnishings and overlook the peaceful inner courtyard. La Chambre a la Fresque (Fresco Room) features a gorgeous 17th-century ceiling painting, parquet flooring, and an in-room claw-foot tub. Some rooms also feature original exposed beams, though ceilings tend to be low. Amenities include free Wi-Fi, flat-screen TVs, and welcome trays with posh tea and chocolate, as well as bathrobes and designer toiletries.
7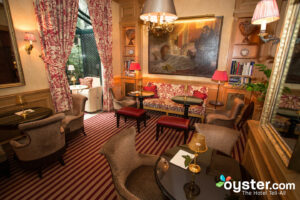 A short walk to the Luxembourg Gardens, this cozy boutique hotel has a sophisticated atmosphere and Parisian flair. The upscale property is praised for its stylish decor and tranquil garden where guests can enjoy breakfast, which is included in the room rate (breads, jams, and pastries are covered, but savory items like eggs and cheese cost extra). The 44 air-conditioned rooms, some of which are on the small side, are elegantly decorated with subtly striped rose carpeting, floral drapes and bedspreads, and antique furnishings from Paris flea markets. Amenities include flat-screen TVs, hairdryers, safes for storing small valuables -- they're not large enough to accommodate laptops -- and free Wi-Fi. There are no minibars, coffeemakers or tea kettles, and mini-fridges are available only on request.
8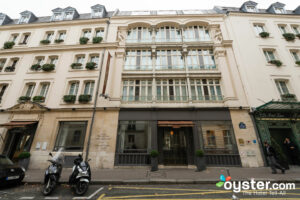 In contrast to most of the luxury hotels on this list, Bel Ami Hotel is a strikingly modern option with a full array of features. Here, guests can find a fitness center, a spa with sauna, a bright bar with unusual cocktails, and a restaurant that serves a buffet breakfast and an extensive weekend brunch (no lunch or dinner service, though 24-hour room service is available). The 108 rooms and suites have free Wi-Fi, minibars, iHome docks, and sleek bathrooms. Travelers looking for a more classically Parisian stay will prefer Hotel des Saints-Peres or Hotel de l'Abbaye Saint-Germain.