Best Luxury Hotels in Antalya, Antalya Province
Take a look at the best luxury hotels in Antalya.
See All Antalya Hotels
1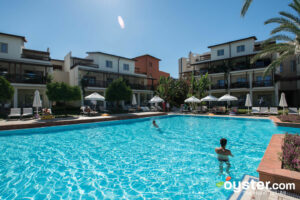 Barut Lara is a large all-inclusive luxury property on the beach in the Kundu area of Lara, Antalya. With impeccable service and excellent amenities, this family-friendly resort earns consistent raves from guests. Top features include a private beach, high caliber restaurants, thalassotherapy spa, and gorgeous grounds with several pools. The 465 rooms are modern and bright. Furnished balconies overlook the expansive pool complex or sea. Families looking for a luxury property with lower rates might prefer Limak Lara De Luxe Hotel & Resort, which has a bowling alley.
2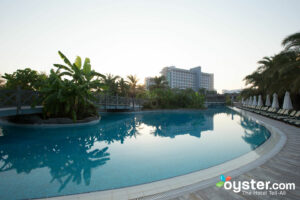 The 457-room Royal Wings Hotel
is an upscale, all-inclusive property featuring one of the largest swimming
pools in Lara, a popular resort destination a 20-minute drive from Antalya Airport. With
sleek contemporary architecture and well-presented gardens, it's
one of the better looking hotels in the area, while also featuring a great range of
facilities and entertainment for all ages, including a water park and a fun fair. Rooms are bright and spacious, with private balconies or terraces, though the free Wi-Fi is a bit spotty. While the all-inclusive rate covers
most food and drinks at the array of on-site restaurants and bars, expect to pay for plenty of extras -- a more comprehensive
plan can be found at the nearby Delphin Imperial Hotel.
3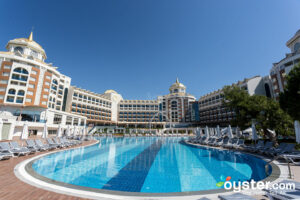 The all-inclusive, 534-room Botanik Lara is an upscale resort on Lara Beach, a 30-minute drive from the center of Antalya. Most rooms are modern, and all have furnished balconies, some with beautiful sea views. Other rooms, though aren't quite up to the level of luxury the hotel claims. Facilities include outdoor and indoor
pools, a full-service spa, and many excellent on-site restaurants and bars. Kid-friendly
features such as the children's pool, free kids' club, and bowling alley are a
plus for families, but some of these activities are only offered in high season. Travelers might want to also consider the
Aska Lara Resort & Spa, which has a huge Wet 'n Wild theme park and lower rates.
4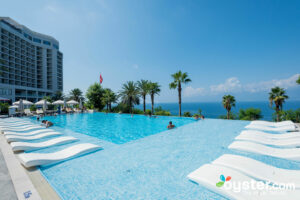 The four-pearl Akra Barut is a big, upscale resort with everything needed for a great waterside vacation: several pools, a spa, restaurants, kids' activities, water sports, and more. The location near Antalya's old town makes it more central than some of the farther-flung resorts of the region. However, while Akra Barut does have sea access, it does not have a sandy beach -- instead it sits above rocky cliffs. The 471 rooms have beautiful balconies -- many with incredible sea views -- plus amenities like free Wi-Fi and flat-screen TVs. Note some are located in a separate building and noise between rooms can be a problem. By comparison, the nearby Delphin Diva Premiere has a sandy beach as well as all-inclusive packages that are great for families and groups.
5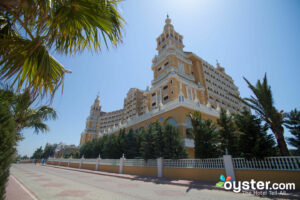 The 604-room Royal Holiday Palace is an upscale all-inclusive with opulent interiors and massive pools. Rooms are comfortable and well-equipped, with flat-screen TVs, minibars stocked with beer and soft drinks (replenished daily free of charge), and electric kettles, and most have at least partial sea views. The active entertainment program and kids' club keep guests of all ages busy during the day with pool games, evening shows, live music, and weekly pier parties, but the atmosphere may be a little too loud for some. The expansive spa is the only quiet spot in this bustling, family-friendly resort. Food gets good reviews, and most guests find the a la carte eateries worth the extra charge. Travelers seeking something mellower may want to compare rates at the neighboring Liberty Hotels Lara.
6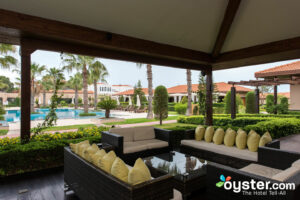 Set on several acres of manicured gardens that stretch all the way to a sandy beach, the upscale IC Hotels Residence is an all-inclusive property with a quiet atmosphere. Its 43 rooms range from two-bedroom suites with shared pools to four-bedroom villas with private pools and hammams. While not quite decadent, they're all comfortable, big, and well-equipped, and most have exotic Balinese decor. Though a restaurant serving Turkish and international cuisine, a spa, and serene outdoor pool are the only on-site amenities, guests get free access to all the amenities at neighboring sister property IC Hotels Green Palace, including its many restaurants, several pools, and entertainment. Travelers seeking something more luxe and stylish may want to compare rates at the Maxx Royal Kemer Resort, though it is about an hour from the airport.
7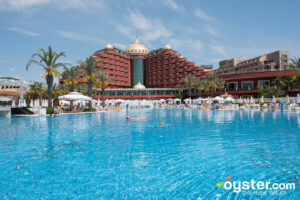 The Delphin
Palace Hotel is an upmarket, all-inclusive hotel set in the popular Lara resort area just east of Antalya. Decor is traditional throughout and the 557 rooms are elegant; those who prefer a more modern style should consider sister property Delphin Imperial nearby. Facilities are extensive and
impressive, with lots of pools, restaurants, and bars and with particular
emphasis on activities for kids. Even though it's not quite up to advertised five-star standards, it's still one of the top options in the area.
8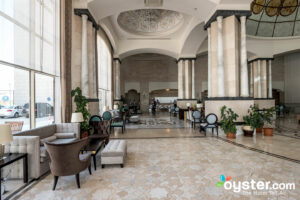 The five-pearl Melas Lara Hotel has taken family-friendly hotels to the next level with elegant and tasteful interiors throughout. The property is well deserving of its luxury rating thanks to a private beachfront location, indoor and outdoor pools for both adults and kids, an excellent spa, and diverse dining options under an all-inclusive program. Sure, air-conditioning isn't available in the winter and spring months and the resort is a 30-minute drive from Antalya's city center, but it's hard to beat ocean views from the balconies of the hotel's 264 rooms. For something closer to the city (a 10-minute drive) that still offers beach access, Akra Barut is a good alternative with similar amenities and much lower prices.
9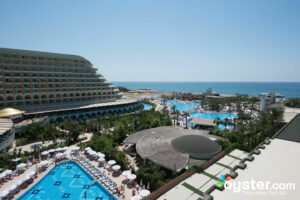 The Delphin Diva Premiere is a family-friendly luxury hotel set in the resort area of Lara, a district to the east of Antalya and 15 minutes from the airport. The hotel extends to a sandy beach overlooking the Mediterranean while lots of its 390 rooms provide sea views from furnished balconies (though also get some noise from on-site entertainment). Leisure, eating, and drinking facilities are extensive, including a great range of pools and restaurants -- food quality can be inconsistent however. Expect to pay -- and get -- a little more at other Delphin hotels nearby, though some prefer the Diva for its smaller size and fewer crowds.
10
Despite its urban location, the Rixos Downtown Antalya is a high-end chain hotel surrounded by lush tropical gardens with most of the facilities you'd expect from a large four-and-a-half-pearl resort. It offers an impressive range of dining options, two outdoor pools, an extensive spa, and kid-friendly facilities. It's within walking distance of a pebbled city beach and several events venues, but getting to Old Town requires a short drive. While some are dated and showing signs of age, many of its 360 spacious guest rooms offer superb sea views, and all have 32-inch flat-screen TVs, well-stocked minibars, kettles, robes, slippers, and free Wi-Fi. Travelers looking for a sandy beach still within easy reach of the city might prefer the all-inclusive Club Hotel Sera at the start of Lara Beach.
11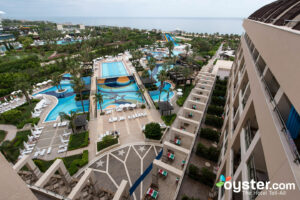 The luxury, all-inclusive Fame Residence Lara & Spa is located alongside Antalya's Lara Beach. The six international restaurants (plus 24-hour room service for a fee) get mixed reviews; so do the bars, where there's a limited selection and frequent extra charges. The pools are a highlight, including a kids' pool with waterslides, as are the spa, sauna, steam room, Turkish bath, well-equipped gym, and other sports facilities. Live entertainment is popular, and Wi-Fi and parking are free. The 442 rooms are elegant, and the priciest feature kitchenettes and whirlpools. But some rooms are small and thin walls can be an issue. Comparably priced Barut Lara has modern decor and higher-caliber restaurants.
12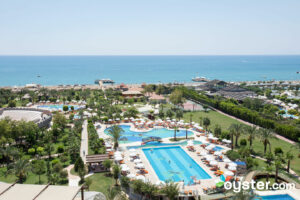 Sherwood Breezes
Resort is a stylish and upscale all-inclusive hotel set on extensive and immaculate grounds in
Antalya's upmarket Lara district. A 2014 makeover is still very much in evidence, and there are chic, polished interiors throughout. Rooms are bright and attractive, with furnished balconies -- some with sea views -- though some overlook a wall. Facilities for all ages are
superb -- highlights include an on-site water park and long sandy beach with
butler-service cabins. Rates compare favorably to similar hotels,
though for properties with a little more glitz and sparkle -- at a slightly higher price tag -- take a look at the
Delphin hotels.
13
This 586-room, ship-inspired resort is an all-inclusive property that offers a wide range of activities in luxury surroundings for leisure travelers to Turkey's Lara Beach. Packed with multiple pools, waterslides, a beautiful beach, sports, and scheduled entertainment, there's plenty to do for adults and kids alike. The upscale spa and mini-club mean adults can relax while kids utilize the playground and activities. Restaurants include a la carte options and specialty snack shops for a range of good food choices, though the main buffet can get repetitive. Relaxing rooms include flat-screen TVs, minibars, kettles, and furnished balconies, plus there are upgrades with whirlpools and rainfall showers. Compare offerings at the all-inclusive Delphin Imperial Hotel Lara, which has a glitzier atmosphere and more to do, but a price to match.
14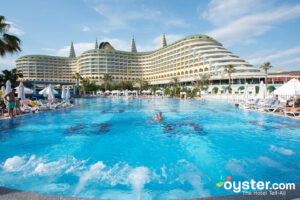 The Delphin Imperial is a high-end, all-inclusive resort with a ritzy, Vegas-style flair located in Lara, a popular vacation area just east of Antalya. The hotel is spectacular both inside and out while also offering a dizzying array of eating, drinking, and leisure facilities. Its 650 rooms also all open to terraces or balconies, some with private pool access and others with sea views; they're more modern in style than those at sister property Delphin Palace Hotel. While there are a couple shortcomings -- poor Wi-Fi and a lackluster spa -- a quality all-inclusive plan (that includes Sunday Champagne brunch) and great kids' facilities make this a justifiable favorite among both older and younger guests.
15
The upscale
70-room Puding Marina Residence is a historic old town property about a five-minute walk
to Antalya Harbor and Mermerli Beach. Rooms are simple but contemporary, and some have balconies with
exceptional sea views, but noise can be an issue. A delightful outdoor
pool, and the on-site restaurants and bars are highlights. Breakfast is included in the room rate, and Wi-Fi is free throughout. Be aware that children must be at least 11 years old to stay here, and that narrow roads can make the hotel difficult to reach by car. Travelers with young children might want to consider the Ramada
Plaza Antalya, although its rates are higher.