Best Kid-Friendly Hotels in St. John's, Saint John Parish
Take a look at the best kid-friendly hotels in St. John's.
See All St. John's Hotels
1
Yepton Estate Cottages is a small, mid-range property made up of five self-catering cottages, in studio and one-bedroom layouts. It sits on a lake, in a serene pocket that's near a beach and a short drive to St John's. There's not much to see or do, but that's the idea -- it's a private spot that appeals to travelers escaping their busy lives. There's a small outdoor pool, and the cottages have large, well-equipped kitchens, TVs (tube-style), DVD players, stereos, barbecues, free Wi-Fi, and lovely porches with water views, but furniture is clunky and dated. Hospitality ranks high here, and the hosts are full of local knowledge and take guests to the supermarket for groceries. Travelers who want to be right on the beach should check out Dutchman's Bay Cottages.
2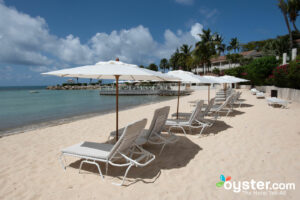 Offering 107 rooms on 17 seafront acres, Blue Waters is an upscale resort with a laid-back atmosphere. Guests can choose from a range of rooms, suites, and high-end villas, all come with private terraces and huge bathrooms, as well as flat-screen TVs, air-conditioning, mini-fridges, and coffeemakers. There are three bars and three restaurants, all of which require reservations for dinner. Breakfast-only and all-inclusive packages are offered. High-end amenities include access to three small white-sand beaches, three freshwater pools, a spa, a fitness center, and a tennis court. Parking and Wi-Fi are free, but the latter can be spotty. Guest looking for similar amenities but a more family-centric atmosphere might consider The Verandah Resort & Spa.
3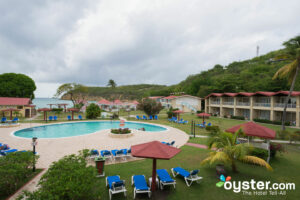 Halcyon Cove is a 210 room all-inclusive set on a beautiful long stretch of white-sand beach -- the main highlight here. This mid-range property offers a value-for-money resort experience in a great location that's less than a 20-minute drive to St John's, the airport, and historic sights. Spacious, island-styled rooms are dated, yet they come with flat-screen TVs, mini-fridges, and coffeemakers, with views of the pool, beach, or garden. There are two restaurants (though the pier restaurant is currently closed for repairs), a beach barbecue, and two bars (one is beachside). Features include water sports, tennis courts, a fitness center, kids' club, function room, convenience store, beauty salon, and free Wi-Fi. Halcyon Cove isn't luxurious, but it should suit couples, families, and groups craving a one-stop beach vacation without fancy frills. Travelers seeking an adults-only experience could try the Pineapple Beach Club Antigua.