Best Kid-Friendly Hotels in Aruba
Sunny weather year-round, sandy beaches, and plenty of water activities make for a very family-friendly vacation. Though the Dutch Caribbean island of Aruba is a popular travel spot for it possessing all the previously listed qualities, there are some area hotels more suited for children than others. We visited the island's top hotels to evaluate how every feature stacks up against the competition, from the rooms to the pools to the restaurants, all with families in mind. So if you're planning a getaway with children and need a place to start, you've come to the right place. Take a look at our top kid-friendly picks in Aruba, and get inspired!
See All Aruba Hotels
1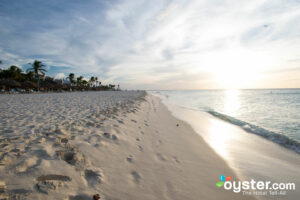 Costa Linda Beach Resort is a quiet, 155-room upscale beachfront resort just south of the Low Rise hotel zone. The large, two- and three-bedroom Premier suites have full kitchens with shiny appliances, private terraces, and contemporary beach decor, while the slightly snug Cayena suites are a bit dated and dim. There is no room service, but there's a handful of leased out restaurants and shops on-site and within the small surrounding plaza, as well as a spa, gym, and games. Its large units are well-suited for families as are the kid-friendly features such as a playground and dedicated kids' pool.
2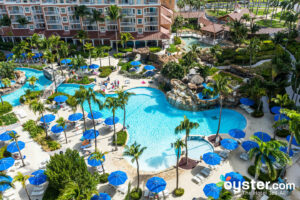 With the "Lazy River "-- a long, slow-flowing pool that carries half-dozing rafters from one side of the property to the other -- ping pong tables by the pool, and a Nintendo Wii Lounge for 12- to 17-year-olds, the Marriott Surf Club has "family-style" figured out. At the Natural Pool, screeching kids wearing floaties shoot down the on-site waterslide again and again.
3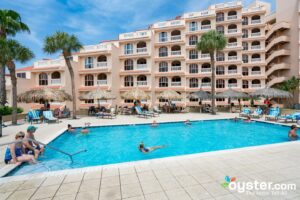 Playa Linda Beach Resort is a 214-room time-share property located directly off the sands of Palm Beach. Most of the clean rooms have an apartment-style design with full kitchenettes, separate living rooms, and private outdoor space, making it well-suited for longer stays. Plus, the resort's two-bedroom units, waterfall family pool, and kids' club are big draws for anyone traveling with the kids in tow.
4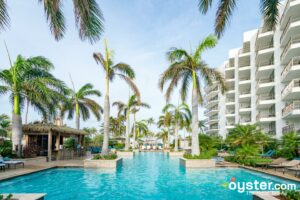 The Marriott is a family hotel, just short of chichi. Parents can drop their kids off at the Bon Bini Kids' Club, which has arcade games and air hockey--great for older kids. The lagoon-shaped pool is popular with kids as well.
5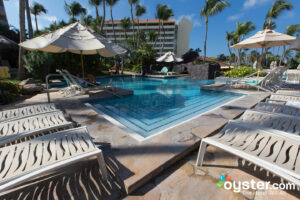 The Hyatt is a great family-friendly pick. Parents can make appointments to drop off their kids at Camp Hyatt, a daycare with toys, drawing easels, and a television, and the tri-level pool has a long waterslide.
6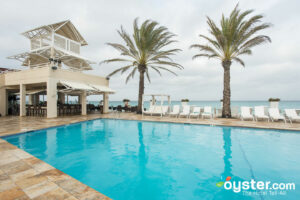 The resort's comfortable accommodations cater to families, with adjoining rooms and spacious patios or balconies. Cribs are also available at no additional charge. For a romantic night out, babysitting services are available in guests' hotel room for a minimum of three hours. For children ages five to 12, there is a Kids' Camp (Monday through Friday, with morning and afternoon sessions). It offers plenty of activities, such as Papiamento lessons, T-shirt and face painting, pool and beach games, scavenger hunts, snorkel and tennis clinics, basketball, movies, soccer tournaments, bingo, arts and crafts, and more. Tamarijn is also home to a small arcade and game room for books and board games. Druif Beach is ideal for young ones, with areas of calm waves for swimming and plenty of sand for sculptures and castles.