Best Boutique Hotels in Athens
Take a look at the best boutique hotels in Athens.
See All Athens Hotels
1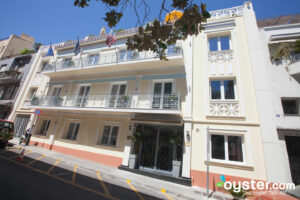 The 16-room AVA Hotel Athens is a small and sophisticated boutique in the Plaka neighborhood of Athens. The location is particularly convenient -- it's near the Acropolis and is a three-minute walk from the Temple of Zeus. All rooms are suites that look more like elegant apartments than hotel rooms (though only the higher priced suites have Acropolis views from private balconies). There is an on-site snack bar, but no full restaurant and breakfast isn't free. Another option at a similar price point is the Electra Palace Hotel Athens -- unlike AVA, it has a pool, fitness center, and restaurant.
2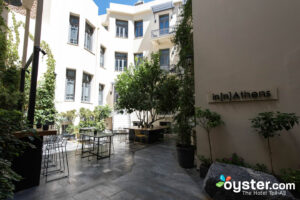 InnAthens is a mid-range boutique hotel set in the back secret garden of a restaurant in central Athens, a four-minute walk to Syntagma Square. The location is ideal for exploring the city by foot, as there are several dining, shopping, city attractions, and public transport options within walking distance. The entire hotel features a contemporary design with minimalist, artsy interiors. This includes the 20 guest rooms, which each feature individual decor and amenities like flat-screen TVs, mini-fridges, and free Wi-Fi. The two main highlights here include the central atrium with lovely plants and seating areas to relax in, as well as the free Greek buffet and a la carte breakfast. As an alternative, travelers can also consider Plaka Hotel, with similar features (including rooftop bar) for lower rates; though it's not nearly as modern.
3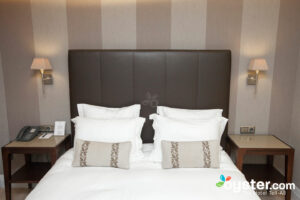 The Y Hotel is an upper-middle-range property in the swanky suburb of Kifisia, a 30-minute drive from downtown Athens. Though far from the capital, this leafy neighborhood is known for its upscale boutiques and restaurants, which the Y Hotel fits right into with its stylish interiors. The 43 rooms are elegant and their muted palettes seamlessly integrate modern amenities that include minibars, furnished balconies, and rainfall showers, although some are small. Outdoor dining is popular on the restaurant and bar's chic terraces and the free buffet breakfast with homemade cakes gets rave reviews. A small gym and meeting room are on-site, and massages can be arrange. Travelers looking to be downtown should check out Plaka Hotel, although rooms are more basic.
4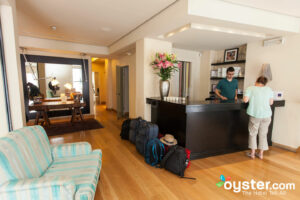 The 22-room upscale boutique O&B Athens Boutique Hotel is a youthful, contemporary spot ideally located within walking distance of the Acropolis and many other ancient historic sites and museums. Although it sits in a somewhat seedy neighborhood, the surroundings are lively and (usually) safe. The modern rooms are soundproofed, and the sheets and towels are high-quality. The O&B is a cool (air-conditioned) jewel in the center of hot, crowded Athens.
5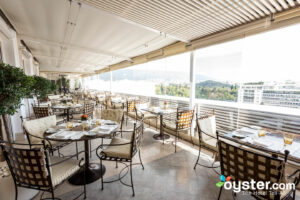 The King George is a historic and luxurious property with 102 rooms and suites, and enviable positioning in Athens' historic center. Neoclassical interiors and high-end grandeur are found throughout the swanky lobby, bar, and restaurant areas, and the latter two face the Acropolis. Traditionally elegant rooms have Nespresso machines, flat-screen TVs, and swish bathrooms with marble tubs, though some are noisy or lack natural daylight. Pool and spa facilities are free to use next door, while a gym and sauna are on-site. Solid meeting facilities draw well-heeled business travelers alongside tourists, but expect high prices for this impressive hotel. The Electra Palace Hotel Athens is less fancy, but it offers more affordable rates and a rooftop pool.
6
The 15-room, salmon-pink Sweet Home Hotel is a charming mid-range property that sits above a taverna in the Plaka. The muted-color rooms, with parquet floors, have an understated elegance -- even the Petite Double Rooms, while small, have chandeliers, framed art, minibars, and coffeemakers. Free Wi-Fi is available throughout the property, and some rooms have balconies that offer partial views of the Acropolis. A buffet breakfast is included in the room rate, and is served in a bright, multi-windowed dining room on the top floor. Within a five-minute walk of Syntagma Square and its metro hub, Sweet Home Hotel's location can't be beat for convenience. In the historic Plaka, which has plenty of shopping, the hotel is within walking distance of the Acropolis and Monastiraki, which is well-known for its flea market. There is no elevator from the ground floor to reception on the first floor, which might pose a difficulty for some, but hotel staff is on hand to help guests with luggage.
7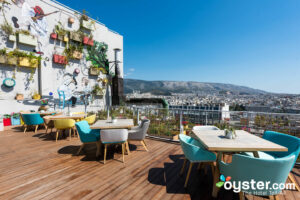 The 39-room Coco-Mat Hotel Athens is an upscale property, central to Athens' swanky Kolonaki neighborhood. Proximity to bars, restaurants, shops, and embassies draw leisure and corporate travelers, and nearby metros shorten 30-minute walks to the city's iconic sights. Trendy interiors center around the Coco-Mat lifestyle, and super-comfy beds in the rooms have endless configurations to suit even the fussiest sleeper. Like the linens, free breakfasts are organic, and an honesty bar is available 24-hour. A funky roof terrace has all-day dining and panoramic views, but there are no pool, gym, or spa facilities here. The Royal Olympic Hotel offers a pool and is in the historic center, but it's not nearly as stylish.
8
The Coco-Mat brand (formed in 1989) sells natural sleep products, such as innovative mattresses that do not need springs, and the Coco-Mat Hotel Nafsika was created to showcase its products. Guests should get a sound night's sleep in the 22 sophisticated rooms at this luxury boutique hotel, which is located in Athen's ritzy Kifissia suburb. The healthy, airy Mediterranean restaurant with open kitchen and honesty bar is a highlight, and a gourmet breakfast is included in many rates. Though the hotel is not convenient for sightseeing, it is suited for business travelers who need access to the road system.
9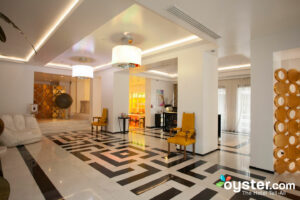 The 63 guest rooms at the upscale Pallas Athena Grecotel are large, creatively designed, and modern -- most are suites. Much of the hotel looks and functions like an art gallery, with artwork swapped in and out of the public spaces and guest rooms, and art exhibits are held regularly in areas of the ground floor. While the artistic impulse can be overwhelming, it's also creates a fun vibe. The hotel has a lounge bar and restaurant, where a sumptuous breakfast buffet of hot and cold items is served in a room filled with light -- and art -- and a small, awkwardly arranged fitness room with a handful of cardio machines and free weights.
10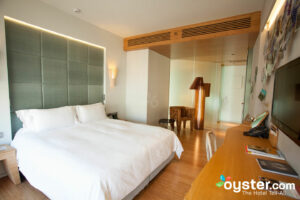 The 79-room upscale New Hotel is an intricately designed boutique property, with walls of criss-crossed wood, shag carpets, and chairs of draped fabrics, in the heart of Athens. Standard and even Superior Rooms are a little cramped, but Suites offer much more space. The hotel has a well-regarded restaurant as well as the top-floor Art Lounge, which has views of the Acropolis from the south side. There is also a 24-hour fitness center and small spa on-site, and it's downtown location makes the New Hotel convenient to many tourist attractions, including the Acropolis, the Parthenon, and the Plaka.
11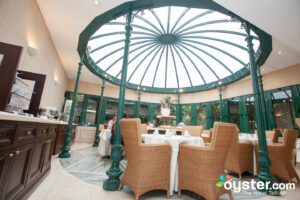 The 38-room Hera Hotel is an upper-mid-range boutique hotel located on the edge of the Plaka neighborhood in Athens. The main draw here is Peacock, the rooftop restaurant offering great views of the Acropolis. Breakfast (if you purchase a particular package) and Wi-Fi are free, though breakfast is served inside the hotel without any views. The rooms are on the smaller side (though some have furnished balconies with Acropolis views) and the clientele is generally older. It may be worth checking rates at AVA Hotel, a nearby boutique hotel with large suites featuring full kitchens.
12
A 35-room designer hotel in the middle of the historic center, A for Athens, located across from the Acropolis and next to the Monastiraki metro station, is a value choice for travelers who want to be in the midst of everything -- it's a five-minute walk to the nightlife of Psirri, Monastiraki, and Plaka. But the convenience comes with a great deal of noise from the busy street outside, and the roadside musicians in Monastiraki Square below. While the hotel's spectacular rooftop bar is a popular nightlife spot for non-hotel guests, it also also adds noise.
13
The mid-range, 21-room Periscope Hotel, is in the posh Kolonaki neighborhood, about a 12-minute walk to Syntagma Square and Mount Lycabetus. The hotel is modern, sleek, and minimalist with a shades-of-gray color scheme, and its rooms come with aerial ceiling photographs of Athens, Tempur-Pedic mattresses, well-stocked minibars, free Wi-Fi, and flat-screen TVs. Some rooms have hot tubs and terraces. The trendy restaurant serves fusion food all day, and is a chic gathering spot for in-the-know locals. There is 24-hour concierge service, and room service (hours are limited). Guests also get free access to the nearby Holmes Place Health Club.
14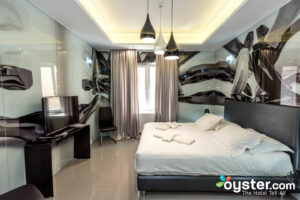 This boutique budget property has location in particular going for it, as it's situated right in the Plaka neighborhood, and most of Athens' main attractions are within walking distance. Interiors tend to look like a futuristic art installment, with boldly painted glass walls in rooms, and LED lighting and hanging white baubles by the front desk. The abstract aesthetic isn't for everyone, and the 16 rooms are on the small side, but clean fixtures, free Wi-Fi throughout, and jetted massage features in the showers are universally appealing. There's no pool, gym, business center, or parking here, but the top-floor restaurant offers great Acropolis views, a bar, and a breakfast buffet. For a similar location, but a more understated elegance, guests may prefer the nearby Sweet Home Hotel -- though rates are higher.
15
Just across from a small mountainside, the Acropolis Hill Hotel is a stylish, modern mid-range property in a peaceful downtown location. The 36 rooms are chic, but on the small side and come with mini-fridges and flat-screen TVs. Some have Acropolis views and balconies. The hotel has a lobby bar and an outdoor pool with a wood deck. Breakfast (included in the room rate) is served in a bright room with outdoor seating in the summer. Guests may want to compare rates at the Acropolis Ami Boutique Hotel, a three-pearl property with Acropolis views.