Best Kid-Friendly Hotels in Kuta, Bali
Take a look at the best kid-friendly hotels in Kuta.
See All Kuta Hotels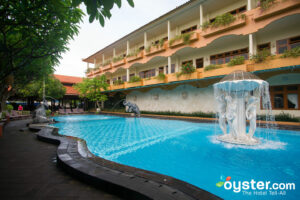 Febri's Hotel & Spa is a mid-range, 69-room family-friendly hotel located in the heart of Kuta. The hotel offers a rage of room types, including Family Rooms that can sleep up to five people comfortably. There are two outdoor pools, a full-service family spa, and a free hot and cold breakfast buffet. Wi-Fi is slow (even if you pay extra for the high-speed connection), and the property is not on the beach, but other than that, it's a safe, clean place to stay and is only 10 minutes from the airport.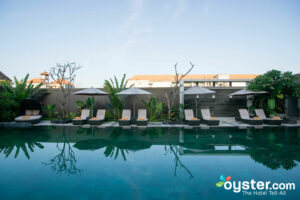 Opened in 2013, this 92-room upscale hotel nonetheless offers budget-friendly rates, and is located near the main intersection in Kuta, close to area attractions and the airport -- but a bit far from the beach. The Kana Kuta has a nice outdoor pool, small fitness center, free area shuttle, and free breakfast. Rooms are minimally decorated but spotlessly clean, with high-quality mattresses and linens, and flat-screen TVs, free Wi-Fi, mini-fridges, and coffeemakers; some rooms have balconies. The kids' center is a draw for families. The Kana Kuta might be slightly removed from the action, but it's good value for the money.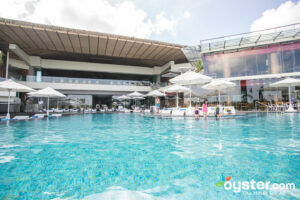 The family-friendly, 203-room Sheraton Bali Kuta Resort is a luxury property with beautiful ocean views right on Kuta Beach. Modern, bright rooms have splendid tile bathrooms with free Wi-Fi, rainfall showerheads and soaking tubs as well as balconies with seating. Some rooms have ocean views and outdoor hot tubs while others suffer street noise. The outdoor infinity pool with ocean views is a plus for couples and families, as are the on-site restaurants and bars, and full-service spa. Guests looking for a more intimate hotel may want to try The Kana Kuta for similar features, though it's farther from the beach.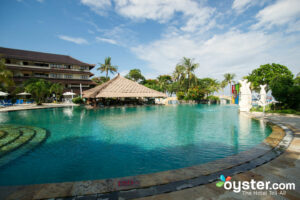 This upper-middle-range, 381-room hotel is located right on Kuta Beach next to the Discovery Shopping Mall. Rooms and Villas vary, but all are clean and comfortable and some have private pools. Garden View Rooms can get noisy as there's a nightclub nearby. Features include a lagoon-style pool with a swim-up bar, a full-service spa/salon, fitness facilities, and three on-site restaurants. There's also a huge kids' club here, and the playground and dedicated kids' pool are fabulous. Adults can play too, thanks to tennis and squash courts, and a full-size chessboard.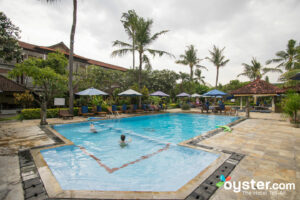 The 79-room Kuta Puri Bungalows is an upper-middle-range, traditionally designed hotel in a central but peaceful area with many sights, like Kuta Beach and Beachwalk shopping center, within fast walking distance. Classic Balinese-style rooms offer mini-fridges, coffeemakers, flat-screen TVs, and free bottled water, while some have terraces with seating and marvelous garden views. Beautiful plants and trees encompass two outdoor pools, and there is a poolside bar with drinks, but it closes early. Both the on-site restaurant and free breakfast are mediocre. There is a spa with traditional services and fantastic gardens surround the property and include fountains and koi ponds. For those that need to be on Kuta Beach, try the Discovery Kartika Plaza Hotel.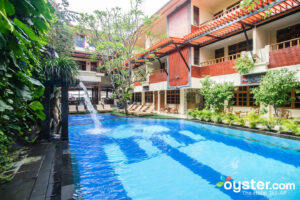 The 30-room Green Garden Hotel is a family-run, budget hotel offering clean, pleasant rooms close to the beach, shopping, and the Ngurah Rai International Airport. Though the property is a bit dated and in need of some updates, overall it's a cheap and cheerful option with a small, but lovely, outdoor pool flanked by greenery and an on-site spa offering an array of treatments. There's also a restaurant and bar that's popular with locals and guests alike that serves tasty home-style meals as well as a buffet breakfast that's included in the room rates. Families are drawn by the hotel's larger Family Rooms, which have bunk beds, as well as other kid-friendly offerings like a kids' pool and babysitting services. Travelers seeking something comparable in the area should also consider Febri's Hotel & Spa, which offers similar rooms as well as an outdoor pool, kids' playground, restaurant, and spa.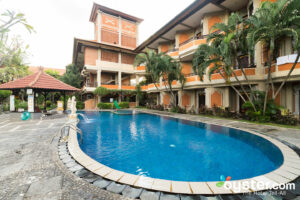 The 87-room Adi Dharma Hotel is a mid-range hotel located in a busy area just a five-minute walk to Kuta Beach. Traditional Balinese rooms have contemporary bathrooms and all have furnished balconies, but some look a little worn, with scratches on the furniture. Top features include outdoor pools, a garden, and a full-service spa. A free beach shuttle and 24-hour restaurant and bar are offered, but no fitness center. Guests desiring a more luxurious stay should consider the beachfront Patra Jasa Bali Resort & Villas, with its modern design and outdoor pools with ocean views.
The upscale 185-room Four Points by Sheraton Bali Kuta is a fun hotel with beautiful grounds and interiors. It's located within walking distance to shops, restaurants, and nightlife, and is within a 10-minute walk from Kuta Beach. Guest rooms are modern with a minimalist design and all feature private balconies, flat-screen TVs, and free Wi-Fi. Some have direct access to the central lagoon pool. The three outdoor pools, several on-site restaurants, bars, and kids' club are a plus for families and leisure travelers. There are also a fitness center and spa, as well as three meeting rooms for any business travelers passing through. The only real downside is the exclusion of breakfast from some rates. As an alternative, the Kuta Paradiso Hotel includes a free buffet breakfast.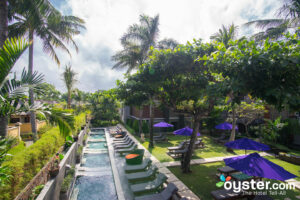 The family-friendly, 313-room Bali Dynasty Resort is upper-middle-range property with tropical features like koi ponds and a wonderful garden that's within a 15-minute walk of shops, attractions, and restaurants. Stylish, modern rooms have modern tile bathrooms, minibars, coffeemakers, and free bottled water, while some have balconies or patios and can fit families up to five people. There are three outdoor pools and several on-site restaurants and bars, and a great breakfast is included with room rates. Balinese treatments are offered at the Ashoka Spa, and there is free Wi-Fi throughout. The resort's rates are a bit high and rooms have some upkeep issues when compared to others in the area, like the Bali Garden Beach Resort, which is cheaper and offers similar features.
The 88-room Hotel Terrace at Kuta is a mid-range property conveniently located right off of Kuta's main road; the location is near shops and restaurants galore, and is a five-minute walk from the beach. This simple, modern property features minimalist interiors that include a restaurant in its open-plan lobby, which opens out onto the lovely outdoor pool area. Rooms are a bit small, but pleasant and simply furnished with contemporary decor. All of them have private balconies or terraces, some with direct pool access, though the larger Premiere Rooms have lackluster views. Frosted glass walls separating showers from bedrooms can pose privacy issues for some. Overall, this is a simple, modern property attracting travelers looking for a good value, though amenities are limited and guests seeking something with more features might want to consider the Green Garden Hotel instead, which has a spa.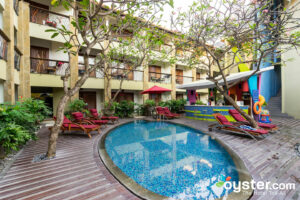 This three-pearl, 113-room hotel is a five-minute walk from Legian Beach and close to many shops, bars, and restaurants. It's a bright, colorful property that attracts young travelers as well as families, given the low rates and relaxed atmosphere. Air-conditioned rooms include flat-screen TVs, iPod docks, free spotty Wi-Fi, and furnished balconies with pool views. Family Rooms are available, and some rooms add outdoor showers. There's a long outdoor pool lined with sun loungers and a poolside bar, plus a restaurant serving international cuisines and a generous breakfast buffet for a fee. The hotel has a full-service spa, but it lacks a fitness center. Travelers might also want to consider the Legian Beach Hotel, which is across the road from the beach and adds a fitness center.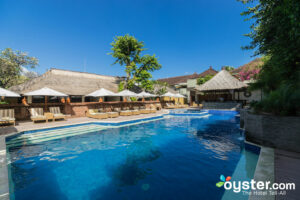 Across the street from Kuta Beach, the 80-room Alam KulKul Boutique Resort is an upscale property with plenty of amenities. Modern rooms have some traditional design elements, and most have balconies and walk-in tile showers. Some have plunge pools and rainfall showerheads. The two outdoor pools and kids' pools feel private and serene -- as does the full-service spa -- and there are two on-site restaurants and two bars. However, the property lacks fitness facilities and elevators, and only some rooms have access to the AlamClub. Guests desiring a beachfront hotel with lower rates should consider the Grand Istana Rama Hotel Bali.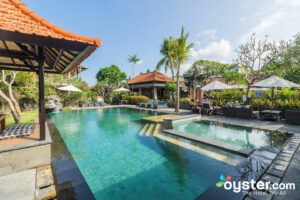 The 37-room mid-range Adi Dharma Cottages has gorgeously landscaped grounds and traditional Balinese architecture throughout -- all within a that's a 10-minute walk from Kuta's restaurants, the beach, attractions, and bars. Large, simple rooms with Balinese accents have air-conditioning and free WI-Fi, and all feature balconies or terraces with seating (some with lovely garden and/or pool views). Exterior and traffic noise can be an issue, though, and some rooms show wear and tear. The outdoor pool with a kids area is a major plus here, as is the free, expansive breakfast. The on-site restaurant/bar also receives good reviews and there is a free scheduled beach shuttle. Guests looking to stay adjacent to the beach may want to try the Maharani Beach Hotel, though rates can be a bit higher and features like Wi-Fi are not free.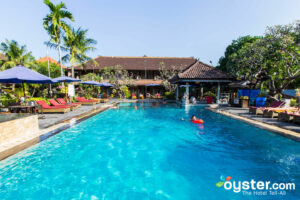 The 91-room Satriya Cottages is a mid-range property situated in the heart of Kuta, close to the beach, restaurants, bars, and shopping. The wild nightlife of Jalan Poppies 1 and 2 flank are just around the corner, but the hotel stays quiet. This property is packed with Balinese character, and the tropical grounds are lovely. Rooms are mixed, however, and while some offer a pleasant blend of modern and Balinese styles, others are looking tired. All have air-conditioning, flat-screen TVs, and furnished balconies or terraces. The two outdoor pools are big draws here, and the restaurant and bar serve a free breakfast. Travelers looking for a more modern option in Kuta could check out the Bintang Kuta Hotel, where guests also receive access to facilities at the neighboring Ramada Resort.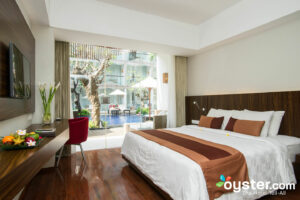 This mid-sized, mid-range hotel located in downtown Kuta -- just a five-minute walk from the beach -- has clean, modern rooms with free Wi-Fi, and most come with direct access to, or views of, a central swimming pool. The hotel also has a full-service spa with a variety of treatments and an on-site restaurant with 24-hour room service. Interconnected rooms and suites are also available, making this safe and central hotel a viable choice for families needing more space. However, some may find the music annoying, and there's no gym or fitness center.