Best Kid-Friendly Hotels in Southern Barbados, Barbados
Take a look at the best kid-friendly hotels in Southern Barbados.
See All Christ Church Parish Hotels
1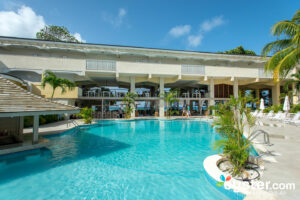 Unfolding along a beautiful stretch of south coast beach in the historic Garrison district, the four-pearl Sugar Bay is an all-inclusive resort that reopened after an overhaul in 2015 for a fresh, contemporary island flavor. Its 138 rooms are cheerful and spacious (particularly higher categories), with large balconies or patios; and many have aqua beach views. Five-and-a-half acres of grounds pack in many features, from a full-service spa to four restaurants (the three a la carte options are constantly praised by guests) -- although the buffet restaurant and pool get crowded. The beach is postcard pretty with calm, protected swimming waters. Families, couples, and groups seeking a one-stop resort destination with a tropical vibe should be happy here. Those looking for lower rates should check the sister property: Bougainvillea Beach Resort, which also offers kitchenettes in the rooms.
2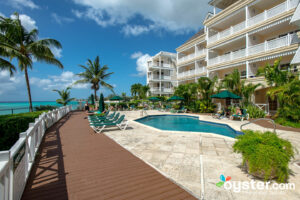 Coral Sands is a peaceful, upper-middle-range property with an unpretentious British Colonial air, placed right next to beautiful Worthing Beach on the bustling south coast. Studio-style rooms are clean, comfortable, quiet, and very spacious, with tasteful (albeit dated) island decor, kitchens, and huge sea-facing balconies or patios. The location is a highlight -- within walking distance to grocery stores, and numerous restaurants along "The Gap." The gorgeous beach, calm atmosphere, outdoor pool, sundeck, and brilliant sunsets are the main highlights here. It's a solid affordable bet for those seeking beachfront peace and quiet. Travelers looking for a self-contained beachfront accommodation with more features could try Blue Orchids Beach Hotel.
3
Ocean Two Resort & Residences, opened in 2011, is very chic. The rooms are extremely modern and updated, especially for Barbados, and the amenities are upscale – a sleek lobby lounge, scenic rooftop terrace, lagoon-like pool, and a gorgeous beachfront. All rooms have balconies with either a full or partial ocean view and all of the suites have fully equipped kitchens. All in all, this is a great value for the rooms and amenities provided. Note that there is no spa on-site.
4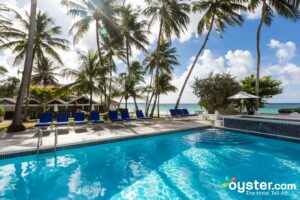 This 100-room Mediterranean-style resort gets its name from the local flower, which is ceremoniously placed in rooms upon arrival. The atmosphere is unpretentious, and reasonable prices make it a good value on the south coast -- it's especially popular with families and wedding groups. All rooms have kitchens or kitchenettes, or guests can dine at two restaurants along the water. This resort prides itself on being eco-friendly, and amenities include a spa, fitness center, kids' club, and water sports. Those looking to be within closer walking distance of restaurants, bars, and entertainment may prefer Southern Palms Beach Club, on the St. Lawrence Gap.
5
Set at the northernmost end of Worthing Beach on the southwest coast of Barbados, the Coral Mist Beach Hotel's 32 rooms all deliver dead-on views of the Caribbean from balconies and terraces framed by turquoise fretwork. The beachfront location is the budget-minded property's greatest asset but it might not be enough to offset the noise of honking cabs buzzing along the busy highway, which can be heard in some of the rooms. Guests demanding a quieter scene for the same price might consider the Dover Beach Hotel or upgrade to the more stylish and pricier Savannah Beach Hotel.
6
Reasonable rates and a convenient location make the Butterfly Beach Hotel an attractive option for budget travelers. The rooms are basic and typical of a budget property, with dated decor and sparse furnishings, although some have ocean views and kitchenettes. Located near bustling Oistins and the St. Lawrence Gap on the popular South Coast, the hotel is close to restaurants, shopping, and entertainment. The atmosphere around the pools and restaurant is lively and busy, although the pool can feel crowded. The two beach access points on either side of the hotel lead to a small and rocky beach, but there are calmer and more spacious stretches of sand a short walk away. Potential guests may also want to consider the Coconut Court Beach Hotel, another value property located in nearby Hastings on a gorgeous beach that is spacious, shaded, and scenic. Silver Point Hotel, another value property, has more updated, modern rooms but a less central location.
7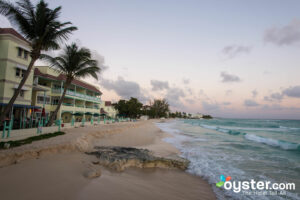 This laid-back, mid-range hotel on the southwest coast of Barbados has 31 studios and apartments, all delivering excellent views of the Caribbean from balconies or terraces. The Worthing Beach location is the property's greatest asset -- along with fully equipped kitchens in every room -- but it might not be enough to offset dated bedspreads and curtains, or the noise of honking cars buzzing along the busy highway. That being said, guests have access to two small, pleasant pools that are shared with the sister property, and there are a casual restaurant and small fitness center on-site. The Southern Palms has a larger beachfront and a spa, but not all rooms have kitchens.
8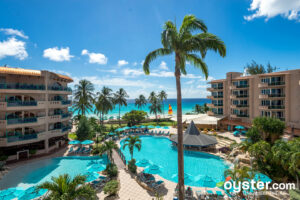 Accra is an upper-middle-range resort located on the lively south coast of Barbados right next to beautiful Rockley Beach. Its huge outdoor pool and wide beachfront provide a resort atmosphere, and the poolside bar is a fun spot to enjoy a rum punch or karaoke, although service can be slow. The breakfast buffet has mixed reviews, but Pacifika and Accra Deck restaurants are top notch (albeit pricey), and there are plenty of dining options (for all budgets) nearby. The 224 rooms are spacious -- many have been updated while some have yet to be renovated, and upgrading to a pool or ocean views room is advised. Easy-going beach-lovers seeking a casual time out should be happy here. Travelers after more activities could try Bougainvillea Beach Resort, which has a spa and DJ sets at night.
9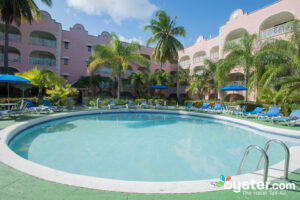 One of the less-expensive hotels on the south coast of the island, the budget-friendly Barbados Beach Club offers guests peace and relaxation. Located on a quiet side road off of the main strip, the hotel is within walking distance of the St. Lawrence Gap, a hub of restaurants and nightlife. The hotel has a large and scenic pool complex, an on-site restaurant, and free Wi-Fi, and is across the street and down a sandy path from a small, secluded beach. The rooms, however, also leave much to be desired – they have the furnishings, decor, and feel of a tired chain hotel. Nearby Infinity on the Beach is a bit pricier but still a good value, and has more updated rooms.
10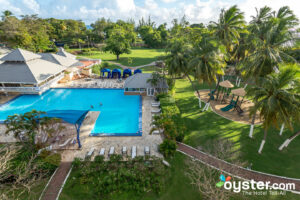 This 133-suite mid-range property sits in the heart of St. Lawrence Gap among shops, restaurants, and nightlife. The expansive property spans 20 acres between the main coast road and beautiful Dover Beach, so there's room for a slew of kid-friendly activities including tennis courts, mini-golf, and a kids' club. Much of the hotel is terribly outdated, though the open-air beachfront restaurant is a contemporary highlight. One- and two-bedroom suites have kitchens, and a patio or balcony. Suites near the pool are better suited to families with young kids, while beach villas have ocean views and offer more quiet. Travelers seeking a self-contained beachfront stay on smaller grounds could try Blue Orchids Beach Hotel.