Best Boutique Hotels in Eixample, Barcelona
Take a look at the best boutique hotels in Eixample.
See All Eixample Hotels
1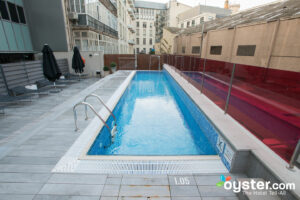 This 58-room boutique hotel in the heart of Barcelona has a relaxed, soothing vibe. The upscale hotel is close to most major attractions, and it's within short walking distance of Old Town and more modern shopping districts. Many rooms have views of the nearby hills. The proximity to the subway system will be convenient for some -- but annoying for others since the train rumblings can be heard from some rooms. The Sheraton Barcelona Diagonal is another good option and is equally well located for tourists wanting to be within walking distance of attractions.
2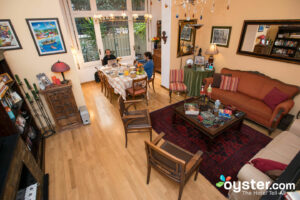 Housed in an elegant 19th-century Modernist building, BarcelonaBB is a charming and intimate bed-and-breakfast in the heart of the Eixample. Gaudi masterpieces and the metro are right nearby. Its five rooms (four share two bathrooms) are appealingly decorated and quiet. The free continental breakfast is plentiful and delicious, and the proprietors friendly and helpful with sightseeing information. This bed-and-breakfast is a terrific value, and a great fit for travelers who wish to forego a big hotel experience.
3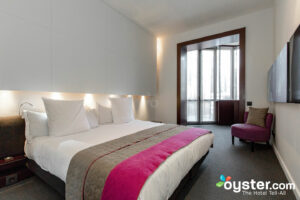 The SixtyTwo Hotel is a boutique option where old meets new. This stylish hotel is located in a historic building on the fashionable Passeig de Gracia in the center of Barcelona. Rooms are sleek with modern furniture and sexy open bathrooms that are large for Barcelona standards. Additional room perks include iPod docks, flat-screen TVs, and Nespresso machines. Beyond the inviting design and a free wine tasting for guests every Wednesday, the highlight of this hotel is its location in the upscale Eixample neighborhood, within walking distance of numerous attractions. However, the hotel does not offer a fitness center and there is a pesky fee for Wi-Fi.
4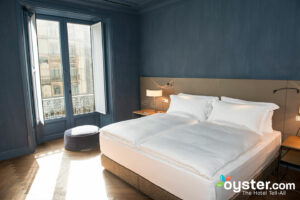 A smartly designed luxury boutique hotel, the seven-floor Alma Barcelona has 72 quiet, upscale rooms with flat-panel TVs and free Wi-Fi. Unlike the nearby Claris and Majestic, the pool here is indoors, so weather will never spoil your swim. The rooftop terrace has first-rate views of the Eixample and Sagrada Familia. Style here has a starring role: design elements include fingerprint swiping instead of room keys, and architectural features such as a minimalist light-filled atrium. The Alma is a chic and serene spot for travelers who want Barcelona cool and an Eixample location a half block from Passeig de Gracia shopping.
5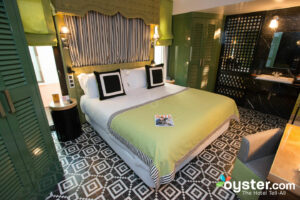 Room Mate Anna is a design explosion in the heart of Barcelona's Eixample. It's a two-minute walk to top shopping and Gaudi's Casa Batllo, and 10 minutes to busy Las Ramblas. The 81 stylish rooms are compact but offer decent amenities for a three-pearl hotel including minibars and electric kettles, and high-end rooms have balconies. There's a rooftop terrace with good city views and a small seasonal rooftop pool. The glam restaurant serves a well-received breakfast buffet plus a small room-service menu, and there's a chic meeting room. It's an intimate hotel with a dramatic style that might not suit everyone, so travelers looking for a more traditional hotel could take a look at Catalonia Eixample 1864 which is located nearby -- though rates can be higher and there's no pool.
6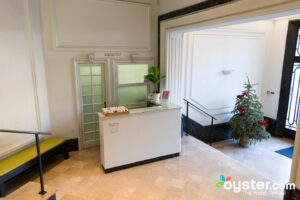 The two-and-a-half pearl, Barcino 147 is a homey bed and breakfast spread between two buildings in the leafy Eixample district of Barcelona. Conveniently located near the city center and many tourist attractions, the B&B is great for low-key, independent tourists looking to explore Barcelona. Owned by an artist and art collector, Barcino 147 is filled with richly colored decor and Romantic-era paintings. While many of the hotel's 12 guest rooms share bathrooms, there are also suites and full apartments for more privacy.
7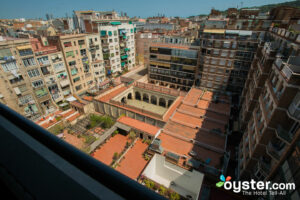 The 29-unit Eric Vokel Boutique Apartments - Gran Via Suites are situated in a quiet residential area of the lively Eixample district. This three-pearl option is within walking distance of numerous restaurants, bars, shops, and supermarkets, as well as public transportation. Apartments are modern and fresh, and up to four bedrooms are available. All have full kitchens with everything needed for cooking and dining, plus washing machines for clothes. Guests who book directly on the website get free breakfast kits, but that's it for on-site meal service. Most guests who stay here are looking for a place that's more like home than a hotel. Travelers who would like on-site amenities in addition to apartment-style accommodations could check out the Suites Avenue, which has a little gym and small rooftop pool.
8
Like most (but not all) H10 properties, there's a ton of style to like at this upscale property in Barcelona's Eixample. The location couldn't be more central, with bars, restaurants, and some of the city's most impressive architectural gems all within a five- to 10-minute walk. The 80 trendy, contemporary rooms come with air-conditioning, Nespresso machines, and free Wi-Fi, though some are compact. The hotel has a good number of amenities beyond the rooms, including a rooftop terrace with a small pool, cocktail bar, and great views over the city. There's also a lobby bar and restaurant, though breakfast isn't included. Those wanting somewhere with comparable facilities plus a free breakfast should check out the nearby Hotel Barcelona Catedral, which has lower rates but less style.
9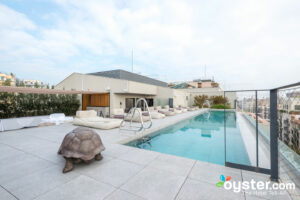 The four-pearl Ohla Eixample is a well-designed boutique hotel in the Eixample, a short walk from the metro and luxury shopping at Passeig de Gracia. Its 94 guest rooms have an on-trend, urban look, and all come with 55-inch flat-screen TVs, well-stocked minibars, kettles, and free Wi-Fi, and some boast private furnished balconies. Ohla Eixample is among the city's handful of hotels with a rooftop pool, and this property's is a standout, with a wide deck, sunbeds, and city views. Other highlights include a full-service spa, fitness center, a Michelin-starred restaurant with innovative Catalonia cuisine, and breakfast for a fee. Travelers seeking a luxury boutique property in heart of the Eixample can check out Alma Barcelona.
10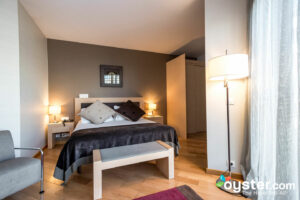 The Villa Emilia is a chic boutique option close to the Passeig de Gracia and the metro. Rooms are cozy, clean, inviting, and large by Barcelona standards. Floor-to-ceiling windows actually open fully, maximizing fresh air in the room. Sleek bathrooms sport stone stall showers and some have large soaking tubs. The common areas of the hotel carry over the stylish vibe, including Zinc for great dining and the rooftop for relaxing in prime outdoor space. With free Wi-Fi and a superb central location, the 53-room Villa Emilia is a solid pick.
11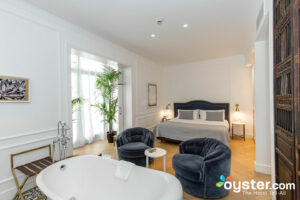 Three-and-a-half-pearl Hotel Midmost is located right in the heart of Barcelona, within a five-minute walk of Las Ramblas and Plaza Catalunya. It's a historic property that blends traditional and urban styles, and the common areas have a pleasantly serene atmosphere that's a welcome contrast to the busy streets outside. The rooftop terrace is a particularly great space to kick back, with a pool and tapas bar, and the hotel's breakfast is popular for its variety. The 56 rooms have a velvety classic style, plus coffeemakers, air-conditioning, and free Wi-Fi. There are meeting rooms and a cozy lounge with internet access, and spa treatments can be arranged. Travelers looking for a more thoroughly modern finish could check out Olivia Plaza Hotel nearby, which has similar facilities.
12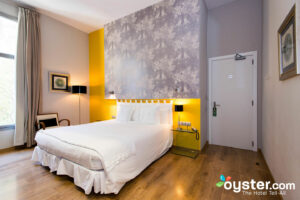 Past guests have put this little, low-key boutique hotel in the "hidden gem" category, and it's easy to see why. After all, the upper-middle-range Vasanta has a lot to recommend it -- including an enviable Eixample address near popular sights, a handsome neoclassical facade, top-notch service, plus 16 classic-meets-contemporary rooms. The last of these, all individually decorated, come equipped with flat-screen TVs, free Wi-Fi, minibars, and, in some cases, private balconies or terraces. A light breakfast (coffee and pastries) is included in the room rate, too. That said, there is a dearth of facilities here, which is typical for small-scale boutiques. If you can't do without an on-site bar, gym, or meeting room, but want to remain in the neighborhood and pearl category, try the bigger Hotel America Barcelona instead.
13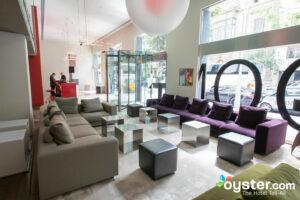 For an upscale property in the Eixample neighborhood, near some of Barcelona's best dining and shopping, Hotel Omm is hard to beat. A suitable choice for business or leisure travelers, the hotel has all the amenities one would expect of a luxury property: a rooftop swimming pool with city views, a hot nightclub with table service, a spa that's open daily, and the Michelin-starred restaurant Roca Moo. Rooms are elegant and spacious, some with balconies and views and all with flat-screen TVs and free Wi-Fi.
14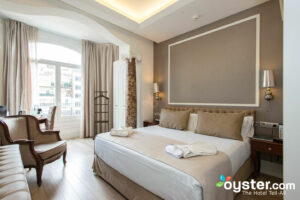 The 74-room luxury Hotel Catalonia Passeig de Gracia is located in the heart of Barcelona's posh Eixample, just down the block from Passeig de Gracia's high-end shops and trendy boutiques. The hotel offers classically elegant, spacious rooms with luxury features such as in-room massages, and there's an excellent on-site restaurant, Les Delicies. The outdoor terrace and pool are great after long days of sightseeing, and free snacks in the evening are a nice touch, though breakfast isn't always included. Guests looking to stay in the heart of the Old City can find similarly priced rooms and amenities at the hotel's sister property -- Catalonia Portal de l'Angel -- or at Hotel Barcelona Catedral.
15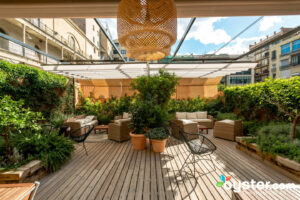 The 36-room Hotel Ambit Barcelona is a mid-range property with an excellent location in the bustling Eixample district. Guests can walk to restaurants, bars, cafes, and shops, and both metro and bus stops are nearby. Plaza Cataluna and Passeig de Gracia are a 10-minute walk away, and there's plenty to see and do all around. Although some rooms are quite small, they're all modern and fresh, and come with flat-screen TVs, minibars, air-conditioning, and kettles for tea and coffee. Some have furnished balconies. The comfy living room and lovely terrace are popular hangout spots, and there's a self-serve bar. As an alternative, check out the Hotel Vueling BCN by HC, and it has an on-site restaurant and bar plus a great Eixample location and contemporary style.