Best Kid-Friendly Hotels in Armacao dos Buzios
Take a look at the best kid-friendly hotels in Armacao dos Buzios.
See All Armacao dos Buzios Hotels
1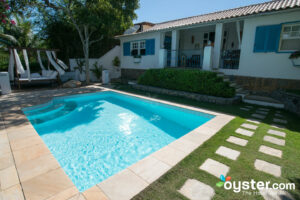 The Casa Buzios is a charming old villa (pousada) located a few steps from the Orla Bardot ocean boulevard that runs through downtown Buzios. The villa was constructed in the 1940s, making it among the oldest buildings in the area, and it features a more recently built annex. Each of the six guest rooms is unique in terms of size, shape, and character. The public areas are charming and offer an interesting combination of French and African artwork and memorabilia, along with contemporary art pieces. There's also a lush tropical garden with a pool. Breakfast, Wi-Fi, and parking are included.
2
Pousada Aguas Claras Buzios is located along a road leading towards the end of the Armacao dos Búzios Peninsula. This mid-range pousada offers older Classic rooms, as well as fresh Atual rooms in an annex that was built in 2013. The newer rooms are modern, quite spacious, and offer a solid value with large flat-screen TVs and plenty of storage space. Classic rooms include many of the same amenities, but have more dated decor and tired bathrooms. On-site features include a pool and kids' pool. The restaurant serves a Brazilian-style buffet breakfast that is included in the room rate. Wi-Fi is free throughout, as is parking.
3
The mid-range, 30-room Hotel Pousada Experience João Fernandes offers a dual identity. The body belongs to a hotel, but the soul beats to the rhythm of a small "pousada" (guest house). In any case, it offers a great location just a five-minute walk from the popular João Fernandes beach. The hotel changed ownership in 2013 and renovations were completed in mid 2015. It offers basic but clean rooms that all come with furnished balconies and views. Breakfast is included in the room rate and Wi-Fi is free in all areas.
4
The upper-middle-range Pousada Bahiamarela has a picturesque location on a hill overlooking João Fernandes beach. The pousada (Portuguese term for a guest house, but is actually a small hotel) features a spacious lobby with locally made furniture. 26 bright rooms are available in three categories. All come with unfurnished balconies and most have spectacular ocean views. The adjacent restaurant opens to the infinity-edge pool deck. A sumptuous hot buffet breakfast -- included in the room rate -- and a la carte meals for lunch and dinner are available. Other perks include a small spa, free (but spotty) Wi-Fi, and kayak rentals.
5
Corais e Conchas is a family-friendly option in Buzios, with generally affordable rates. This pousada offers two rooms for kids' activities, a well-equipped playground, children's pool, nursing room, and even a kitchen for parents. Some of the 38 spacious and air-conditioned rooms come with hot tubs and/or balconies. However, some of the in-room decor looks dated, particularly in rooms housed in the older part of the hotel. Those wanting something more modern should request a room in the new annex, added in 2012.
6
The Pousada Pedra Da Laguna is located in a quiet area just a short walk from the Ferradura beach. This upper-middle-range pousada offers simple, modern rooms with romantic touches, such as canopied beds and balconies or patios in all. The pool area is particularly attractive, and a tennis court and Asian-inspired Ananda Spa can also be found on-site. A Brazilian buffet breakfast is included in the room rates, and Wi-Fi is free in all areas. However, the hotel is about 10 minutes from town by car, so some may choose to stay in a more centrally located downtown hotel.
7
The Rio Buzios Beach is a popular family-friendly hotel located a two-minute walk from the João Fernandes Beach. This upper-middle-range hotel offers clean and simple rooms with rustic furniture, small bathrooms, and balconies. The Corcovado Restaurant serves a Brazilian buffet breakfast with made-to-order omelets, which is included in the room rate. The hotel offers also half and full board meal plans. A good size outdoor pool, fitness center, and a steam room are nice bonuses. Wi-Fi is free in all areas and the hotel provides free parking.
9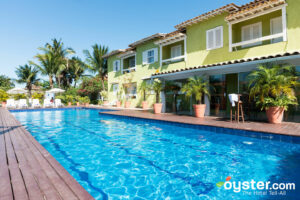 The Pousada Dos Reis -- a mid-range option -- is located in the quiet and residential area of Portão da Tartaruga. Downtown Búzios is about a 15- to 20-minute walk away and Tartaruga Beach is about a 10-minute walk. A free shuttle transports guests to both spots and bikes are available to rent. The pousada offers spacious and bright rooms; some have balconies or kitchenettes. Breakfast is included in the room rate, and there's a nice outdoor swimming pool with an adjacent bar and restaurant. Wi-Fi and parking are free.
10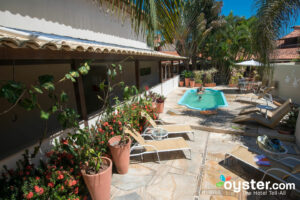 The mid-range, 55-room Don Quijote has a location just a few minutes' walk from the beach and the charming cobblestone streets of downtown Búzios. But it lacks beach views, and there's little scenery aside from the busy main road it faces. Some rooms in the higher categories have kitchenettes, furnished balconies, and upscale furniture. But the lower categories can feel a bit sparse, and their bathrooms are in need of a refresh. A generous free breakfast is included, but there's no on-site restaurant to offer lunch or dinner. A petite pool gives a spot to splash around, but little else. (Although the hotel has plans to install a second pool by the end of 2014.) Travelers looking for lodging in this area could compare rates and amenities with the neighboring mid-range Pousada Bucaneiro.
11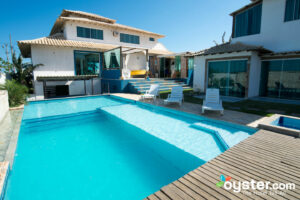 The Marina Vip Club Resort & spa is located in the Marina area, a 10-minute walk from Baia Formosa beach and a 20-minute drive to central Buzios. The establishment has the feel of a local, family-run pousada (guest house). It opened in 2012 and offers basic, clean rooms for up to four people. Breakfast is included in the room rate, and Wi-Fi and parking are free. Lunch and dinner are available on request, which is especially useful considering the property is somewhat isolated and there aren't any dining or shopping options in the immediate vicinity. Besides the pool, amenities are few.
12
The Pousada Alcobara is a budget hotel near(ish) the Geribá beach, located on a quiet street in a mainly residential neighborhood. It offers 30 simple rooms that come with air-conditioning, ceiling fans, tiny TVs, and minibars. The pousada features a restaurant and lobby area filled with memorabilia. There's also a small swimming pool and a tiny pool for tots, but little else. A simple breakfast is included in the room rates, but Wi-Fi requires an additional fee. The pousada has noticeable wear and tear; some rooms and public areas look dated, but rates are often more than reasonable.