Best Luxury Hotels in Cancun's Hotel Zone
Planning a posh getaway to Cancun? Known for gorgeous sandy beaches and pristine turquoise waters, tourist-friendly Cancun sees crowds of people each year. In addition to public beaches and a bustling nightlife, it's has great access to the Mayan ruins and snorkeling in surrounding reefs. Most visitors who want to be in the center of the action will stay in the Hotel Zone, filled with large resorts and a party vibe. It's also home to some seriously luxe hotels. After visiting the area, we evaluated how the top hotels stacked up against each other — including the guest rooms, restaurants, and pools. Take a look at our expert picks for the best luxury hotels in Cancun's Hotel Zone and start booking your next vacation!
See All Cancun Hotel Zone Hotels
1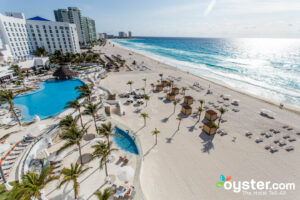 There is nothing ordinary about the 260-room Le Blanc Spa Resort: Everything from the wine lists to your workout has been tailored to be top notch. It feels more South Beach chic than Cancun party, with a hip, gorgeous aesthetic throughout the entire pristine white property. The rooms are thoroughly modern and bright with minimalist decor and stunning ocean views (some with large Jacuzzi baths). But most of your time should be spent experiencing the top-of-the line spa, the chic restaurants (especially the stunningly designed Lumiere), and heavenly white-sand beach.
2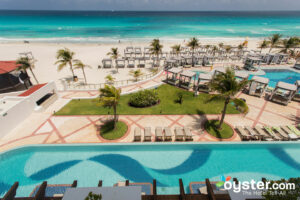 The appearance of the 288-room adults-only Hyatt Zilara Cancun goes against the often bad reputation all-inclusives have gained. Suites appear updated and buck traditional room layouts with a centrally located bed and spacious balcony (some are even swim-out). The bathrooms boast massive walk-in showers and Jacuzzi tubs with killer views. The quality of the food is surprisingly good and varied, including the convenient 24-hour VIP lounge. But like many all-inclusive properties, basic amenities can get crowded fast: Expect to fight for chairs by the pool or for dinner reservations at a decent hour. The vibe is also slightly older, so young couples or spring breakers may want to consider staying elsewhere. And families, of course, steer clear (no guests under the age of 16 are allowed).
3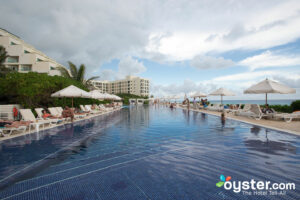 Designed to appeal to all of your senses, the 371-room Live Aqua all-inclusive luxury resort is for adults only. Contemporary upscale decor with artistic and modern details are found floor-to-ceiling, from the lily pad pond entrance, to the sophisticated and luxurious rooms, to the linen-draped beach cabana beds. The resorts vibe is best suited for those seeking a pampered and an atmosphere of modern affluence. This is one of the best luxury options in Cancun and most guests find very little to complain about; however, the food and beverage service and quality occasionally miss the mark.
4
The 497-room Secrets The Vine Cancun Resort & Spa is an all-inclusive, luxury hotel with an adults-only policy. Many of the rooms have stunning sea views from the balconies, and there are luxurious touches like Italian porcelain flooring and beautiful teak wood furniture. Guests can take advantage of a huge range of activities from yoga to wine tasting as well as six a la carterestaurants serving a global list of cuisines including Italian, Mexican, Argentinian, and Asian. Another way to indulge is the on-site spa, which has 14 treatment rooms, a sauna, and a steam room, plus there are four beautiful outdoor pools to choose from. The beachfront location is ideal for tourists wanting to relax, but it's also a short drive to several attractions.
5
While not all-inclusive, to which many guests attribute the resort's quiet atmosphere, the Fiesta Americana Grand Coral Beach Resort & Spa has three restaurants; three poolside bars, including a swim-up bar; and a lobby bar. While the restaurants are deemed to be on the pricey side, guests give them high marks for the food -- one specializes in seafood, while the other two feature Mexican cuisine and French Mediterranean fare. The extensive and beautifully designed spa, billed as the only in Latin America with a 10-step hydrotherapy program, is a big draw
6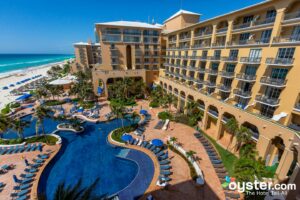 This 365-room luxury hotel with classic style is set in Cancun's Hotel Zone against a pristine beach and turquoise Caribbean waters. Room decor is elegant and traditional, if also slightly corporate and dated, and all rooms have ocean views. The resort's romantic and luxurious vibe is ideal for couples looking to splurge. While the resort is undeniably grand, it's surprisingly unstuffy and young within the halls, out by the pool, and down by the beach (though some may feel interiors could use an update). This hotel may have typical resort features, but you'll be hard-pressed to find them done with such classy sophistication elsewhere in Cancun.
7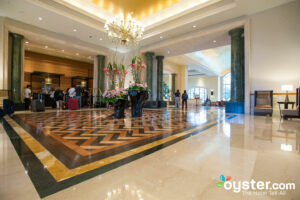 The luxurious, 448-room JW Marriott Cancun Resort & Spa rests on a soft white-sand section of beautiful beach just off the crowded Hotel Zone. Sophisticated rooms are outfitted with carpet and finished wood, and every one comes with an ocean view. Marble bathrooms with separate tubs and showers have plush towels and quality Aromatherapy toiletries. While there are kids activities, the grown-up vibe, fine-dining options, and extensive business features make this resort best-suited for couples and business groups.
8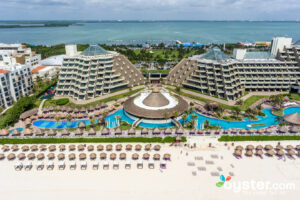 The Paradisus Cancun is an all-inclusive, upscale mega-resort whose five interconnected pyramids overlook the gorgeous white sands and perfect blue waters of the Mexican Caribbean. Its 668 rooms are all smart and spacious with sea or lagoonviews -- though some are only partial. While breakfast can get busy, there's no shortage of restaurants and bars to choose from and the huge pool never feels crowded. The impressive spa, large fitness center, and nine-hole golf course are also notable features here. Despite the property's size, its interior tropical gardens also provide a lush even secluded ambience.
9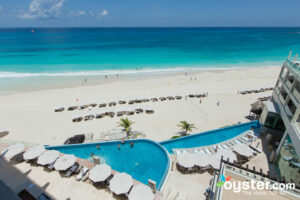 This couples-only, all-inclusive resort is a great pick for a romantic getaway, thanks to its semi-secluded location, luxuriousspa, and decadent details such as two-person Jacuzzi tubs in every room. It features four pools (one of them jetted), a large, modern fitness center, and a wide array of dining options. Rooms are spacious and offer solid amenities, as well as minimalist, neutral-toned decor. The hotel has a quieter, more intimate setting than the resorts on the party-hearty, northern side of the Hotel Zone. But this somewhat remote location means you'll need a taxi to reach all the action.
10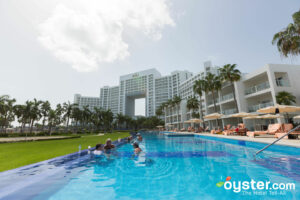 Opened in 2012, the Spanish-owned, 562-room Riu Palace Peninsula (not to be confused with the Hotel Riu Palace Las Americas) is the youngest of the Riu's Cancun properties. With a distinctive beachfront position, guests at the Peninsula are privy to both soft powder sands and wild rocky shores lining crystal clear Caribbean waters. Decor is contemporary with a slightly sexy, upscale European vibe -- especially when lit at night. Even the lower category rooms are large and feel like suites, and have nice ocean views, walk-in showers, and separate spa tubs. The hotel has a social and fun (but not crazy party) vibe and can get noisy at night.