Most Romantic Hotels in Cappadocia
Oyster knows what travelers look for in their hotels. When we visit properties around the world, we evaluate how every feature stacks up against the competition, from the rooms to the pools to the restaurants. So if you're planning a romantic trip and need a place to start, you've come to the right place. Take a look at our top romantic hotel picks in Cappadocia, and get inspired!
See All Cappadocia Hotels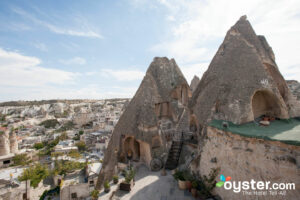 The 36-room Kelebek Special Cave Hotel offers an authentic Cappadocia cave experience but is a cut above many similar hotels by virtue of its excellent hammam and outdoor pool. The hillside setting means some wonderful views, though also a steep walk up to the hotel. Rooms are nicely finished, but amenities can vary widely -- as can rates -- so be sure to know which you're getting. Suites are particularly lavish and worth the extra outlay.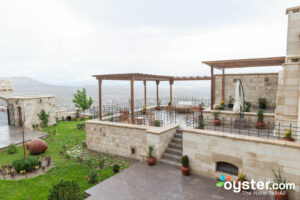 One of the top hotels in Urgup, Kayakapi Premium Caves is poised to grow from 32 to 55 rooms when its ambitious restoration project is completed. The hilltop property occupies 2,700 acres of a residential neighborhood composed of hundreds of long abandoned cave homes and historical buildings. A full spa, outdoor pool, and two restaurants fill the unique stone interiors and gorgeous grounds, from which guests can take in stunning views of the town's terra-cotta rooftops stretching into the distance.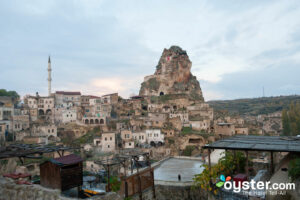 Opened in 2011, the Hezen Cave Hotel is a traditional but chic 14-room boutique in the village of Ortahisar. It was originally an old Orthodox Greek house, and the rooms are carved from the soft volcanic rocks of Cappadocia. They are cozy and intimate, with colorful, stylish modern decor accents. There's a system of stairways and tunnels leading to the rooms, public areas, and beautiful gardens. While the surrounding area lacks nightlife and restaurants, there are plenty of historic sites nearby for outdoor adventures.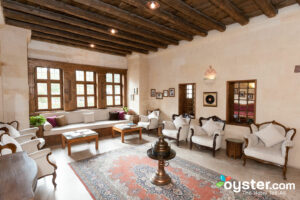 Dating from the 18th century, the Fresco is a collection of restored mansions that served as opulent residences during the Ottoman period. Some rooms are traditional and brightly decorated with original frescoes, but with three stories and no elevator, some travelers may find that it's a hassle to reach a few of them. Most of the rooms however are true cave rooms, hewn from the rock deeper within the buildings. And, unlike many others in the area, they're air-conditioned.
Converted from nine abandoned cave houses and the neighboring fifth-century caves, Esbelli Evi Cave Hotel is a boutique with 10 suites and four standard rooms. It was the first hotel in Cappadocia and opened in 1990. The rooms are each unique, quite large compared to other cave hotels, and include personal-use laptops. There are laundry machines, a well-kept garden, and a breakfast area set up along the hill's cliffs. The hotel is about a 15-minute drive to the caves in Goreme National Park.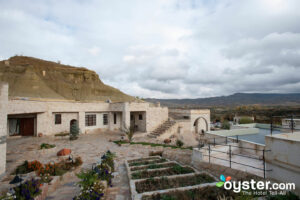 The MDC Hotel is an upscale, typical Cappadocia-style property set on a hillside overlooking Urgup town. The location offers some lovely views of the area, though is also a bit of a hike to and from town center (though free drop-offs are available). Its cave rooms are nicely finished and their spacious, marble bathrooms are a real highlight -- all have under-floor heating and whirlpool tubs.
Set slightly outside the town of Goreme up a small hill, this 15-room boutique hotel is more updated, and less rustic, than many similarly priced options in town -- though it lacks true cave rooms. Built inside and out from the same handsome, light-colored stone, the property combines the material aesthetic of the region with a plethora of tasteful trinkets and accents, including glass lanterns and large pottery items. Keep in mind that there are few property features, though the staff service is almost universally lauded by visitors. Breakfast, Wi-Fi, and bus station transfers are free.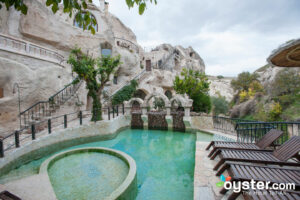 Designed for explorers who prefer a quiet and meditative space, the 35-room Gamirasu Cave Hotel is a stunning and romantic find in Ayvali Village. The property is a combination of converted village houses and a Byzantine-era monastery that now hosts a number of modern conveniences -- from a heated outdoor pool to free Wi-Fi -- but has retained historic details such as frescos decorating the walls. Standard rooms have the basic bed and en-suite shower, while the larger suites have luxuriously decorated separate living areas and balconies with great views. The secluded location a 20-minute drive out to Urgup may be a drawback for some, but for others it's part of the appeal.
The 36-room Cappadocia Cave Suites' main selling point is its excellent integration with the striking "fairy chimneys" the region is renowned for. The blend of these with ancient cave dwellings and modern stone buildings give a real feel of history throughout -- while rooms are well equipped with minibars, small flat-screen TVs, and (in most) nice soaking tubs. Some elements drift from shabby chic to plain shabby, and a few issues with service have been reported, though rates are excellent for the chance of sleeping in a hoodoo.
Some of the eight spacious rooms of Vineyard Cave Hotel offer special luxuries like private whirlpool baths and personal hammams. The father and son team who run the property receive an endless stream of praise from guests, who note they will often drive visitors to their sightseeing destinations and are happy to offer suggestions for tourist attractions and culinary offerings. Of particular note is the large, shaded rooftop deck with spectacular views of the surrounding valley.