Best Kid-Friendly Hotels in Salou, Costa Dorada
Take a look at the best kid-friendly hotels in Salou.
See All Salou Hotels
1
The 351-room H10
Salauris Palace is an upper-middle-range chain hotel in downtown Salou, a 15-minute
walk from PortAventura Park and Levante Beach. Mostly stylish rooms have
furnished balconies, but there are fees for use coffeemakers and
mini-fridges in some rooms. The wonderful indoor and outdoor pools attract families, while the adults-only rooftop solarium is a favorite for couples. On-site restaurants and bars
receive good reviews, and Wi-Fi is free throughout the hotel. Travelers with kids should
also consider the PortAventura Hotel Caribe, which offers free admission to the adjacent PortAventura Park.
2
The
three-pearl Golden Avenida Suites is a family-friendly hotel that's a 10-minute walk from Salou's Llevant Beach. The 180 One- and Two-Bedroom Suites have mini-fridges, microwaves, and balconies -- some with pool views -- but the streamlined modern decor is cookie-cutter basic. With four swimming
pools and two hot tubs, the hotel offers plenty of places to take a dip, and has one restaurant serving buffet meals for breakfast, lunch, and dinner -- all-inclusive rates are available. Travelers seeking a comparable hotel closer to the beach should check out the 4R Playa Park Hotel, although rates will be higher.
3
The
upscale H10 Mediterranean Village is located in serene Cap Salou, within walking distance of three picturesque swimming coves. The 199 rooms are beachy and modern, decorated in a subtle blue-and-white motif and modern comforts like flat-screen TVs, and apartments with kitchenettes are also available. This family friendly resort has four swimming pools, a kids' pool and kids' club, and dining options including a buffet and a
la carte restaurant. There's also an adults-only terrace with hot tubs and a sauna for a little grown-up relaxation. Guests might want to also consider the H10 Salauris Palace, which has free in-room Wi-Fi at comparable rates.
4
The three-pearl Festival Village is a family friendly hotel with all-inclusive plans that's walking distance of three beaches. All 128 apartments have terraces and kitchens, but decor is basic and dated. Entertainment gets solid marks here, and there are plenty of activities like water polo, arts and crafts, games, and a mini-disco to keep kids busy. The hotel also is an outdoor pool area with a kids' pool, a pool bar, and hot tub. The buffet-style restaurant serves average Spanish and international cuisine, and several amenities and services come with extra fees. Guests looking for a little more style in their holiday may want to consider the H10 Salauris Palace.
5
The 69-room Apartaments CYE Salou is a budget, family-friendly property in Salou, located about a five-minute walk from the beach. All the rooms here are self-catered apartments, featuring separate living areas with sofa beds and kitchens with microwaves, stovetops, and mini-fridges. While bright, airy, and equipped with furnished balconies, the mismatched patterns linens are dated and TVs have few English-language channels. A privately owned bar is on-site, but that's all in terms of dining. A good-sized outdoor pool has a shallow, roped off section for children, set in a sunny terrace with loungers. This is a solid pick for low-key tourists who don't mind the lack of entertainment features and occasional noise, but the H10 Salou Princess offers a ton more in terms of activities -- though it lacks in-room kitchens.
6
The Hotel
Golden Port Salou is a three-pearl, 348-room hotel on the edge of downtown Salou, just a 10-minute walk from
two beaches. Rooms are dated and simple, with furnished balconies and modern tile
bathrooms, but there's a fee for mini-fridges and safes. All-inclusive options are available, and the on-site restaurant and
bars offer decent meals and drinks. There's also a lovely solarium with hot tubs, as well as indoor and outdoor pools, and a spa providing a range of treatments. Travelers may want to compare rates at the H10 Salauris Palace, which has more contemporary rooms and a greater range of dining options.
7
The H10 Vintage Salou is a pleasant three-and-a-half-pearl hotel that's a modern alternative to the dated hotel stock in the Salou area. The 323 simple rooms are mostly modern and feature flat-screen TVs and air-conditioning. All also have balconies overlooking the smaller-than-expected outdoor pools or low mountains in the distance, but poolside rooms pick up noise and Standard Rooms are small. Located right in downtown Salou, Font Lluminosa and Llevant Beach are within a 10-minute walk from the hotel. Les Vinyes Restaurant serves Mediterranean buffets, and drinks are available poolside and in the lounge. Various children's activities, a gym, and bike rentals give the hotel a family-friendly vibe. Alternatively, the nearby 4R Regina Gran Hotel has larger pools and a spa at similar rates, though rooms are less attractive.
8
The 4R Playa Park Hotel is a three-pearl chain resort on the Costa Dorada in Catalonia -- a 10-minute walk to Capellans Beach. The hotel is surrounded by other hotels, a souvenir shop, a supermarket, and a bar -- it's a 10-minute walk from the bars on Avinguda de Carles Buigas. The 315 guest rooms have balconies or terraces, but the style is extra-simple and some rooms have outdated features. There are two swimming pools, including a kids' pool, a kids' club and playground, an on-site bar and restaurant, plus game rooms and live entertainment. A daily breakfast buffet of hot and cold dishes is offered, as are buffets for lunch and dinner.
9
Hotel-Aparthotel Dorada Palace is an three-pearl, 360-room hotel on the outskirts of Salou's city center, a five-minute drive from PortAventura Park. Rooms are bland, but have
flat-screen TVs and furnished balconies. Apartments with full kitchens are also available, however, TV remotes
and safes require a deposit in all rooms. Child-friendly features such as a game room, a free
kids' club, and live entertainment are a plus for families, while the adults-only
rooftop pool and Wellness Center are highlights for couples. Travelers looking for a more romantic atmosphere should consider the H10 Salou Princess, with its modern style and downtown
location.
10
The three-pearl H10 Salou Princess is a decent, simple pick that's only a five-minute walk from the beach, near a good selection of restaurants and bars. Each of its 327 bright rooms is dressed in hardwood floors and neutral colors, though the style is plain. In-room features include free Wi-Fi, mini-fridges, air-conditioning, and furnished balconies, some of which have views of the pool. In addition to outdoor pools for both adults and children, the hotel has a hot tub, gym, and sauna. There's also a restaurant and three bars, though entertainment starts late and is geared toward older guests. The more expensive Magnolia Hotel is closer to the beach and has more modern bathrooms and a more cohesive style at slightly lower rates.
11
The two-and-a-half-pearl Aparthotel CYE Holiday Centre is a simple family-friendly option within a 10-minute walk to Salou's beach and boardwalk. The 145 well-kept, but dated, apartments have full kitchens and furnished terraces in one- and two-bedroom options. Air-conditioning and flat-screen TVs are standard, but free Wi-Fi is only available in the lobby. The outdoor pool includes a children's pool and plenty of sun beds, though its late-night entertainment can get rowdy. There's also an outdoor playground, arcade room, game room, and other activities for kids. Families wanting to be closer to PortAventura -- the popular nearby amusement park -- may want to consider the Hotel-Aparthotel Dorada Palace, where the style is equally outdated but rates are cheaper.
12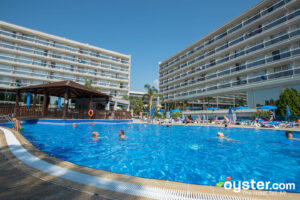 The 300-room Sol
Costa Daurada is an upper-middle-range property on the outskirts of downtown Salou. Simple rooms are modern but austere, with terraces or balconies and tile bathrooms. Family-friendly
features are abundant and include a free kids' club, kids' pool, a game room, and
live entertainment, while there is an extensive Wellness Center with hot tubs, a sauna, fitness center, and massages for adults. Freebies include Wi-Fi and shuttle service to the beach and PortAventura Park, but safes, parking, and the business
center cost extra. Travelers in town to visit PortAventura might also want to consider the all-inclusive Hotel El Paso
PortAventura, which is adjacent to PortAventura Park.
13
The Hotel Cala Font is a 312-room family hotel just above a small beach in Cap Salou. The pool complex, which includes a kids' pool, capitalizes on the sunny setting, and there's a kids' club and nightly entertainment. Rooms are basic and a bit dated, but clean, and most have small balconies with views across the Mediterranean. The hotel has free Wi-Fi in its rooms and communal areas, though there are fees to use mini-fridges. Pan-European and Spanish fare is available in the buffet restaurant, and while full- and half-board rates are available, reviews are only mediocre. There are just a few shops and restaurants nearby, and those looking for something right in Salou with more style might check out the H10 Salou Princess, though it's pricier.
14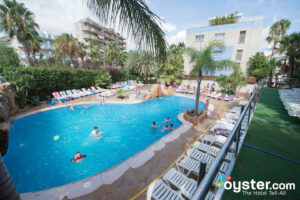 The two-and-a-half-pearl Hotel Villamarina Club is an all-inclusive property with dated public spaces and more contemporary -- though bare-bones -- rooms. It's about a 15-minute walk to the beach, and there are multiple restaurants and bars within a 10-minute walk. Most of the 189 rooms have furnished balconies or patios, but old tube-style TVs and hairdryers are just about the only amenities. Two-bedroom apartments with kitchens are available off-site. The hotel is largely geared toward families with two large pools, a rooftop solarium with two hot tubs, and a playground. Meals are served buffet-style and receive excellent reviews, plus there are a poolside snack bar and bar with billiards tables. The communal areas of the hotel are well-maintained, and rooms are large and modern. Guests looking for a similar experience closer to the beach should consider the Eurosalou Hotel.
15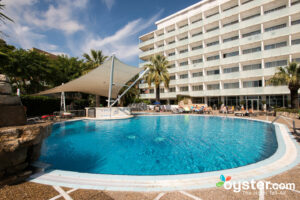 The mid-range 4R Salou Park Resort I is a large, all-inclusive property with a vibrant setting just a few minutes' walk from the beach. Several restaurants and bars are within a short walk, and more are in the town center, a 10-minutes walk away. The 218 rooms are bright and clean, and some have furnished balconies with sea views, but mini-fridges and safes require fees. Guests have access to the 4R Salou Park Resort II next door, and amenities on-site include an outdoor pool that gazes out to sea, a children's pool, kids' club, and playground. A gastropub and buffet restaurant are on-site, and nightly entertainment includes flamenco dancers. Guests have complained of noise from within and outside the hotel. The 4R Regina Gran Hotel is farther from the beach, but has a quieter atmosphere.