Best Luxury Hotels in Charleston
Oyster knows what luxury travelers look for in hotels. When we review luxury properties in person around the world, we evaluate how every feature stacks up against the competition, from the rooms to the pools to the restaurants. So if you're planning a posh getaway and need a place to start, you've come to the right place. Take a look at our expert top picks for luxury in Charleston and get inspired!
See All Charleston Hotels
1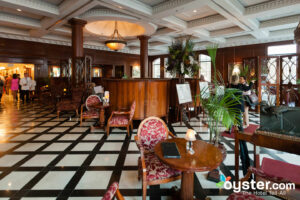 This luxurious property is located across the street from the City Market, in the heart of the most upscale area of the Historic District. It seems there's been more effort put into some of the gorgeous bathrooms (with Hermes toiletries, separate showers and tubs) than into the elegant but somewhat plainer standard rooms. The Concierge Level is definitely worth the extra dollars, with more opulent rooms and wonderful amenities. The great pool area, the solid rooftop bar and the fine steakhouse are some of the highlights of this classy property.
2
This stately historic boutique is one of Charleston's best-known hotels, and has plenty of charming southern details (such as a grand wrought-iron staircase) and a location near Historic Downtown's popular tourist sights. Rooms are spacious and have French-inspired decor, and free extras such as breakfast, daily wine and cheese receptions, and freshly baked cookies add value. But there is no pool or fitness center, unlike at the Market Pavilion Hotel.
3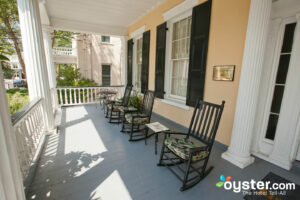 Housed in a beautifully renovated mansion dating to 1843, the Jasmine House Inn has all the charm of a B&B and the comfort of an upscale hotel, plus a central location in downtown Charleston. It has 12 large rooms with hardwood floors, 15-foot ceilings, flat-screen TVs and unique decor that might be a bit too much for some (think matching bedspreads and drapes, patterned rugs, and flowal wallpaper). There are a bunch of great freebies, including a continental breakfast, Wi-Fi and evening hors d'oeuvres -- but you'll have to pay for parking.